A Six Year Old Girl Was Handcuffed At School After Teachers Found This In Her Lunchbox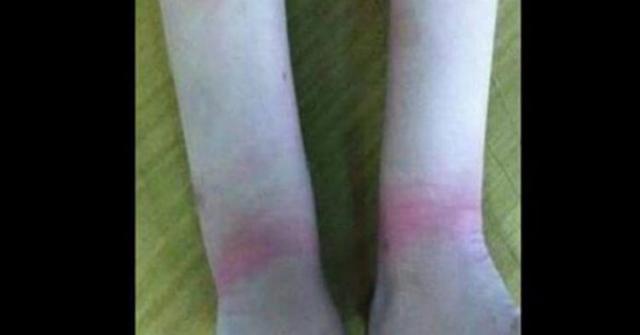 A recent investigation into a terrifying incident has revealed something sinister going on in Chicago public schools. A security guard at the Fernwood Elementary School has been fired after it was discovered that he handcuffed a 6-year-old girl with special-needs to the bottom of a desk. Apparently, he was trying to "teach her a f****ing lesson," according to a lawsuit filed after the incident.
Marlena Wordlaw filed the lawsuit right after she discovered what had been done to her poor daughter. Madisyn was accused of "stealing a piece of candy," which Marlena says was actually inside her lunch box the whole time.
She is suing the Chicago Board of Education, in addition to Divelle Yarbrough, the security guard in question. Wordlaw is specifically claiming, "excessive force, false imprisonment, and emotional distress," to her daughter.
Chicago Public Schools claims that Yarbrough was fired, and a "do not hire" note was placed in his universal personnel file. But that's not enough to sate Marlena's anger about what happened.
"He said 'I'm teaching her a f****ing lesson. She took a piece of candy and I handcuffed her under the stairs,'" she told NY Daily News. "He told me if I was a real parent I would find out what was going on instead of jumping the gun."
The security guard is understandably trying to defend his reputation which has now been tarnished for years to come. When we trust someone to take care of our kids, they need to know how to handle a situation like this. Hint: it doesn't involve handcuffing a 6-year-old to a desk… ever!
Local police have declined to press charges against the security guard, leading to Wordlaw's frustration. She says that the police haven't been much of a help at all in this tough situation. Now she needs to find a new school for her daughter to go to because she doesn't feel safe at Fernwood.
"The Chicago Public School system has a responsibility to make sure nothing like this happens again," added Jeffrey Granich, Wordlaw's lawyer.
When asked about his personal feelings on the matter, Granich didn't pull any punches.
"I wouldn't need a lawyer. I probably wouldn't have filed a federal lawsuit, I probably would have done something else," he said.
Parents care for their children more than anything in the world. It's heartbreaking when your kid undergoes any sort of trauma or difficulty, yet the school system seems to be sweeping this abuse of power under the rug.
This all comes down to the original situation and whether the proper response was given by the security guard. Even if Madisyn did steal a piece of candy, the proper response isn't to treat her like a violent criminal. Especially not to "teach her a lesson!"
Security guards are supposed to keep these kids safe, so it's unclear why this terrible person was allowed to punish a young girl in the first place. This situation should never have arisen, so the school clearly needs to go back to the drawing board in planning how the guards interact with the student population.
Why do you think this security guard went so far beyond his responsibilities? Share your thoughts in the comments.
A Six Year Old Girl Was Handcuffed At School After Teachers Found This In Her Lunchbox
Source: A Six Year Old Girl Was Handcuffed At School After Teachers Found This In Her Lunchbox