The Homosexuals, or Faggots: new play satirises white privileged gay life – and rings true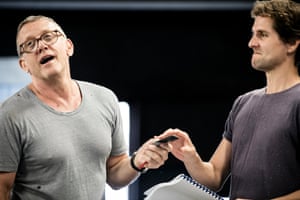 Steve Dow An upcoming piece of queer theatre by Declan Greene reflects uncomfortable truths for those it skewers
The faggots are burning. The fire alarm rings in gay couple Warren and Kim's angular Sydney home as the Mardi Gras parade plays out from the bathroom window.
Warren, in his late 40s, played by Simon Burke, waves away the panic of his husband Kim (Simon Corfield), and offers to fix them martinis. As the lithe, 30-something Kim drops to the ground and crawls on all fours, Warren considers buying him a dog as therapy.
The Homosexuals, or Faggots is in its fourth week of rehearsal when I visit the crew in a wharf loft at Walsh Bay. The title references a meal of mixed pork liver rolled into meatballs – a meal which has just burst into flame in the couple's oven, and one that doubles as a side dish of gay slur.
The play, by the Melbourne playwright Declan Greene and directed by Lee Lewis, has a rainbow of characters: elegant Baebae (Mama Alto), a non-binary transfeminine person of colour, for instance; and Diana (Genevieve Lemon), a foul-mouthed white trans woman.
But Warren, Kim and their model friend Lucacz (Lincoln Younes) are gay white middle-class cisgender males, like me. This appellation sounds exotic, but "cis" really just means I identify my gender as being in line with the sex I was assigned at birth. Sorry for that gaysplaining, but as a gay white middle-class cis male, it appears I have the floor again.
Men such as me, the play contends, have made same-sex marriage their number one activism priority, overshadowing other lesbian, gay, bisexual, trans, intersex and queer concerns. This – plus a fondness for cocktails and cash – make a certain sort of Sydney gay ripe for satire, given to marginalising his oppressed cohorts. How else to explain Kim's possibly transphobic and racist micro-aggression of a costume, when he dresses up in a "sexy" Hitler/Caitlyn Jenner hybrid? Likewise, Lucacz complains that decoupling "Muslim" from "terrorist" is simply "political correctness".
Source: The Homosexuals, or Faggots: new play satirises white privileged gay life – and rings true | Steve Dow | Stage | The Guardian