Opening of UN files on Holocaust will 'rewrite chapters of history'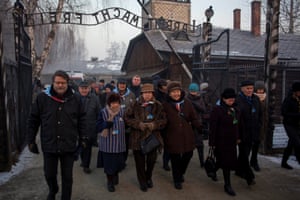 War crimes files revealing early evidence of Holocaust death camps that was smuggled out of eastern Europe are among tens of thousands of files to be made public for the first time this week.
The once-inaccessible archive of the UN war crimes commission, dating back to 1943, is being opened by the Wiener Library in London with a catalogue that can be searched online.
The files establish that some of the first demands for justice came from countries that had been invaded, such as Poland and China, rather than Britain, the US and Russia, which eventually coordinated the post-war Nuremberg trials.
The archive, along with the UNWCC, was closed in the late 1940s as West Germany was transformed into a pivotal ally at the start of the cold war and use of the records was effectively suppressed. Around the same time, many convicted Nazis were granted early release after the anti-communist US senator Joseph McCarthy lobbied to end war crimes trials.
Access to the vast quantity of evidence and indictments is timed to coincide with the publication on Tuesday of Human Rights After Hitler: The Lost History of Prosecuting Axis War Crimes by Dan Plesch, a researcher who has been working on the documents for a decade.
The documents record the gathering of evidence shortly after the UN was founded in January 1942. They demonstrate that rape and forced prostitution were being prosecuted as war crimes in tribunals as far apart as Greece, the Philippines and Poland in the late 1940s, despite more recent suggestions that this was a legal innovation following the 1990s Bosnian conflict.
The Polish government in exile, the files also record, supplied extraordinarily detailed descriptions to the UNWCC of concentration camps such as Treblinka and Auschwitz, where millions of Jews were gassed. The accounts had been smuggled out of occupied eastern Europe. A charge sheet from April 1944 mention victims being forced to strip off clothing and how "the terracotta floors in the chambers … became very slippery when wet".
The Wiener Library was founded in Amsterdam in 1934 by Dr Alfred Wiener to monitor Nazi antisemitism. He shipped his collection to London on the eve of the second world war, then worked with the British government to inform officials about Hitler's regime and provide evidence for the Nuremberg trials.
continue: Opening of UN files on Holocaust will 'rewrite chapters of history' | Law | The Guardian