Teachers face suspension over videos showing abuse of pupils in South Africa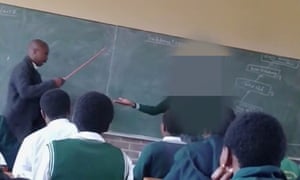 Teaching staff in KwaZulu-Natal province under investigation as mobile phone footage implicating them in savage attacks on students circulates online
Seven teachers face suspension in South Africa after a series of videos emerged showing staff abusing students.
Elijah Mhlanga, spokesperson for the Department of Basic Education, said he was "shocked and disgusted" by the films, which are taken in KwaZulu-Natal, a coastal South African province.
A video shared online on Monday, which appears to have been filmed discreetly by a pupil, shows a teacher attacking two female students with a stick. The girls are heard screaming while their classmates laugh in the background. Police are also investigating reports of an alleged gang rape of a pupil by staff.
The clips, which have provoked outrage online, are the latest in a series of videos showing violence by teachers. Last month, a video surfaced of two students screaming as they are repeatedly struck on the back with a stick by a female teacher. Another video showed a student being lashed several times on the hand by a male teacher.
Dr Stefanie Röhrs, senior researcher at the Children's Institute at the University of Cape Town, said that although corporal punishment in schools was banned 20 years ago in South Africa, violence remains widespread in classrooms.
A 2012 study by the Centre for Justice and Crime Prevention (CJCP) found that, of almost 6,000 pupils surveyed, 49.8% said that they had been caned or beaten by a teacher or principal. Teachers hand out punishment for anything from turning up late to class to getting answers wrong. Last year, a teacher was suspended for allegedly hitting children over their test results. According to those involved, pupils were punished according to their score: if they achieved close to 70% they were lashed once, while anyone who scored under 20% was hit six times.
Source: Teachers face suspension over videos showing abuse of pupils in South Africa | Global development | The Guardian