4 Different Ways To Learn A Language Online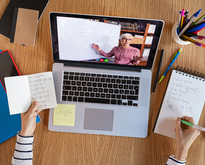 Learning a new language online is difficult and can be frustrating sometimes. If you're figuring out the best ways to learn your preferred language, there are many learning styles, techniques, and resources you can take into consideration.
Depending on your preferences, you can stick with any language learning tactic you think is helpful. However, if you don't know where to get started, here are some of the ways to learn a new language:
Take Online Language Lessons
Any language can be learned through live online lessons. Usually, individual lessons are quite costly and are out of the question for the majority of learners. However, the best thing about taking online language lessons is that there are budget-friendly options you can choose from. You can also select a language lesson based on your skills. For example, if you're just getting started, select the classes designed for beginners like you.
The schedule is also flexible. You can choose the learning time you prefer, and you can even pick your break time. But, make sure to check the lessons provided. Know if it meets your needs or if it's something you're looking for.
Use A Digital Dictionary
As you learn a new language online, you'll run into phrases and words that you might not recognize, especially if you partake in natural conversations. In this case, you would want to ensure that you use a digital dictionary where you can find different words or phrases in infinitive and root forms.
Even if you use dictionaries to look for a term's meaning, they're also helpful for writing, pronunciation, and spelling. Just always keep your digital dictionary available on your computer or mobile device so that you can access it anytime you need it for online learning.
Look For A Conversation Partner
When learning a language online, take the time to look for a conversation partner. It'll test your skills, and you'll learn more at the same time.
A conversation partner is crucial to correct your phonetics and keep your mental progress checkpoint. Having one also adds more motivation to study, enabling you to accomplish more while getting instantaneous feedback.
When searching for a conversation partner online, you can use your social media accounts. If possible, choose a native speaker. However, if you can't find one, you can stick with another person who's also studying the same language you're learning.
Take Advantage Of Media
Media, including online foreign newspapers, web pages, radio broadcasts, and TV programs, aren't a language learning method in the literal sense. However, you have to remember that you can't just learn a language online only by listening to your lessons or reading some articles. So, by taking advantage of the media, it can be of great help to learn a foreign language more effectively.
Besides, you can access media for free. For instance, you can watch language tutorials on YouTube and listen to podcast series about learning a language.
Conclusion
Learning a new language has impressive benefits. From being able to understand a new culture to improving your knowledge, you can be assured the money, effort, and time you'll spend will be all worth it. All you have to do is pick the language you want to learn, and don't forget to take note of the above-mentioned ways of learning a language online effectively.