5 Steps to Becoming an Interior Designer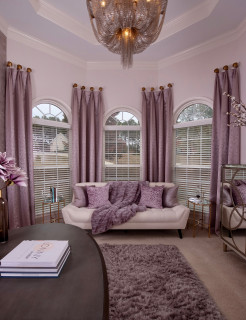 Do you love the idea of working with colors, fabrics, and home décor? A career as an interior designer may be the perfect solution. Interior designers work with home builders, designers, stagers, and clients to create spaces that are functional and inviting. As a career, it can help you unleash your creativity and earn a living.
But before you add "interior designer" to your resume, there are a few steps you need to complete first. Take a look at 5 steps to becoming an interior designer from the designers at Interior Designs by S&S.
5 Steps to Becoming an Interior Designer
If you want to become an interior designer, you need to accomplish a few things first before you start advertising your services. The 5 most important steps are:
1. Education
If you are serious about becoming an interior designer, getting a technical or college education can be very helpful. Taking classes in design, arts, media, and interior design can help you build your skills and fine-tune your direction.
Many states require certification (see below), and may further require you to have a certain level of education. Depending on your state, you may need to have a bachelor's degree in design or a related field, or you may only need two years of schooling.
2. Certification
Many states require you to pass a certification test before you can become a verified interior designer. The test is called the National Council for Interior Design Qualification exam, or NCIDQ exam. This three-part exam tests your knowledge of:
Building permits
Building codes
Inspection regulations
Construction standards
Design application
Professional Practice
This certification helps create a sense of trust and confidence among your clients. You may also need a license in order to work in commercial spaces.
3. Get Some Experience
Experience is one of the fundamentals of becoming an interior designer. In order to take the NCIDQ exam, you must have two years of experience under your belt. This experience can be gained while you are still in school, and can be in a position related to interior design, even if you don't yet have the title of "interior designer".
4. Land Your First Job
Part of the experience you get is hopefully working toward your first job as an interior designer. Maybe you work alongside someone who already has their certification and a business set up. Or maybe you start your own business. In either case, once you land your first job as an interior designer, it is time to shine. Be proud of your education and accomplishments, and show off your creativity.
5. Keep Learning
Not only do trends come and go, but as you develop your interior design career, it is recommended that you continue learning. Beyond your basic understanding of design, consider learning programs like Computer-aided design (CAD), Photoshop CS5, and 3DS Max. These programs are excellent for architectural work and putting design elements together digitally. They are great tools to help you expand your knowledge and open doors to new opportunities.
Conclusion
Like most careers, becoming an interior designer takes some time and effort on your part before the fun part begins. However, if this is a career path that you are passionate about, you should enjoy most of the experience getting your education and gaining experience. And certainly, you will enjoy the process once you have the ability to strike out on your own as an interior design pro.