Academics: it's time to get behind decolonising the curriculum
It's been four years since the first Rhodes Must Fall protests, yet people misunderstand what decolonising reading lists means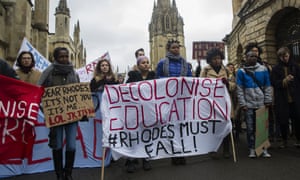 Students at British universities are increasingly calling for their reading lists to include more black and minority ethnic (BAME) writers. But four years after the first Rhodes Must Fall protest in South Africa, the campaign for decolonising the curriculum still faces scepticism and resistance.
While Meghan Markle recently came out in support of the campaign, not all academics are on board. Doug Stokes, a lecturer at the University of Exeter, has claimed that calls to decolonise the curriculum are "a big mistake" since "the last thing our universities need are to have 'male, pale and stale' voices sidelined."
This narrow view has become a common complaint of those who feel threatened by recent challenges, yet what these critics miss is that decolonising universities is not about completely eliminating white men from the curriculum. It's about challenging longstanding biases and omissions that limit how we understand politics and society.
Many advocates of decolonisation don't want to abolish the canon; they want to interrogate its assumptions and broaden our intellectual vision to include a wider range of perspectives. While decolonising the curriculum can mean different things, it includes a fundamental reconsideration of who is teaching, what the subject matter is and how it's being taught.
Far from being a meritocratic system, academia is still struggling to overcome ingrained structural inequalities. Only two weeks before Stokes's article, a report from the University and College Union found that black female professors in the UK faced systemic racism, bullying and discrimination.
To put things in perspective, the report states that in the 2016-17 academic year just 25 black women were recorded as working as professors compared to 14,000 white men. Despite outnumbering black women as professors at a rate of 560 to 1, some white men believe they are the ones under threat
continue: Academics: it's time to get behind decolonising the curriculum | Education | The Guardian