Academics protest as Cambridge fellow told to leave Britain
Letter warns immigration rules may damage UK universities' ability to attract global talent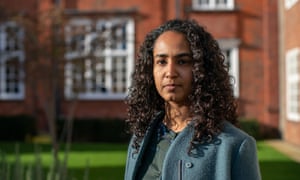 More than 250 academics have written to the Home Office in protest at its decision to deny a Cambridge research fellow leave to remain in the UK, preventing her from continuing to study and teach at the university.
Their open letter warns that the government's harsh application of immigration rules risks alienating international researchers and damaging the ability of UK universities to attract global talent.
Asiya Islam is a highly respected academic in the Cambridge sociology department who has lived in the UK for more than a decade, studying first at the London School of Economics, and more recently at Cambridge. She was a Gates scholar at Cambridge and after completing her PhD was this year awarded a three-year junior research fellowship at the university.
She received a letter from the Home Office last week rejecting an application for indefinite leave to remain in the UK, which means she will be required to leave the country by the end of January when her student visa expires.
The decision was based on the fact that Islam had spent too many days out of the UK during the period covered by her application. However, Islam had explained that she was required to be out of the UK for a number of months to complete essential research for her PhD.
Islam, 31, spent time in 2016 and 2017 researching gender and class in urban India as part of a PhD on the participation of women in the labour market, a necessary requirement to complete her project.
She said she was shocked and horrified by the decision, although she has subsequently learned of other international academics being refused permanent residence because of time spent on research outside of the UK. The Guardian has recently reported on a number of cases of valued academics struggling to remain in the UK as a result of Home Office decisions.
Photograph: Anna Gordon/The Guardian
Source: Academics protest as Cambridge fellow told to leave Britain | UK news | The Guardian