An Interview with Alan Singer: A Statue For Shirley Chisholm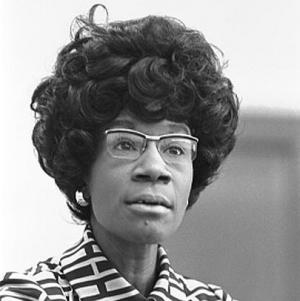 Michael F. Shaughnessy –

1)Professor Singer, please tell us a bit about your education and experience and what you do at Hofstra.
I am a teacher educator at Hofstra University and a former New York City high school social studies teacher. I am also a historian and a political activist. New York City, along with much of the country, has been involved in a prolonged debate over who should be recognized by statues, monuments, and street names.We actually have streets on a Brooklyn army base named for Robert E. Lee and Stonewall Jackson. After considerable public protest the Mayor set up a commission to review who the city honors. A statue of Dr. James Marion Sims, a pioneering 19th century gynecologist, was removed from Central Park because Sims had experimented on enslaved African women with their ability to give consent and without either anesthesia or antiseptics. Other controversial statues, one of Teddy Roosevelt at the Museum of Natural History that celebrates imperialism, one of Christopher Columbus who has been accused of genocidal practices against indigenous people, and Peter Stuyvesant, who promoted both slavery and anti-Semitism in the Dutch New Amsterdam colony that became New York, were allowed to remain. A positive outcome of the review process was a commitment to build new monuments to people, especially women, who have not been recognized in the past.
2) Now tell us a bit about the life and times of Shirley Chisholm.
Shirley Chisholm is a great choice for a new, New York City statue. Chisholm was the first African American woman to serve in the United States House of Representatives where she represented Central Brooklyn. In 1972, she was the first woman to seek the Democratic Party's presidential nomination and the first black woman to seek the presidential nomination of either of the major political parties. Chisholm was also a co-founder of the Congressional Black Caucus. In 2015, President Barack Obama posthumously awarded her the Presidential Medal of Freedom. Before she entered politics and was elected to the New York State Assembly, Chisholm was a nursery school teacher and consultant to New York City's Division of Day Care. While in the State Assembly, Chisholm helped secure unemployment insurance for domestic workers.
3) Whose idea was it to have a statue to recognize her life and contributions?
Chirlane McCray, the wife of New York City Mayor Bill de Blasio has championed new statues honoring the achievements of New York City women. The Mayoral Advisory Commission on City Art, Monuments, and Markers set up an online nomination process that was open in June and July. The criteria for nominations were that they recognize an event, person, or group that had a significant connection to New York City; happened at least 20 years ago; and that the people involved must be no longer living.
Over a thousand nominations were made and Shirley Chisholm was the Commission's choice,although no vote totals were announced. I liked the online process but was disappointed that it was only open during the summer. If the process had extended into the fall it could have involved New York City school children in researching and writing about potential candidates.
4) Now, why Prospect Park — is this symbolic?
Prospect Park is the Central Park of the former independent city of Brooklyn, which is now one of New York City's five boroughs. Shirley Chisholm was born in Brooklyn in 1924. Her parents were a factory laborer from Guyana and a seamstress from Barbados. She earned a bachelor's degree from Brooklyn College in 1946 and later a Master's degree in early childhood education from Teachers College at Columbia University. Prospect Park currently has ten statues honoring male historical figures and none of a woman. It is definitely about time.
5) In your mind, should we have statues honoring other politicians or leading figures?
New York City currently has over 1,000 monuments and 145 statues that honor individual men. Only five honor women, Joan of Arc, Golda Meir, Gertrude Stein,Eleanor Roosevelt, and Harriet Tubman. Shirley Chisholm will be number six. In Manhattan's Central park there are 23 historical male statues, but the only females represented in the park are fictional characters, nymphs, and angels. A non-profit group is lobbying the city to place a monument to suffragists Elizabeth Cady Stanton and Susan B. Anthony at the West 77th Street entrance. I would also like to see statues honoring Margaret Sanger for her work promoting women's health and birth control; Clara Lemlich and other local women who helped build the American labor movement; Bella Abzug, a Congressional Representative and a leading feminist and peace activist in the1960s and 1970s; and Elizabeth Jennings a pre-Civil War civil rights activists who fought to desegregate the city's transit system and founded the city's first kindergarten for African American children.
6) What have I neglected to ask?
I am currently involved in two projects related to the statue issue. At Hofstra University, during the Spring2018 semester, students raised serious questions about a statute outside the student center that honors Thomas Jefferson as author of the Declaration of Independence. Protests centered on whether Jefferson's role as a slaveholder,as a participant in the domestic slave trade, and his sexual relationship with a teenaged Sally Hemings, who he owned as a slave, outweigh any positive contributions he made to the nation, and support removal of the statue. After meetings with university officials, Hofstra established a Presidential Task Force on Representation in Public Spaces to report on both existing statues and possible new statues and plaques. Hofstra is also planning an academic conference for Fall 2019 examining the impact of the trans-Atlantic slave trade on creation of the modern world and on race relations in the United States. For now the Thomas Jefferson stature will remain, but whatever the final resolution, the statue debate has definitely precipitated a much broader awareness of history on our campus.
In New York City, I have been involved in campaigns to get historical markers that recognized the city's involvement in slavery and the slave trade. The city finally installed a marker at the site of the colonial slave market on Wall Street near the East River, another initiative supported by Chirlane McCray. Now I am pushing to rename Metro Tech Commons in Brooklyn as Grand Emancipation Jubilee Plaza. It was the site where Brooklyn's African American community and abolitionists awaited the announcement of the Emancipation Proclamation on New Year's Eve 1863.
People who are interested in my activities can follow me in Twitter at https://twitter.com/ReecesPieces8.