An Interview with Professor Donald Elder: Baron Johann De Kalb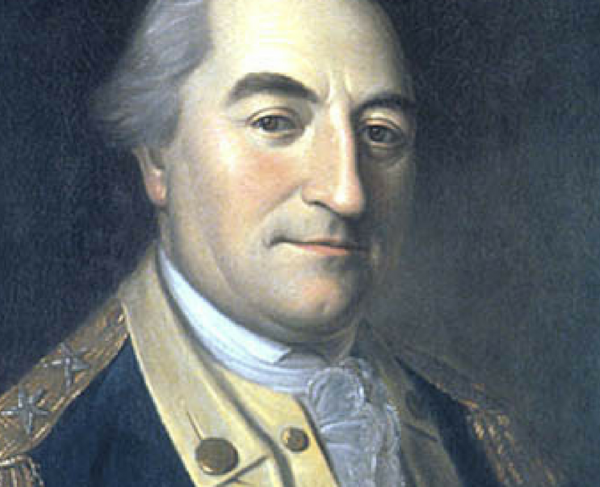 Michael F. Shaughnessy –
Professor Elder, so many Americans owe so much to so many who came from foreign lands to assist in the American Revolution. Baron De Kalb was once such soldier and leader. Where exactly was he born and what was his nationality?
Unlike most American generals, certain details about the early life of the individual known in American History as Baron Johann De Kalb remain shrouded in mystery. Historians agree that he was born in June of 1721 in the Bavarian village of Huttendorf, but differ on the type of family that he was born into.
Some accounts, for example, state that his parents had the status of peasants, while some assert that his parents belonged to the nobility in the principality of Bayreuth. Judging by the fact that he spoke French and English in addition to his native German tongue, it seems likely that his parents must have had the financial wherewithal to send him to more than just a rudimentary local school. It seems fair to say, then, that Johann Kalb—his actual name, according to most historians—came from a comfortably situated family, if not a noble one. In 1738, Kalb left Huttendorf, never to return.
Regarding De Kalb's prior military experience and training, what was he involved with?
Although born in a German principality, Johann Kalb chose to seek a career in the French Army. Although French and Germanic forces fought each other from the seventeenth century onward, France proved able during the eighteenth century to recruit whole regiments from what would later become Germany.
In 1743, Johann Kalb received a commission as a lieutenant in the Loewendal Regiment, one officered exclusively by German-born officers. Interestingly, historians know next to nothing about the period in Kalb's life between his leaving Huttendorf and his becoming an officer in the Loewendal Regiment. One thing that definitely did happen during those years involves Kalb's name.
From 1743 on, he referred to himself as "Baron De Kalb," meaning that he had assumed a title of nobility. Undoubtedly, he did so to present himself as suitable officer material. Once he became an officer, De Kalb had an immediate baptism of fire. Three years before De Kalb entered the military, France had become involved in a conflict known in Europe as the War of the Austrian Succession, and he joined his regiment while it was engaged in combat in Flanders. De Kalb served the French cause ably, earning a promotion to the rank of captain by the end of the war.
After the warring parties negotiated a settlement to the conflict in 1748, De Kalb chose to remain in the army. Promoted to major, De Kalb saw action once again during the Seven Years War, earning a further promotion to lieutenant colonel. When that war ended, De Kalb married the fifteen-year-old daughter of a wealthy French fabric merchant. Soon after their marriage, his wife inherited the family fortune. De Kalb could have simply lived the rest of his life as a man of leisure, but at the age of 55 he decided to take up arms again and join the American cause during the Revolutionary War.
He apparently worked with both the Marquis de Lafayette and George Washington. What do we know about his relationship with them?
Although only a teenager at the start of the American Revolution, the Marquis de Lafayette wanted to help the new nation achieve its independence. Because he had no military experience, however, it seemed unlikely that he would get the opportunity to offer his services to the Patriot cause. Fortunately for Lafayette, a French nobleman had introduced him to De Kalb. Although vastly different in virtually every respect, the two became good friends. Since De Kalb also longed to fight for the fledgling nation, the two decided that they would jointly offer their services. For that reason, they approached Silas Deane, the American representative to France. Deane had granted appointments to the rank of general for a number of Europeans, and in 1777 Lafayette and De Kalb made a similar request. Happy to oblige them, Deane gave them both appointments to the rank of major general.
On April 20, 1777, the two boarded a French ship bound for the United States. Once they arrived at their destination, they found out that Deane had exceeded his authority in giving them their appointments. As it turned out, Washington did not have enough soldiers in his army to create units that major generals commanded by virtue of their rank.
Lafayette and De Kalb reacted quite differently to the news that they would not receive their appointments. On the one hand, the young Frenchman said that he would serve as an unpaid volunteer, and joined Washington's army. De Kalb, on the other hand, said that he would return to France, and went on to say that he expected Congress to pay his expenses for his journey to and from the United States. Proving true to his word, De Kalb immediately started making his way back to the coast. For reasons that remain unclear, Congress chose to confirm both his and Lafayette's appointments. By the time De Kalb reached Washington's army, the British had taken possession of Philadelphia. When he arrived, he received an invitation to a meeting of all the generals serving in Washington's army.
At that gathering, Washington informed them that he hoped to launch an assault on Philadelphia, much as he had done at Trenton. De Kalb and a majority of the generals strongly advised against that course of action, pointing out that the British had built stout fortifications to defend the city. As he often did, Washington deferred to the opinion of the majority, and did not follow through on his plan.
He spent some time at Valley Forge. What are the details?
After Washington gave up his plan to attack the British in Philadelphia, he reluctantly decided to make camp for the winter. Wanting to keep a close eye on the British, he chose a nearby location known as Valley Forge. Here again, De Kalb differed with Washington, as he believed that the army would find it hard to keep itself supplied in the remote location. Although one could argue that Washington would have had trouble keeping his army fed in any location, the hardships that his troops faced certainly bore out the accuracy of De Kalb's opinion regarding the disadvantages of wintering at Valley Forge.
Often military individuals give each other the highest regard and respect. What do we know about what transpired in this regard after the Battle of Camden?
When the British evacuated Philadelphia in the spring of 1778, Washington decided to attack them as they retreated through the New Jersey countryside. This resulted in the Battle of Monmouth on June 28. During that engagement, De Kalb's men participated in a stalwart stand by the right wing of the American Army that helped blunt attacks made by British General Charles Cornwallis, and allowed Washington to counterattack late in the day.
Impressed with De Kalb's leadership, Washington gave him an important assignment in the spring of 1780. Learning that the British had sent a detachment of over 2,000 men to join operations in South Carolina, Washington ordered De Kalb to take 1,400 Continental soldiers to reinforce General Benjamin Lincoln in Charleston.
While on the route southward, De Kalb received news that Lincoln had surrendered the city, and all the soldiers under his command, in early May. Receiving no orders to the contrary, De Kalb continued to march toward South Carolina. While camped in North Carolina, he learned that Congress had sent General Horatio Gates to take command of American forces in the South. Once Gates arrived, he informed De Kalb that he planned to move on a British outpost at Camden, South Carolina.
Picking up militia units along the way, Gates and De Kalb reached their destination by mid-August. Even though the march had tired his men, Gates ordered them on a night march on August 15 to establish a position that would threaten the British garrison in Camden. Much to their surprise, the advancing Americans ran into British soldiers moving in their direction.
It turned out that the British had learned of Gates' arrival in South Carolina, and had sent a force to intercept him before he reached Camden. The Americans had run into the vanguard of that force on the night of the 15th. Alerted to the presence of the British, Gates drew up a plan of battle for the following day. Placing his militia on his left wing with orders to hold their positions, Gates ordered De Kalb to use all of his soldiers to launch an attack from the right wing. At the start of the battle, De Kalb's men moved forward, but at the same time a British force attacked the American militia. Every militia unit save one quickly fled the battlefield, leaving De Kalb and his men to fend for themselves.
Had the militia held their positions, Gates might have won the battle, as De Kalb's attack came close to breaking the British position, but after the collapse of the left wing of Gates' army the British turned their full attention to De Kalb's men. His outnumbered force fought valiantly, urged on by De Kalb. Soon, however, the superior numbers proved overwhelming, and the British overwhelmed the brave stand of De Kalb and his men. After receiving three wounds from musket balls and eight wounds from bayonets, De Kalb finally collapsed. Taken prisoner by the British, De Kalb lived for three days before finally succumbing to his wounds.
Where is De Kalb buried, and what were some of the things said about this heroic military leader?
After he died, De Kalb was originally buried in a nearby cemetery. In 1825, his body was moved to the Bethesda Presbyterian Church cemetery in Camden. A monument to his honor was placed there, with Lafayette laying the cornerstone for his esteemed former comrade.
A plaque was placed on the monument, stating "Here lies the remains of Baron De Kalb, a German by birth, but in principle, a citizen of the world." This seems a fitting tribute for a man who made our nation's fight for its independence his own.
What have I neglected to ask about this singular individual?
Six states have counties named for De Kalb, making him the third most-honored general of the American Revolution!
Obviously, Americans of an earlier age greatly respected a man who refused to surrender despite suffering unimaginable pain on the field of honor that day at Camden.