Assault on Education Coming if Officials Don't Wake Up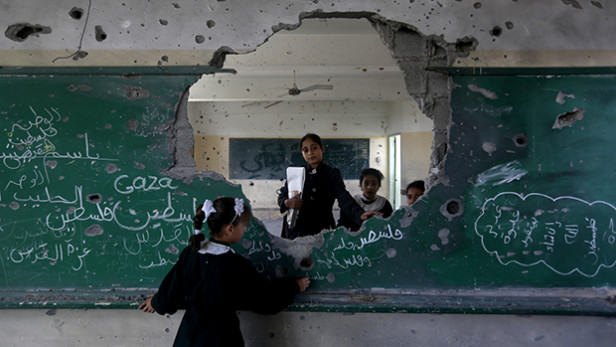 Ken Winter –
If Michigan elected leaders and legislators haven't figured it out yet, they will soon, just like they did with Michigan's roads.  Potholes took precedence over the state's stagnant education system.  However, some voters have had enough of rising tuition costs, mounting personal debt…and no relief in sight.
Detroit News Editorial Page Editor Nolan Finley recently pointed out that Michigan is in the bottom 10 states when looking at one measurement: The state's fourth-graders fell to 41st from 38th in the National Assessment of Education Performance reading test.  Other grade levels and subjects posted similarly dismal results.  Finley, like others, contend that Michigan lacks the leadership and unified vision for what needs to be done.
"Too many in the state think the status quo would work just fine, if only there was more money.  But this is a Top 10 state per capita in terms of total spending, and the classroom results don't match the dollars invested," the Detroit native opined in his recent column.  "It takes Michigan years to agree on even the most basic reform, such as how to evaluate the performance of teachers and schools.  Nothing is going to improve in Michigan's schools until there's consensus that things must change."
Instead of solving the problem, Michigan public schools more often than not operate in silos, with a lack of the leadership it takes to curb the downward trends.  Schools now wrestle with a politicized, state-mandated, partial teacher accountability program.  They also have to switch gears—after years of using the ACT—to the SAT achievement measurement tool now that the state has signed a three-year contract.  That may save the state money, but it forces more expenses upon the local school district.
While huge progress was made in convincing lawmakers of the value of early childhood education, the rest of Michigan's public education system appears to be fractured.   Worse, too many are too accepting of the state's status quo of poor performance.  Teachers are bombarded with constant, inconsistent change and constraints that would make anyone's head spin…and drive any private sector business into bankruptcy.  Similarly, local school districts, colleges and universities are strapped with expensive, monopolistic accrediting organizations that are  inefficient and out of touch with reality.
Some 1,500 colleges and universities, for example, are forced to deal with six regional accrediting groups deputized by the U.S. Department of Education if they wish to be eligible for federal aid and student loans subsidies.
A small Michigan college reported that last year it spent about $20,000 or so on the accreditation visit and preparation for it.   The Higher Learning Commission yearly dues cost a college with an annual budget of $15.5 million about $3,500.  "That does not include our employees time–which was significant" added the college president.  He guessed that the top four administrators spent at least 8 hours a week for four months—in addition to the work of various faculty and staff committees—before the campus accreditation team even visited.
"Our higher education system is controlled by what amounts to a cartel of existing colleges and universities which use their power over accreditation to block innovative, low cost competitors from entering the market," U.S. Senator/Presidential candidate Mark Rubio recently told The Wall Street Journal.  He and Senator Michael Benweek (D., Colo.) have introduced a bill that would test a voluntary certification process for vocational and nontraditional education.  The Obama administration has demanded more transparency in the accreditation process, and created a new federal watchdog that will be looking into how well students do after graduation, rather than simply reviewing faculty and counting books in the library.  This comes as student debt hits $1.3 trillion, thereby questioning the true value of many colleges.
Michigan's elected leaders need to listen and look at what Michigan residents are saying.  The non-profit, non-partisan Center for Michigan recently released its own findings after speaking directly to some 4,000 residents during 150 community conversations around the state, 400 via telephone polls and another 198 educators via online surveys.  It's believed to be the largest civic engagement process held in the state using three different techniques to garner comments.
Despite the intense criticism, many Michigan residents see clear and achievable ways to improve the system.  Here are the causes of their concerns:
School counselors are outnumbered: There are more than 700 students for each school counselor, the fifth highest ratio in the country. The counselors need to be specially certified in college choice, financial aid and career counseling.
Fewer youth are gaining solid work experience.
For many students, college is a rocky start when one in three Michigan high school graduates have to take remedial courses for things they did not learn in high school, which costs more than $100 million per year.
Half of public university students fail to complete a bachelor's degree within six years.
Colleges come under criticism not only for skyrocketing, uncontrolled tuition costs, but for not being held accountable for providing adequate guidance and job placement.
These results were released during three special "Getting to Work" summits held across the state this Fall.   They were sponsored by the Center for Michigan and the non-partisan Lansing-based Public Sector Consultants.  The results came as no surprise to those close to the grassroots.  Despite their intense criticism of the current education system, the Center reported that Michigan residents see clear, manageable ways to improve college affordability, intensify college and career navigation, and enhance upward mobility for Michigan's 600,000 high school, vocational and college students.
The general public believes Michigan's counseling and career navigation systems do not meet the needs of today's students.  When voicing action-oriented comments, surveyed citizens said:
Government should be more responsible and place a higher priority on higher education funding, while colleges should be more efficient and responsible for the cost of attending college.
More focus needs to be placed on the skilled trades, apprenticeships and professional certifications to ensure that education matches workforce needs.
Workers also questioned the quality of services available through workforce development agencies, suggesting that there are inadequate resources to improve the basic skills required for upward mobility.
During a Lansing forum, Governor Rick Snyder echoed many of the same public concerns.  He suggested six strategies to achieve college affordability, ranging from providing more money and increasing need financial aid, to better managing existing financial resources and asset utilization.  Examples include using buildings on Fridays and weekends to provide better career counseling; optimizing credits such as those for, dual enrollment, early college and military thereby simplifying the transfer of college credits.  He also called for more employer involvement through cooperatives and internships, alternating between private work and community college for training.
"College is expensive which creates more barriers," Snyder said. "…We need to think out of the box."
To address college costs, Northwestern Michigan College (NMC) officials in Traverse City just started hosting a series of information sessions about the cost of college, and the tools and resources available to families to manage it.  Options range from federal financial aid and state scholarships, to dual enrollment and early college programs.
Pamela Palermo, NMC's director of financial aid, told the Traverse City Record-Eagle that, in an ideal world, most families world start saving for college early.  But, many parents—even the ones that begin saving early–still face the prospect of paying for their children's post-high school educations while living paycheck to paycheck.
Some 50 business and education leaders gathered late last week in Traverse City for the Northern Michigan Alliance's Annual Legislative Agenda Conference and called for much the same.  The Alliance represents more than 6,500 businesses across Northern Michigan.  They urged promoting the importance of skilled labor and its high paying jobs, especially to high school students.  The region is currently dealing with shortages in the trades, such as carpenters, finish carpenters, electricians, plumbers, and welders, as well as workforce housing shortages.  Consumer Energy, for example, announced it wants to hire 50 line workers, who can earn $100,000 a year.
One Northern Michigan business, Moran Steel of Onaway, has had to deal with a significant lack of skilled trades in the region by creating its own welding training program.  Their program is now evolving into a full-blown trades' school, and expanding its certifications by branching out to thirteen new trades.  The school is expected to launch in January with plans to create summer camps for high school students to explore their interest in trades.
"There is a huge talent gap," Georgia Abbott, executive director of the Industrial Arts Institute in Onaway, told the Petoskey News-Review.  "There is a need for workers in the Tip of the Mitt."  With many of the trade force driven out of the area during the '08 downturn in the market, others are simply aging with no one trained to replace them.  The Institute currently has programs in welding, manual machines and fabrication, but with a partnership with the Great Construction Academy in Midland, classes in construction trades will be soon offered.
Stephanie Baldwin, board president of the Home Builders Association of Northern Michigan, added that the school will give students who want to work with their hands outside of a traditional school a path to a career.  "There is a big push for college education and we've kind of forgotten about all the trades that don't necessary need a four-year-education on a different track," she told the News-Review.
The non-profit Foundation for Teaching and Learning in Petoskey, who provides a four-summer Institute for advance teacher training in writing and professional development in the Tip of Northern Michigan, recently sponsored two public showings of the movie, Most Likely to Succeed, to create public awareness of the need for schools to develop a different set of skills to work in a rapidly changing world, as well as in a world of innovation.
The Foundation notes that 53% of recent college graduates are un- or under-employed, with the current length of a job for a millennial averaging 2.6 years and a total of 15-20 jobs over the course of their working life.  Sixty-five of today's grade school children will end up in jobs that haven't been invented yet.  The Foundation cites a Lego Foundation report that states students lose more than 90% of their creative capacity during their school years.  "There's also a strong Luddite strain in Michigan's education establishment," Finley observes.  "Technology is often seen not as a tool to better convey information, but as a threat to teacher jobs.  But, if technology allows a district to make sure all of its students learn from its very best teachers, it's a dereliction not to use it."
Finley concludes, "More than anything, education reform in Michigan is held back by a lack of urgency, a state of denial about just how terribly the schools are performing. Parents aren't screaming about those horrible NAEP scores.  Michigan won't be a Top 10 education state until they do."
Source: Assault on Education Coming if Officials Don't Wake Up