Baylor football players raped women as 'bonding experience', lawsuit alleges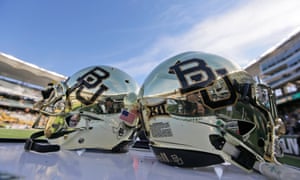 *Lawsuit filed in federal court claims players took part in gang rapes *Baylor accused of violating Title IX and fostering culture of violence on campus
The latest lawsuit against Baylor University alleges that its football players took part in gang rapes as a team-bonding experience for new recruits.
The suit was filed in federal court in Waco by a plaintiff identified as Jane Doe, who was part of a campus sports team.
It is the seventh to argue that Baylor violated Title IX, the federal civil rights law against sex-based discrimination, by fostering a culture of sexual hostility and violence.
It states that in 2012 the woman went to a party hosted by unidentified Baylor football players at an off-campus apartment complex, and believes she was drugged. Then she was allegedly taken somewhere in a vehicle and raped by between four and eight players. She said she remembers hearing a cry: "Grab her phone! Delete my numbers and texts!"
The lawsuit claims that such parties sometimes featured dog fights and sexual assaults that were recorded. "At these parties, the girls would be drugged and gang raped, or in the words of the football players, 'trains' would be run on the girls. The gang rapes were considered a 'bonding' experience," it states.
"Photographs and videotapes of the semi-conscious girls would be taken during the gang rapes and circulated amongst the football players. Based upon investigation, plaintiff has confirmed that at least one, 21-second videotape of two female Baylor students being gang-raped by several Baylor football players was circulated amongst football players."
Jane Doe's alleged ordeal continued: the court document states that she was harassed and taunted verbally and by text message and later had to attend classes with two of the players. Those involved were hostile towards her after her mother asked an assistant coach to take action, it says.
Source: Baylor football players raped women as 'bonding experience', lawsuit alleges | US news | The Guardian