Clarissa Willis: Teaching Young Children with Autism Spectrum Disorder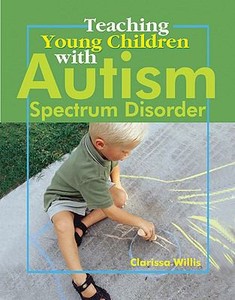 An Interview with Clarissa Willis: Teaching Young Children with Autism Spectrum Disorder
Michael F. Shaughnessy
1) Clarissa, can you tell our readers a bit about yourself, your education and experience?
I am an associate professor of Special Education at the University of Southern Indiana. I am also the senior author of Learn Every Day: The Program for Infants, Toddlers and Twos and Learn Every Day: The Preschool Curriculum, two new comprehensive inclusive curriculum projects. I am the author of thirteen teacher resource books including Teaching Young Children with Autism Spectrum Disorder (Gryphon House), Inclusive Literacy Lessons (Gryphon House), Teaching Infants Toddlers and Twos with Special Needs (Gryphon House), Guidelines and Strategies for Children with Special Needs Frog Street Press); My Child has Autism (Gryphon House), and Creating Inclusive Learning Environments for Young Children: What to do on Monday morning! (Corwin Press).
2) When did you first become interested in working with children with autism?
Earlier in my career, I was a public school speech pathologist and that is when I begin to really recognize the issues, especially the communication needs of children with autism. Later, I helped organize an autism training project in which teachers had the opportunities to come together for two weeks every summer and learn more about autism. But the real love for children with autism came from all the children and their families I have had the pleasure of working with during the past 30 years.
3) Since the language of children with autism is often delayed, how can parents and experts such as yourself best communicate with them?
We know that roughly 40% of children with autism will be non-verbal therefore it is imperative that we look for alternative ways to help those children communicate. Whether it is sign language or pointing to pictures when a child can communicate it improves the quality of his/her life. It is also important to talk to children even if they don't respond in a traditional manner. We know that many children with language delays understand far more than they can communicate therefore talking about what you are doing and describing activities for the child is very important.
4) What would you say are the most important skills that children under 5 that have autism need to learn?
There are three areas that are most important: social skills, behavior management and communication. In my book Teaching Young Children with Autism Spectrum Disorder I emphasize the importance of consistent routines and the use of modeling appropriate behaviors for young children with autism spectrum disorder.
5) What about kids from ages 5-10? What are the crucial skills?
In addition to the skills mentioned above, as children get older it is important to begin teaching content area skills such as reading, writing and more sophisticated methods of communication. It becomes even more challenging when children get to middle school and start changing classes throughout the day because consistency in routines is paramount for children with autism; the added stress of changing classes often causes issues with behavior and socialization.
6) What do you say to parents about their responsibilities in terms of teaching academic, social and other skills to children with autism?
It is important that parents and professionals share the responsibility of planning programs for children with autism. They must become a team where each member is an equal partner. The most successful children with autism are those who have had consistent interventions from an early age.
7) Recently, like the planet Pluto, Asperger's syndrome seems to have disappeared- or at least been dropped from DSM-5. What are the implications of this?
What the DSM-5 attempts to accomplish is to get rid of the subcategories of autism and diagnose children with certain definable characteristics as having autism spectrum disorder. In the past, there were three categories of symptoms associated with ASDs: language problems, social problems, and restrictive and repetitive behaviors.
One major change is that language and social problems will now be combined into one category, and in fact the two cannot really be separated. There are three types of social and communication problems the new criteria will look at in diagnosing children with an ASD. They are social reciprocity, communication including nonverbal communication, and relationships.
So, while there are no longer sub-categories or types of autism many children previously labeled with Asperger syndrome will still be included.
8) Your recent book has just been revised….what are the main changes?
Teaching Young Children with Autism Spectrum Disorder has been revised to reflect the changes made to the diagnostic criteria for autism in the DSM-V. This includes revising descriptions about how we label and describe children with autism. This new criteria, while no longer uses categories of autism or types of autism rather it uses descriptors to talk about where a child is functioning on the autism spectrum.
9) What seems to be the most significant changes in DSM-5?
I think the intent of the DSM-5 was to enable professionals to consistently diagnose autism at the earliest age possible. While there is still concern in the field that it will exclude rather than include children with autism I think in fact the opposite may be true. So far I have found that with the clarifications and the new material included in the DSM-V practitioners are able to more consistently identify the characteristics associated with autism. It will also benefit children who move or who go to several different clinics as now everyone is using much more consistent and comprehensive language when describing autism. Regardless, it has not changed the processes we use to work with children with autism, the areas of concern, behavior, communication, socialization and sensory processing are still the same.
10) What have I neglected to ask?
Children with autism can and do learn, but the sooner they receive quality services the better the outcome. I also think it is important for parents and professionals to examine research-based evidence of what works and then join together to provide the best environment possible. If I have learned anything about children with autism it is that they are each very different and that is why the term spectrum disorder really fits.
11) How and where can professionals get a copy of the book?
Gryphon House's website: http://www.gryphonhouse.com.