Clear Choice for Tex. Voters: True Patriot vs. Hard-Left Extremist for SBOE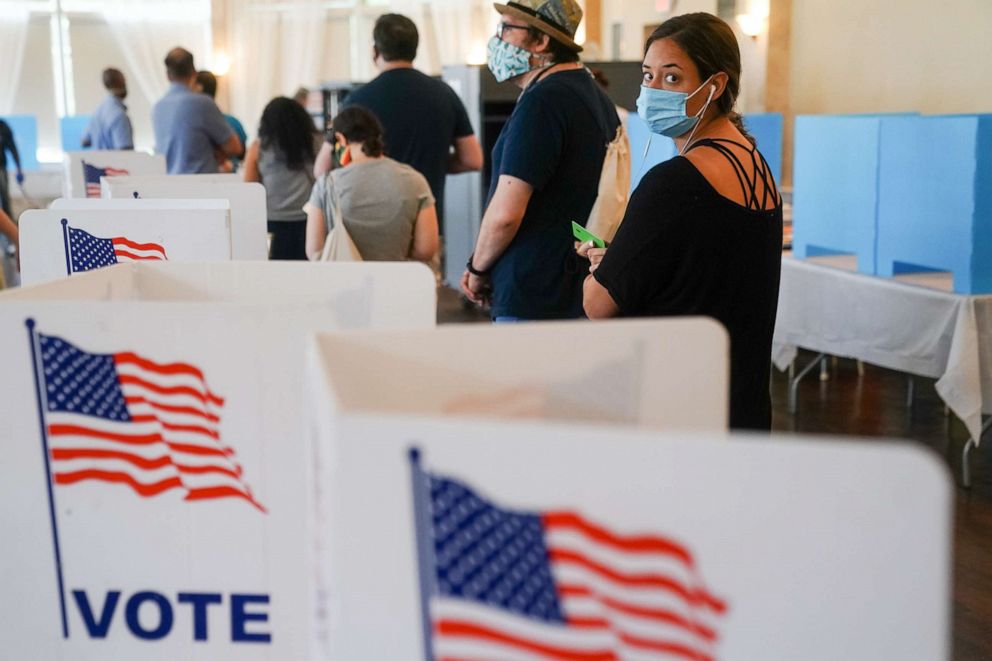 "Clear Choice for Tex. Voters:  True Patriot vs. Hard-Left Extremist for SBOE"
By Donna Garner

9.12.20

ACTION ALERT:  Early, face-to-face voting in Texas begins OCT. 13!

This is our chance to take back our country!

My suggestion is this:  If we really want to make sure our votes are counted, we need to go to the polls in person and not trust the mail-in ballot system. 

Because of the many COVID safety precautions being taken at the polls, if we can go to the grocery store in person, then we certainly should be able to go vote in person!

LANI POPP – CLEAR CHOICE FOR SBOE DISTRICT 5

Every Texas voter who lives in Texas State Board of Education (SBOE) District 5 and who cares about children and their future should go to the polls on Nov. 3, 2020 (or vote in person when early voting starts on Oct. 13) to vote for Lani Popp.

For voters, this should be an easy call because the differences between patriotic Republican Lani Popp and far-leftwing Democrat Rebecca Bell-Metereau could not be any clearer.  
Lani has spent her life serving Texas students from Pre-K to high school. She has worked for 17 years in public schools (including 4 years in inner-city schools in Houston) and 11 years in private schools.

As a speech-language pathologist and a recognized speaker on autism at the state and national levels, Lani has been a passionate champion for autistic students. She has written a social skills curriculum for autistic students and has composed songs to help them learn communication and social skills. Lani has also taught students classical guitar and show choir.
Lani and over 100 of her students and their parents took part in the National Anthem Project which seeks to teach the history and importance of the National Anthem. They sang at the Texas Capital, at the Memorial Day session of the Texas Legislature, and at the Washington Monument. For her commitment to this patriotic project, Lani was named a national finalist for the VFW Teacher of the Year.
Lani's deep love for America was fostered by spending her childhood on military bases because her dad was in the Navy.  Not surprisingly, she met her husband on a military base; they both went to Baylor University and married after they graduated.  Her husband served as a pediatrician in the Air Force during Desert Storm.  Lani's family is devoted to service; four of Lani's five children are also public-school educators; and the fifth is an oral surgeon in the US Air Force.  

Lani is committed to making sure that curriculum standards are historically and scientifically accurate and age-appropriate and has pledged to review textbooks to safeguard truth. As a parent herself, she is a firm believer in protecting parents' rights.

To learn more about Lani, please go to:  https://www.lanipopp.com/about-lani

SBOE District 5 goes from Mason and Llano Counties in the north to Bexar and Guadalupe Counties in the south – from Gillespie County in the west to Caldwell County in the east.  Ken Mercer is the present SBOE member representing District 5, and he is retiring after 14 years of service.

If you are not in Lani Popp's SBOE district, you can still share this information with your friends and family who are voters in her SBOE district. It is also not too late to send a campaign donation to help Lani during these last, crucial days of the race: https://www.lanipopp.com/donate-now

To find the number of your SBOE district, please look at this map:  https://tea.texas.gov/sites/default/files/Black%20and%20white%20SBOE-district%20map.pdf

Ten of the 15 SBOE members have written glowing endorsements for Lani Popp:  https://www.lanipopp.com/endorsements

THE UGLY ABOUT REBECCA BELL-METEREAU

Rebecca Bell-Metereau, hard-left Democrat, has run for Ken Mercer's seat on the Texas State Board of Education three times – in 2010, 2012, and 2016.  She has lost all three times and for good reason. 

"RBM" (for short) has been supported in her run each time by Texas Freedom Network which is an organization that was created "to practice the politics of personal destruction" against anyone on the SBOE who wants our Texas public school children to be taught traditional, fact-based curriculum that will help students to make healthy and wise decisions in life.

Each time RBM runs, she also gathers support from liberal editorial boards who wish to elect leftist extremists to move our public schools as far as possible into the LGBTQ, anti-American exceptionalism, socialist/Communist, extreme environmentalism agenda.

RBM has no teaching experience in K-12 (as Lani Popp does) and is a professor and director of media studies in the English Department at Texas State University, San Marcos, Texas.

RBM was very active in Organizing for America which helped to elect Obama in 2008, and she is a supporter of the highly unpatriotic 1916 Project.

RBM has proudly claimed endorsements from these liberal media sources: 
Austin American-Statesman
San Antonio Express-News
Austin Chronicle
Daily Texan
Burnt Orange Report
Austin Lesbian/Gay Political Caucus
Austin Progressive Coalition
Austin Area Progressive Democrats
BACKGROUND ON RBM
As expected, on RBM's campaign website for the Texas State Board of Education, she does not say anything about the following information. Evidently she does not want the public to know of her perverse interest as demonstrated by her published works. Undoubtedly, she tries to keep all of this out of the press for fear voters would not want her to have any authority whatsoever over what their Pre-K through Grade 12 children are taught.
Here are the facts about RBM:
RBM is a professor of English and Film and directs Media Studies. Her courses taught include: Honors Sex Roles in Film and Honors Gender and Technology in Film. 

What RBM does not want the voting public to know is that she authored a 345-page book entitled "Hollywood Androgyny" in which she examines over 200 films that contain examples of cross-dressing, female and male impersonation, and transvestitism.  

According to the definition of androgyny: 

"Androgyny is the combination of masculine and feminine characteristics into an ambiguous form.  When androgyny refers to mixed biological sex characteristics in humans, it often refers to intersex people. As a gender identity, androgynous individuals may refer to themselves as non-binary, genderqueer, or gender neutral…unisex clothing is an example."
One reviewer of RBM's book stated: "It is hard to believe that an author could be so passionate about this topic of cross-dressing."
An industry review noted: "The subject is cross-dressing, transvestitism, and other kinds of gender-bending in Hollywood movies.
Quote from RBM's book: "Role reversal and cross-dressing in films follow peaks that correspond to periods of greater experimentation in the society at large…When censorships were lifted, previously covert connections between female impersonation and homosexuality suddenly became overt, populating the screen with all the varieties of impersonators that exist in real life."
RBM has also written such highly questionable pieces as:
"Transgender Cinema"
"It's Only a Piece of Meat: Gender Ambiguity, Sexuality, and Politics in The Crying Game and M. Butterfly"
"Exoticism and Postcolonial Television Culture"
"Hollywood Drag: Androgyny in American Film"
"Star Bodies and the Erotics of Suffering"
RBM'S STATEMENTS ON SBOE QUESTIONNAIRE

When asked to fill out the SBOE questionnaire, RBM has stated the following:

"With the last decade being the hottest on record, we have to face the fact that this problem will only accelerate. Educating our children in sustainable practices…such as climate change, immigration, income inequality, developing economic resilience…environmental stewardship, and the scientific, social, and business innovations it will take to address the enormous cost of climate change must be front and center in our goals for the curriculum and textbooks."

RBM agrees: "Public school science classes should present the substantial scientific agreement about the occurrence, consequences and causes of climate change, including anthropogenic/human-causal factors.

RBM agrees: "Science classes should NOT present creationism and/or 'intelligent design' alongside evolution as credible scientific theories."
RBM agrees: "Curriculum standards and instructional materials should include accurate information about issues pertaining to the LGBT community, and LGBT students should be protected from discrimination in all aspects of public school life."

RBM SUPPORTERS:
Texas State Teachers Association, NEA affiliate
Texas Freedom Network
Stonewall Democrats, LGBTQ advocacy
#VOTE PROCHOICE, abortion advocacy
RBM LOST DEFAMATION LAWSUIT AGAINST HISTORIAN DAVID BARTON
On 12.22.14, Rebecca Bell-Metereau (and another leftist Democrat running for the SBOE named Judy Jennings) lost a defamation lawsuit and had to pay Wall Builders' founder and Christian historian David Barton $1 Million judgment after accusing him in a satirical campaign video of having been associated with a White-supremacist organization.
Because RBM and Jennings' false accusations were then used on Amazon reviews, personal damage was done to David Barton's reputation and character. Along with paying the $1 Million judgment, the two Democrat leftists had to admit that they lied in saying David Barton had any ties to White supremacists.
Wall Builders has one of the largest collections of U. S. historical and literary documents in the entire world. David Barton and his organization are "dedicated to presenting America's forgotten history and heroes with an emphasis on the moral, religious, and constitutional foundation on which America was built."
CAMPAIGN CONTRIBUTOR TO RBM
Donald Henley contributed $10,000 to RBM. Henley is also a big contributor to House Majority PAC which in 2018 helped to elect the Democrat majority to the U. S. House, putting Nancy Pelosi in as Speaker.
MUST NOT LET RBM ANYWHERE CLOSE TO MAKING DECISIONS ABOUT STUDENTS' CURRICULUM
Is this the "expert educator" with a "unique perspective" that leftist editorial boards claim will make healthy and wise decisions for the more than 5.4 million public school children of Texas?
What type of agenda would RBM promote for the Health Education curriculum materials and for the Science curriculum materials coming up for adoption in 2021?
Would concerned parents want to elect RBM to a position on the SBOE where she will exercise authority over the standards, textbooks, and curriculum taught to our 5.4 million Texas school children?
RBM supports one of the most radical, far-left ideologies imaginable! She needs to go down in the SBOE record books as "Loser, Four Times in a Row."
Donna Garner
Please let me know if you wish to unsubscribe from my e-mails.