Coaching Teachers to Be Effective Instructors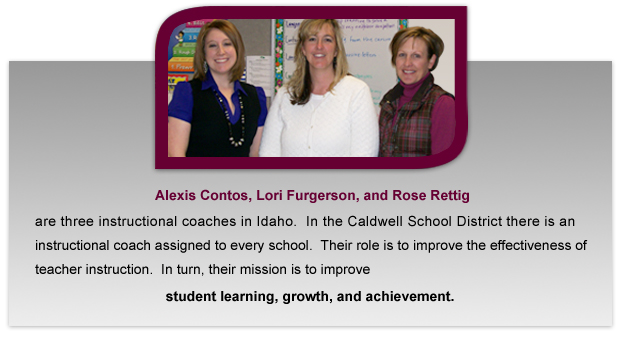 What does an instructional coach do?  Look at "instruction"—the act, process, or art of imparting knowledge and skill.  Look at "coach"—to teach.  Instructional coaches teach teachers how to be effective instructors.  This is the focus of instructional coaching because
Good instruction is 15 to 20 times more powerful in producing student achievement than family background and income, race, gender, and other explanatory variables.  Student learning must be at the heart of all decisions made in the school.  (Hershberg 2005, page 224 The First Days of School)
Instructional coaches are not guides by the side or mentoring buddies.  They coach; they train; they teach.  Football season is here.  A typical professional football team has 18 assistant coaches.  Their job is to impart knowledge and skills, to train and bring out the potential in every player and mold them into a team that achieves success together.
Likewise, the instructional coaches in the Caldwell School District teach the knowledge and skills of effective instruction to the teachers.  They train to bring out the potential in every teacher to build a professional learning team at the campus they are assigned to.
No Teachers Lost
The Caldwell School District knows that effective instruction, not programs, fads, or buzzwords, is the keystone to student success and that is why this past year student achievement exceeded the requirements of AYP.
Three years ago Caldwell lost 85 teachers.
Two years ago they lost 7 teachers.
This past year they lost 0 teachers.
When teachers are effective and successful, and the students are learning, happy, and successful, teachers stay.
What's Caldwell's "secret sauce?"  Elementary director Jonathan Cline, says, "We decided that every school needed an instructional coach to help the teachers become experts in teaching."
Alexis Contos
Alexis Contos (on the right as she works with a teacher on program routines) is an instructional coach at Sacajawea Elementary School. 

She is in her fifth year as an instructional coach as she observes, suggests, and models effective classroom instruction.  Alexis uses a coaching cycle in her role.  She takes teachers through a coaching sequence that includes

      1.   pre-conference,
2.  goal or focus setting,
3.  modeling, and
      4.  debriefing.
She sets up a pre-conference which allows the teacher and her to establish a focus or goal throughout the coaching process.  She models strategies within that focus and encourages the teacher to adapt the strategy to their own classroom practice.  A debriefing session follows to discuss the success of the new strategy.  But, the cycle does not stop there as the focus or goal is always to continue to improve the teacher's instructional effectiveness.
Alexis believes that as a coach, it is extremely important to build trust with every teacher in the building.  She does this by becoming vulnerable herself, as this allows others to be open and vulnerable as well.
Alexis remembers fondly in her first year as a coach, when she began to work with a teacher that had only been in the profession for a year or so.  She observed in her classroom, giving her non-evaluative immediate feedback on what was observed.  Alexis was constantly in her room modeling strategies for her to use and excited to do so.  They worked together that year and the new teacher blossomed into the remarkable teacher that she is today.  Alexis says, "It has been one of my greatest experiences, to be able to be a part of a teacher's journey on developing and honing one's skill as a teacher."
Therein is the difference between a mentor and a coach.  A coach's role is job-embedded within a staff.  The coach is available all the time.  The coach teaches and trains repeatedly.  The coach encourages constantly.  Jim Knight, writing in the Winter 2009, Journal of Staff Development validates the efficacy of instructional coaches.
"When coaching is added to the staff development process, about
95 percent of the teachers implemented the new skill in their classroom."
Alexis takes pride in using her own personal development and uses it for the professional development of each teacher as well as the school itself.  She not only coaches, she is part of the school's professional learning community.  
Alexis says, "This is the most collaborative school that I know.  All of the teachers take pride in all of the students' achievements and work together to do whatever it takes to meet the goals of our students.  In 2009 Sacajawea Elementary School was presented with the Distinguished School Award.  Each teacher has worked hard and reflected on their own teaching to become the best educators that they can.  I believe that I also had a part in that."
Lori Furgerson
Lori Furgerson

(on the left as she models blending routines with a teacher) is an instructional coach at Lewis and Clark Elementary School.

Lori has worked with state departments of educations, school districts, and individual schools across the country as a National Literacy Consultant.  She has been an instructional coach for four years and enjoys every minute of it.
She has taken the time to build relationships with teachers and she says that they are very open to working with her and becoming better in their field and are always receptive to learning new things and growing.
As is the Caldwell School District expectation, Lori is in the classroom 75 percent of the time doing observations and modeling.  With 20 teachers and 4 paraprofessionals, Lori's schedule is very busy, but purposeful with observations focusing on reading, math, and language arts instruction and classroom management.  She provides professional development for teachers in these areas.
The principal and all the instructional coaches meet weekly with each grade level to look at data and discuss students and interventions.
Lori likes to talk about a teacher who was really struggling with classroom management and the reading program.  She was in her room a minimum of two days a week observing and modeling.  The teacher was very eager to improve and they would meet for a pre-conference, where they discussed what the focus was going to be.
They began with classroom management, since learning can't happen without it.  Lori modeled for her the basics, from the procedure for how to bring students in to the classroom from recess to the procedure for how to teach students transitions.
A procedure for transition can be found on pages 200 and 201 in The First Days of School.
After the modeling, they met for a debriefing session to discuss how it went and Lori answered any questions the teacher had.  Several times Lori went in and they did side-by-side coaching.  When the teacher had her management down pat, then they moved to the routines of the reading program.
Harry & Rosemary Wong: Effective Teaching – Teachers.Net Gazette.