Competition fierce for places at private Melbourne girls' schools
Private girls' schools say they are thriving despite intense competition for enrolments.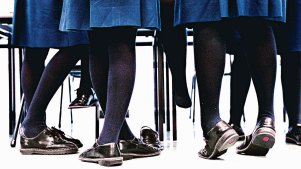 Catholic girls' school Presentation College Windsor shocked parents and students last week by announcing plans to close next year, citing low enrolments. Brother school Christian Brothers' College St Kilda has offered Presentation students the chance to finish VCE at their school.
While the number of students at Victorian schools has surged 15 per cent in the decade to 2018, enrolments at private girls' schools have increased just 2.4 per cent over the same period. Private boys' schools enrolments grew by 4.2 per cent from 2008-2018, Department of Education figures show.
A report in 2017 concluded there would be no single-sex independent schools in Australia by 2035 if the decline in their number continued.
Researchers Ainley and Daly found in the mid-1990s about 55 per cent of students in the Catholic sector and 45 per cent of students in the independent sector attended single-sex schools. By 2009, these proportions had fallen to 41 per cent and 17 per cent.
By 2015, this proportion decreased to 12 per cent of students from independent schools, based on analysis of 2015 My School data.
Report author Dr Katherine Dix said last week she had not updated her report, which analysed NAPLAN numeracy and reading data to conclude that single-sex schools on average provided no better value-add over time than co-educational schools.
Source: Competition fierce for places at private Melbourne girls' schools