Coronavirus is damaging Britain's young people – and that didn't have to happen
The plight of students self-isolating in halls was foreseeable. Why did the government abandon them? asks Guardian and Observer columnist Sonia Sodha
The plight of students self-isolating in university halls was entirely foreseeable. Why did the government abandon them?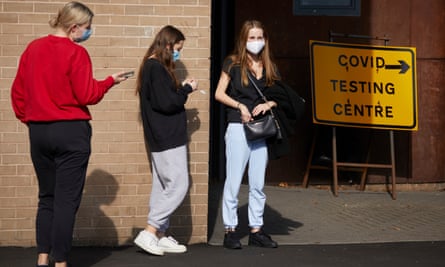 Students queueing at a Covid-19 testing centre in Manchester, September 2020.

Photograph: Christopher Thomond/The Guardian
In September 1939, almost 1.5 million people – including 800,000 schoolchildren – were evacuated from London and other metropolitan areas of Britain over the course of just three days. A year in the planning, the goal of Operation Pied Piper was to remove children from areas at high risk of aerial bombing during the second world war, and send them to live with hosts in rural communities. Decades later, we know that while mass evacuation kept children physically safe from the bombing, many suffered long-term emotional trauma as a result of the separation from their parents and the abuse some faced in their temporary homes.
Given what we know about child development today, such an endeavour would never be attempted. Yet from the vantage point of 2020, what is striking is that the wartime government was prepared to take on an enormously costly and logistically demanding operation – London alone had 1,589 evacuation points and trains ran out of London every nine minutes for nine hours – that they believed was in the best interests of the welfare of a generation.
If only the current government could combine the evidence we now have about how to protect the wellbeing of children with similar levels of energy and creativity, in the context of a very different sort of national crisis. But while there have been glimpses of evacuation-level feats – for example, the extraordinary rate at which Nightingale hospitals were built in a matter of weeks – none of that investment has been channelled into a generation of children and young people whose physical health is at low risk from Covid-19, but whose emotional, educational and economic wellbeing have been jeopardised more than any other age group's.
The entirely foreseeable plight of thousands of first-year university students being forced to self-isolate in their halls is just the latest example of government indifference towards young people. This is a cohort that has already undergone significant hardship: they missed their last few months of school or college, were unable to sit their exams, and, until an embarrassing U-turn, were allocated A-level grades that in some cases bore no resemblance to what they had been predicted. The government's science advisers have been warning for weeks that universities risked becoming hotbeds of Covid-19 transmission, and that managing this could not just be left to individual institutions. Yet students were promised a learning experience that would combine in-person and virtual teaching and encouraged to start university as normal, at a very normal pricetag.
Source: Coronavirus is damaging Britain's young people – and that didn't have to happen | Education | The Guardian