Deaths Not Increasing in U. S. Because of COVID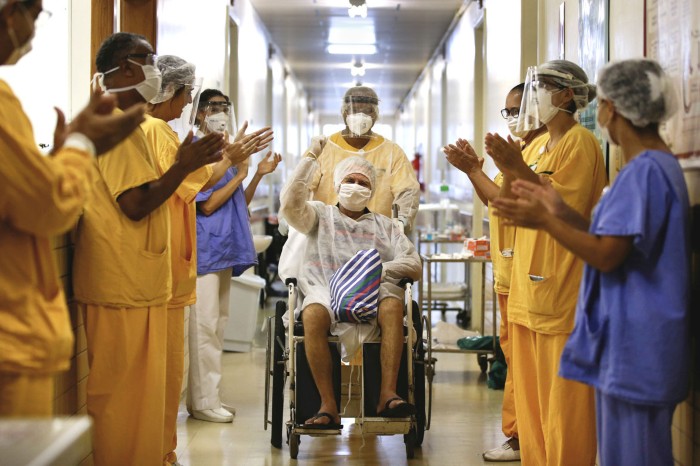 "Deaths Not Increasing in U. S. Because of COVID"
By Donna Garner
12.1.20
[Comments from Donna Garner posted further on down the page.]
Genevieve Briand teaches Microeconomic Theory, Statistics, and Econometrics at Johns Hopkins and is an assistant program director of the Applied Economics master's degree program. She taught at the U. of Idaho, was the adjunct assistant professor of economics at Washington State University, and a tenured associate professor at Eastern Washington University. She received her PhD from Washington State University.
On 11.11.20 Briand gave a webinar in which she critically analyzed the effect of COVID-19 on U.S. deaths using data from the Centers for Disease Control and Prevention (CDC).
Her webinar was entitled, "COVID-19 Deaths: A Look at U.S. Data."
On 11.22.20, the Johns Hopkins Newsletter published an article about Briand's webinar. On 11.26.20, the Johns Hopkins website deleted the article.
Why did Genevieve Briand become a victim of the "cancel culture?
This is why. She concluded from her statistical research using CDC data that "COVID-19 is having no significant impact on deaths in the United States."
…"deaths due to heart diseases, respiratory diseases, influenza and pneumonia may instead be recategorized as being due to COVID-19."
"This trend is completely contrary to the pattern observed in all previous years. Interestingly, as depicted in the table below, the total decrease in deaths by other causes almost exactly equals the increase in deaths by COVID-19. This suggests…that the COVID-19 death toll is misleading…deaths due to heart diseases, respiratory diseases, influenza and pneumonia may instead be recategorized as being due to COVID-19."
"The CDC classified all deaths that are related to COVID-19 simply as COVID-19 deaths. Even patients dying from other underlying diseases but are infected with COVID-19 count as COVID-19 deaths. This is likely the main explanation as to why COVID-19 deaths drastically increased while deaths by all other diseases experienced a significant decrease.
"All of this points to no evidence that COVID-19 created any excess deaths. Total death numbers are not above normal death numbers. We found no evidence to the contrary."
"In other words, the effect of COVID-19 on deaths in the U.S. is considered problematic only when it increases the total number of deaths or the true death burden by a significant amount in addition to the expected deaths by other causes…the crude number of total deaths by all causes before and after COVID-19 has stayed the same…"
…the over-exaggeration of the COVID-19 death number may be due to the constant emphasis on COVID-19-related deaths and the habitual overlooking of deaths by other natural causes in society…
==========================
COMMENTS FROM DONNA GARNER:
(1) What I believe is happening is that sick people are going to the hospitals and while there are tested for COVID. Because of the contagious nature of COVID, many tests are coming back positive even though the person may be dying from other causes. Because hospitals receive federal funding for COVID cases, the patients are listed as COVID; and if they die, they are listed as COVID deaths. Hospitals are hurting financially because of the many people who have stayed home because of the lockdowns. To stay in business, I believe they have decided to list almost everyone as "COVID" to get the federal funding.
(2) To compound the problem, people who have not gone for their regular heart and cancer checkups out of COVID fears are now experiencing spiraling levels of hospitalizations; however, as Briand's data has shown, these people are not COVID patients but are listed as COVID on their death certificates.
(3) The COVID fear is being promoted by the constant use of the word "cases" by the news media and public health hierarchy for political reasons. A "case" has always meant that the person has symptoms of a disease. However, under the COVID guidelines, a "case" can be a person who never even has any symptoms.
(4) Also the number of cases is calculated based upon the number of COVID tests administered. With so many COVID testing options now available, the same person may go for three or four different COVID tests. This means that one person can equal three or four "cases" even though the person may never be ill with COVID. The person is going to take a trip…he/she gets a COVID test. That same person is going to have a medical procedure…he/she gets a COVID test. That same person's grandson catches COVID…he/she gets a COVID test. That same person has a runny nose and a cough…he/she gets a COVID test. Four separate COVID "cases" are reported, yet that same person may never have COVID.
It is completely understandable then that the number of "cases" across the United States is increasing; but as shown by Briand's statistical analysis, the number of deaths by COVID is no higher than the normal number of natural deaths in the U. S. per year. Normal deaths are being branded as COVID for reasons I have already discussed above. The number of hospitalizations may also be increasing, but they are not because of COVID illnesses.
================================

Briand's findings have been banned by Johns Hopkins, but the Wayback Machine website has preserved them at this link:
11.26.20 — https://web.archive.org/web/20201126223119/https://www.jhunewsletter.com/article/2020/11/a-closer-look-at-u-s-deaths-due-to-covid-19