Expert Lupus Doctor Says No COVID-19 in His Patients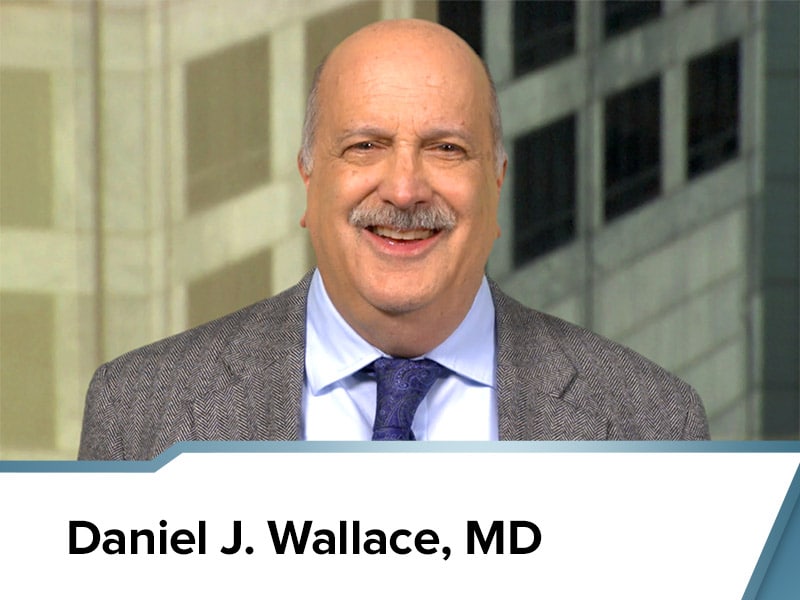 "Expert Lupus Doctor Says No COVID-19 in His Patients"
By Donna Garner
4.8.20
Daniel J. Wallace, MD, FACP, MACR is a board-certified internist and rheumatologist. He is one of the most respected rheumatologists and lupus experts in the entire United States. Dr. Wallace is a Clinical Professor of Medicine at the David Geffen School of Medicine at UCLA and is the Associate Director of the Rheumatology Fellowship Program at Cedars-Sinai Medical Center where he also serves on the Board of Governors.
Dr. Wallace has authored nearly 450 peer reviewed manuscripts, 30 book chapters, eight textbooks (on lupus, osteoarthritis, Sjogren's syndrome and fibromyalgia); and his practice includes caring for 2,000 lupus patients, the largest lupus cohort in the United States
On 4.7.20, Dr. Daniel J. Wallace was asked about the possible preventive (prophylactic) use of hydroxychloroquine (i.e., Plaquenil) in his Lupus patients.
Dr. Wallace said that he has had 800 Lupus patients (unique visits) since Sept. 1, 2019 who are taking hydroxychloroquine (a.k.a., HQ). He has not had a single one of these patients who has been diagnosed with COVID-19.
In the Cedars Sinai Hospital where he also works, there has only been one person with Lupus who has been hospitalized; but that patient was taking HQ only intermittently — https://detroit.cbslocal.com/2020/04/07/dr-oz-asks-rheumatologist-dr-daniel-wallace-if-any-of-his-patients-with-lupus-have-contracted-covid-19/
Dr. Mehmet Cengiz Oz (born in Cleveland, Ohio from Turkish immigrant parents – his father also a doctor) is a board certified cardiothoracic surgeon and has served as the vice chair of Columbia's Department of Surgery. He has his own syndicated TV show on which he discusses breakthroughs in the field of medicine and answers people's questions about their health.
In a recent conversation that Dr. Oz had with Dr. Daniel Wallace, the lupus specialist mentioned that in his 46 years of treating thousands of lupus patients with HQ, he has never seen any serious side effects.
This set Dr. Oz's mind in motion. He decided to try to find out if any lupus patients around the country have contracted COVID-19. He is now working with major health insurance companies to encourage them to do a deep dive into their data to see if lupus patients may perhaps be gaining preventive results against COVID-19 by taking HQ. This could be vital information for the general public to know if it indicates that there is something in HQ that prevents people from contracting COVID-19.
Dr. Oz has also set up a site on his webpage to encourage any lupus patients in the United States who have contracted COVID-19 to submit their information to him: https://www.doctoroz.com/
=============================
Dr. Daniel Wallace's Curriculum Vitae and Cedars Sinai bio:
https://attunehealth.com/wp-content/uploads/2017/02/DR-Wallace-CV-July-2018-PDF.pdf
https://bio.cedars-sinai.org/wallaced/index.html
====================
4.8.10 – "Dr. Marc Siegel opens up about his father, 96, and his successful use of hydroxychloroquine" — By Edmund DeMarche – Fox News – https://www.educationviews.org/dr-marc-siegel-opens-up-about-his-father-96-and-his-use-of-hydroxychloroquine/
4.5.20 — "Doctors in the Trenches Bring Hope Against COVID-19"– By Donna Garner – EdViews.org — https://www.educationviews.org/doctors-in-the-trenches-bring-hope-against-covid-19/