Failsafe Option to Obtain a Dual Degree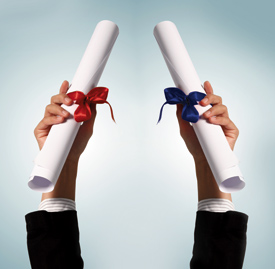 A dual degree program goes by other terms such as combined degree, joint degree, double degree, or simultaneous degree. It is a study program whereby a student simultaneously takes two different study fields in a single, or more than one, educational institution. The choice of courses to combine may be in the same interest or two different subject areas.
In a double degree program, the participating institutes collaborate in designing the most applicable conditions for students enrolled in it. The institutions shorten the amount of total time to complete the program. For example, an undergraduate course in engineering and management typically takes about seven to eight years to complete when studied separately. However, under a dual degree program, a student can earn double degrees in four to five years.
Distinguishing the Dual Degree Program
It is essential to differentiate a double degree program from a double major. Double majors or twofold majors consist of two majors earned from studying a single degree. It is also different from certificates granted by research institutions to students who worked to earn a degree or the single degree awarded by several institutions to an individual. A double degree is getting two separate diplomas after completing the requirements pertinent to two distinct study fields.
The Main Features of Joint Degrees
Five main features characterize a joint or double degree program.
The program is a collaborative work of several institutions. After its completion, the same institutions approve the credits and award the diploma certifying the student's qualifications.
Students who choose to study separate institutions' courses may spend considerably more prolonged periods in both universities.
The periods spent studying and all the relevant exams passed in all participating institutions are automatically credited and recognized by all institutions concerned.
The curriculum for a dual degree program results from a joint effort by participating institutions to develop a specific and broad set of guidelines on each course.
When the program ends, the degree is to be jointly awarded by the participating institutions and fully accredited in all countries.
Common Types of Double Degree Programs
Some of the most typical double degree programs you can consider are the JD/MBA or MBA/JD. Law and business schools such as Harvard and Wharton jointly offer these, wherein a successful graduate earns a double degree for Juris Doctor and Master of Business. Other types are MA/MBA offering a master's degree in education and an MBA/Master in International Relations. These multidisciplinary fields of study are ideal for students with diverse interests.
Seizing Dual Degree Opportunities
A dual degree program is one of the best methods to pursue higher education in less time leading to earning two separate degrees. Still, some cynics negatively look at the dual degree trend as something that will make a graduate overqualified. Other employers may harbor doubts about a double degree holder's priority commitment to a specific field of interests. Then, some scoff at the idea of a dual degree because they think these are fake degrees. They reason that it is impossible to obtain two degrees in a shortened period; thus, they readily conclude that the degrees you will get are fake.
However, educators and graduates take their stand that a dual degree program is an ace up their sleeves, giving them an edge over their competitors.
What to Consider before Applying in a Dual Degree Program
As in everything of vital importance, getting into a dual degree program is not something you decide on a whim. Here are some things worth considering:
Are you interested in a dual degree? Perhaps you are only trying to compete with people who have multiple degrees to show off. What you do not know is that they may be flaunting fake degrees.
Make a careful deliberation if you need or will find use for it. Maybe you are only after the allure of having to degrees to flaunt to your colleagues. If that is the case, perhaps you will be better off if you buy a degree instead.
Think about how you can manage to handle two fields of study at the same time. Remember, you may be inclined to sacrifice your primary studies to give way to your secondary course. A program that combines two unrelated disciplines, such as medicine and business, have fewer similarities; thus, it is crucial to pick classes with specific relevance to your goal.
Be sure that there will be no conflicting interest if you decide to take another discipline, or if it is much better to get some credits in the second course rather than studying it full time alongside the first course.
After deciding to go for it, think about applying for the secondary course only after being accepted to the primary MBA course.
Prospective Jobs at the End of a Dual Degree Program
Depending on your career plans, you need to decide to pursue a dual degree program based on your interest in both courses. The benefits and dual degree opportunities are numerous, but your choice of both degrees must meet your career goals.
It is pretty impossible to list down career prospects for a dual degree holder. The following will serve to provide an idea of how the program may be helpful to graduates:
JD/MBA: A lawyer with corporate responsibilities; lawyer or manager for financial institutions such as banks and insurance companies; an accounting lawyer; consultant to a new company.
JD/MBA in Historic Preservation: Team member of a law firm assigned to various land uses such as real estate; government lawyer handling general housing issues.
JD/MBA in Health Care Management: Lawyer engaged in health and care issues; hospital lawyer for health services cases.
JD/MA in Law and International Relations: Ambassador or an international lawyer in national government or a foreign agency handling sensitive global environment issues.
JD/MS in Mass Communication: Corporate lawyer handling issues related to libel law and intellectual property rights; legal commentator providing opinions in cases aired in radio or television shows.
MPH in Environmental Health: Consultant in environmental health and management; field researcher examining environmental factors; adviser on environmental policies to protect health and community environment.
MPH in Global Health: Researcher on global health status; policymaker dealing on health and diseases.
MSW/MBA: Educator in behavioral and administrative sciences; chief executive with solid management decision-making and leadership qualities.
MSW/MA in Pastoral Ministry: Pastoral head or educator in theological knowledge with practical application of social work; social worker who can respond to pastoral and social requirements of different human groups.
Individuals who complete both courses have all the chances to reap dual degree opportunities as soon as they graduate. They possess multidisciplinary qualifications that make them fit for various types of jobs that allow them to pursue their career goals while enjoying their dual interests.
What Lies ahead of a Dual Degree Program?
Undoubtedly, a double degree program is a brilliant option to make your future brighter. It is better than getting duped by fake degrees. It would work well for you if you planned before taking the plunge. If you are interested in a dual degree, you may do well to reflect first on its benefits and advantages by looking at the program from different angles.
Students who benefit from it are those who felt the need for it from the very start. It highlights that getting a dual degree is a matter of choice and that it is not for everyone. Have you considered all possible outcomes of getting a dual degree?
What about the issue of financing your education? A dual degree is more expensive than a single degree since it involves more coursework. Have you considered that? If you are under financial constraints, then maybe the best option is to buy a degree or two degrees, for that matter. That way, you will still get two degrees without burying yourself in mounds of student loans.
Yes, it is possible to buy a degree from reputable sources. These days, most online universities collaborate with providers of online degrees. These are different from diploma mills that sell fake degrees that look real, but upon closer inspection, you will see that the degree bears the name of a non-existent university.
We are talking about providers like universitydegree.education, which are accredited by legitimate, world-renowned universities. They provide genuine degrees that went through the legalization and verification process. So, the degree you will receive from them was assessed and signed by the right people.
Unlike fake degrees, you will not get into trouble if you used this when applying for a job. Even if your potential employer decides to call the issuing university, you would not have to worry because they will verify your degree and even your graduation date.
It is up to you to decide how you wish to obtain your dual degree. However, keep in mind that pursuing a double degree may not result in your expected outcome. You may end up stuck in a course with no relevance to your skills, interests, and prospects. Like any career advancement approach, many can be lured to try it only to stop in the middle, causing a setback both in the curriculum and being part of the workforce. Go for it when you believe that it is a necessity for you.