Food for thought: the school lunch scheme linking London and Liberia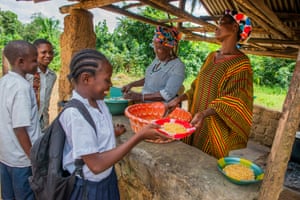 By providing food to some of the poorest children on Earth, a UK charity is also ensuring they get an education
by Joanna Moorhead in Tubmanburg and Monrovia, Liberia
It's breakfast time in Domagbamatma (population: 63) in the depths of the Liberian rainforest, but there's no food in evidence in the home of Massa Kamara. The eight-year-old has been up since dawn, collecting firewood, fetching water.
Now she's ready for school in a crisp white shirt and navy-blue skirt in her family's muddy, two-room shack.
In the narrow porch there's a pile of rags, some carrier bags, a few bowls and a couple of plastic chairs. In a UK home it would look like stuff waiting to go to the tip. Here, it represents this family's entire earthly possessions.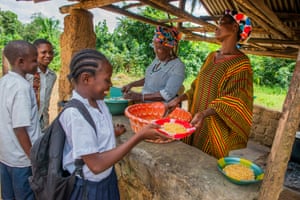 Liberia is one of the poorest countries on Earth, and the Kamaras are one of its poorest families. They eke out a living growing vegetables on the land around the shack.
In families that hover as close to subsistence as this one, sending their children to school makes little sense. Learning to read and write, to do addition and subtraction, might be an investment in a long-term future, but it doesn't put food on the table today or tomorrow.
And yet Massa is setting off on the 40-minute trek to school. This morning it's dry: when the rain is pouring down, as it often does at this time of year, Massa carries her uniform in an old carrier bag to keep it dry, and changes into it when she reaches school. As we walk she speaks of the subject she likes best (English), her friends, and how she hopes one day to move to the city.
Source: Food for thought: the school lunch scheme linking London and Liberia | World news | The Guardian