The Global Search for Education: Migration – The Millennial Bloggers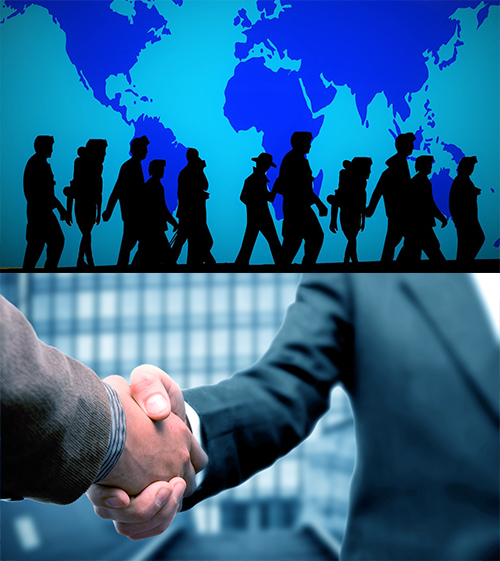 The 2030 Agenda for Sustainable Development calls on countries to begin efforts to achieve the 17 SDGs over the next 15 years. The goals address the needs of people in both developed and developing countries, emphasizing that no one should be left behind.
The changes in immigration are dramatically impacting our global communities, which are becoming more diverse and multicultural. As people move more freely across borders and continents, local communities are changing, e.g. migration contributes to greater diversity in our schools and our workplaces. A recent report by the OECD recommends that teachers and schools be provided with additional training and resources to be able to specifically tackle the challenges faced. Many believe race had a lot to do with the Brexit outcome. Why did the British vote for something so politically and economically disruptive?
The Millennial Bloggers are based all over the world. They are innovators in entrepreneurship, journalism, education, entertainment, and academic scholarship. This month we asked them to share their perspectives on the challenges faced in Migration.
Queens, New York, writes Francisco Hernandez (@StFrancis_X), is where we can learn how to build "multi-ethnic communities where diversity lives in harmony and where every person has an equal opportunity for prosperity." In Queens, you will find 2.3 million residents speaking over 138 languages and representing 120 countries. So how do we deliver the American dream? Read: Overcrowding in Queens
As the "not-so-United Kingdom faces the continued devastation of cuts and austerity, deepening inequalities and racism, solidarity seems both more distant and more urgent than ever," writes Sophie Hemery (@SophieHemery), who contemplates the complicated answer to the new age question: "Where are you from?" Read: Where are you From?
What can nations, school systems and countries no longer afford to do? Kamna Kathuria (@kkathuri) writes about the dangers of continuing "the practices that were created in the eighteenth century for largely homogenous, single-ethnicity schools." "Systems must change. Mind-sets must readjust. Children will learn." Read: From Toxic Vat To Melting Pot
What can we learn from Artists? "96% of the Creative Industries Federation supported Remain," writes James Kernochan (@SeamusMcK721), who also notes that "few artists in the UK bemoan the ascendancy of immigrants, as the mentality is broadly one of expanding opportunity and organically enabling others…" James writes of his hopes that the new generation of creators are able to rise above the disruption and be "true heirs to a British tradition of resilience and ingenuity." Read: Cultural Currents in the Wake of Brexit
"World over, we seem intent on splintering ourselves into as many sub-groups as it will take for us to feel comfortable in our skins again," writes Harmony Siganporia, who in the aftermath of Brexit revisits the teachings of poet, folklorist, scholar and grammarian AK Ramanujan to further explore the meanings of context-free and context-sensitive cultures. Read: In which the UK mimics the titles of two U2 songs: Brexit as/and the quest for context
Jacob Deleon Navarrete (@JacobDNavarrete) wishes to offer a different narrative to the deluge of articles focused on the results of Brexit. "We are not addressing the millions who do not, cannot, and will not have the skills set needed to be competitive in a global market," he writes. "It seems we have either underestimated the number of individuals who will be displaced by globalization, or we don't care…" Read: A Perspective on Brexit
On the topic of immigration, Harry Glass (@Seethroughme90) wants us to focus on one buzzword, "integration". Because, he writes, "no matter how restrictive a country becomes, our ever-globalizing world makes it inevitable that every country around the world is going to become more and more diverse within itself. This is where we come to education…" Read: Let's Talk About Immigration
"Migration has led to the spread of ideas," writes Dominique Alyssa Dryding (@DDryding), such as "innovative technology exchange, cultural exchange and the general development of the world." In the age of globalization, "Governments need to find innovative ways to manage the flow of people, both in and out of their countries…" Read: To Leave or Not to Leave in the Renewed Era of Migration
Isadora Baum (@LfyniBaum) introduces us to the work of Chicago Public School teacher Lindsay Barnett, who sees cultural diversity in the classroom as beneficial to "educational and social experiences". Isadora comments, "If we stop thinking of diversity as a disadvantage, we can shift these students' mindsets and instill a vigorous force that can help them achieve anything imaginable." Read: A New Perspective On Disadvantaged
Alusine Barrie (@AlusineBarrie) writes about his most talented African countrymen who "flee their homes" to live in the developed world, "plunging the continent into even deeper misery." Migration trends will only be contained when "the world takes proactive steps to reduce the concentration of disadvantages in countries like ours…" Read: New Vision for Education
"How to find a better European future? In the aftermath of Brexit" – Reetta Heiskanen (@reettahei) believes that Europe has to change but that "change will not be driven by fear and racism. The change should be driven by a unity for a better tomorrow for all Europeans." Read: The Europe I Know is About to Change
In the debate on International Migration, it is "the voices of the refugees and migrants themselves that are missing," writes Bonnie Chiu (@bonniesychiu). Bonnie believes that story-telling is the most powerful tool we have to build bridges – "If we understand the struggles that they go through, we will change the way we act." Read: Reimagining Migration: The Power of Stories
The Millennial Bloggers hail from all over the world. Each writer is also a world traveler and, collectively, they have worked on every continent. The millennials claim their roots in diverse locations: the United States, China, Singapore, South Africa, India, Sierra Leone, New Zealand, the United Kingdom, and Finland.
The Millennial Bloggers are Alusine Barrie, Sophie Hemery, James Kernochan, Kamna Kathuria, Jacob Deleon Navarrete, Reetta Heiskanen, Shay Wright, Isadora Baum, Aw Cheng Wei, Francisco Hernandez, Erin Farley, Dominique Alyssa Dryding, Harry Glass, Harmony Siganporia and Bonnie Chiu. These remarkable young people have produced shows and founded companies. They have been featured on Forbes 'Asia 30 Under 30' list and honored by Asian Women of Achievement Awards. They have been awarded numerous scholarships and fellowships. They hold Bachelors, Masters, and Doctoral degrees. They run schools and train educators in underprivileged communities. They have taught all over the globe in environments ranging from maximum security prisons to elementary schools.
(Photos are courtesy of CMRubinWorld)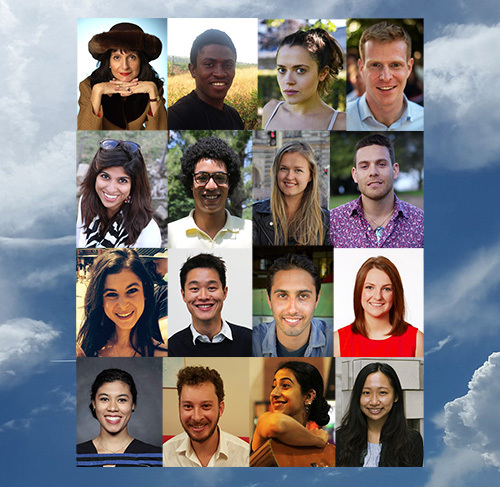 Top Row: C.M. Rubin, Alusine Barrie, Sophie Hemery, James Kernochan
2nd Row: Kamna Kathuria, Jacob Deleon Navarrete, Reetta Heiskanen,
Shay Wright
3rd Row: Isadora Baum, Aw Cheng Wei, Francisco Hernandez, Erin Farley
Bottom Row: Dominique Alyssa Dryding, Harry Glass, Harmony Siganporia, Bonnie Chiu
Join me and globally renowned thought leaders including Sir Michael Barber (UK), Dr. Michael Block (U.S.), Dr. Leon Botstein (U.S.), Professor Clay Christensen (U.S.), Dr. Linda Darling-Hammond (U.S.), Dr. MadhavChavan (India), Professor Michael Fullan (Canada), Professor Howard Gardner (U.S.), Professor Andy Hargreaves (U.S.), Professor Yvonne Hellman (The Netherlands), Professor Kristin Helstad (Norway), Jean Hendrickson (U.S.), Professor Rose Hipkins (New Zealand), Professor Cornelia Hoogland (Canada), Honourable Jeff Johnson (Canada), Mme. Chantal Kaufmann (Belgium), Dr. EijaKauppinen (Finland), State Secretary TapioKosunen (Finland), Professor Dominique Lafontaine (Belgium), Professor Hugh Lauder (UK), Lord Ken Macdonald (UK), Professor Geoff Masters (Australia), Professor Barry McGaw (Australia), Shiv Nadar (India), Professor R. Natarajan (India), Dr. Pak Tee Ng (Singapore), Dr. Denise Pope (US), Sridhar Rajagopalan (India), Dr. Diane Ravitch (U.S.), Richard Wilson Riley (U.S.), Sir Ken Robinson (UK), Professor Pasi Sahlberg (Finland), Professor Manabu Sato (Japan), Andreas Schleicher (PISA, OECD), Dr. Anthony Seldon (UK), Dr. David Shaffer (U.S.), Dr. Kirsten Sivesind (Norway), Chancellor Stephen Spahn (U.S.), Yves Theze (LyceeFrancais U.S.), Professor Charles Ungerleider (Canada), Professor Tony Wagner (U.S.), Sir David Watson (UK), Professor Dylan Wiliam (UK), Dr. Mark Wormald (UK), Professor Theo Wubbels (The Netherlands), Professor Michael Young (UK), and Professor Minxuan Zhang (China) as they explore the big picture education questions that all nations face today.
The Global Search for Education Community Page
C. M. Rubin is the author of two widely read online series for which she received a 2011 Upton Sinclair award, "The Global Search for Education" and "How Will We Read?" She is also the author of three bestselling books, including The Real Alice in Wonderland, is the publisher of CMRubinWorld, and is a Disruptor Foundation Fellow.
Follow C. M. Rubin on Twitter: www.twitter.com/@cmrubinworld