The Global Search for Education: Our Top 12 Global Teacher Blogs – What are the top games that can help students learn?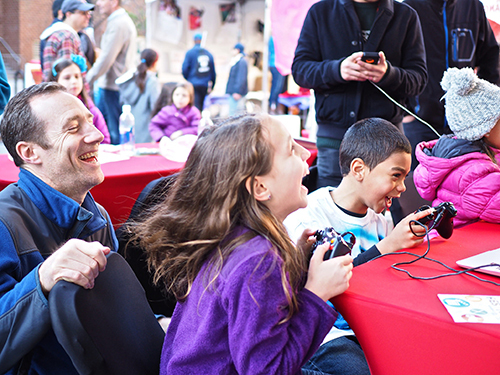 I asked Susanna Pollack, President of Games for Change, what she believes are the key improvements needed in the next decade to make games better educational tools. "If we want kids to play games for learning, the games need to be as compelling as
Call of Duty
,
Skyrim
, and
DDR
," she commented. "We've seen this happen with
Minecraft
and
Assassin's Creed
, games that weren't created to be educational games but have proven to be tremendous tools for teaching urban planning and history." And what about assessment of students' learning from games – will we be able to support the evidence of learning impact? Susanna explained, "There are several companies working on this currently, many of which are in the Games for Change Industry Circle, including GlassLab and Amplify; and
Games for Change is exploring this question in a report series.
Based on their research in classrooms around the world, what do our Top 12 Global Teacher Bloggers believe are the top games that can help students learn?
Adam Steiner (@steineredtech) notes that the video game industry has seen the value in "adjusting existing games to add educational value rather than developing educational games that consider entertainment as an afterthought." The end-result? Improved products which have more focus on critical thinking and problem solving. Get into some of the coolest games with Adam's "10 ideas for bringing gaming into your high school classroom." Read More.
Pauline Hawkins (@PaulineDHawkins) interviewed a top expert in the gaming world (her 10 year old son) who shared his favorite games and the number one reason why games help students learn. It's all about learning to listen! "You need to pay attention to what the characters are saying and work as a team." To find out why "Listening is Key," Read More.
"Gaming, or more specifically gamification, is something that is very close to my heart," says Craig Kemp (@mrkempnz) who believes that "all students in your classroom would LOVE to follow up learning with a game," and it's a fact that students learn best when they are having fun. So which 5 games top Mr. Kemp's list? Read More.
Vicki Davis (@coolcatteacher) offers "8 Great Ways To Level Up Game Based Learning In The Classroom." "Not all games are created equal," she says, "but when teachers can use games to "spark higher-order thinking then the games themselves can level up and so can learning." Read More.
Joe Bower (@joe_bower) shares the favorite board games he plays with students and family and notes that board games help develop relationships as well as being a good way to assess skills including "creativity, collaboration, adaptability, resiliency, critical thinking, problem solving, patience, literacy and numeracy." Read More.
Todd Finley (@finleyt) believes that "games unite many of the most powerful initiatives in education: problem based learning, brain-based strategies, technology, collaboration, inquiry, and student engagement." "So get your brain on and game on" and discover Todd's Top 9 technology-based games that transform student learning. Read More.
Richard Wells (@iPadWells) suggests allowing learners to play games when they want "at any moment during class." Sound like a crazy idea? Well, first understand Richard's "structure and reasoning," and how he believes gaming "relates to and can help 21st century classrooms better reflect the times we live in." Read More.
And on the subject of classroom games, what about the issue of competition? "Does Competition Really Bring out the Best in People?" Guest blogger James Sturtevant (@jamessturtevant) shares interesting insights from an experience with his 9th grade Global Studies class. Read More.
Tom Bennett (@tombennett71), Joe Bower, Susan Bowles (@FloridaKteacher), Lisa Currie (@RippleKindness), Vicki Davis, Todd Finley, Pauline Hawkins, Craig Kemp, Karen Lirenman (@KLirenman), Adam Steiner, Silvia Tolisano (@langwitches) and Richard Wells are The Global Search for Education 2014 Top 12 Global Teacher Bloggers.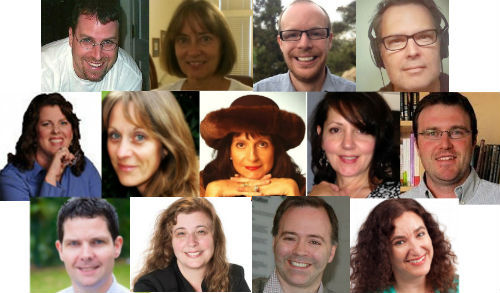 Left to right top row: Adam Steiner, Susan Bowles, Richard Wells, Todd Finley
Middle row: Vicki Davis, Lisa Currie, C. M. Rubin, Pauline Hawkins, Joe Bower
Bottom row: Craig Kemp, Silvia Tolisano, Tom Bennett, Karen Lirenman
(Lead Photo is courtesy of Marj Kleinman and Games for Change at Tribeca Film Festival)
Join me and globally renowned thought leaders including Sir Michael Barber (UK), Dr. Michael Block (U.S.), Dr. Leon Botstein (U.S.), Professor Clay Christensen (U.S.), Dr. Linda Darling-Hammond (U.S.), Dr. MadhavChavan (India), Professor Michael Fullan (Canada), Professor Howard Gardner (U.S.), Professor Andy Hargreaves (U.S.), Professor Yvonne Hellman (The Netherlands), Professor Kristin Helstad (Norway), Jean Hendrickson (U.S.), Professor Rose Hipkins (New Zealand), Professor Cornelia Hoogland (Canada), Honourable Jeff Johnson (Canada), Mme. Chantal Kaufmann (Belgium), Dr. EijaKauppinen (Finland), State Secretary TapioKosunen (Finland), Professor Dominique Lafontaine (Belgium), Professor Hugh Lauder (UK), Lord Ken Macdonald (UK), Professor Geoff Masters (Australia), Professor Barry McGaw (Australia), Shiv Nadar (India), Professor R. Natarajan (India), Dr. Pak Tee Ng (Singapore), Dr. Denise Pope (US), Sridhar Rajagopalan (India), Dr. Diane Ravitch (U.S.), Richard Wilson Riley (U.S.), Sir Ken Robinson (UK), Professor Pasi Sahlberg (Finland), Professor Manabu Sato (Japan), Andreas Schleicher (PISA, OECD), Dr. Anthony Seldon (UK), Dr. David Shaffer (U.S.), Dr. Kirsten Sivesind (Norway), Chancellor Stephen Spahn (U.S.), Yves Theze (LyceeFrancais U.S.), Professor Charles Ungerleider (Canada), Professor Tony Wagner (U.S.), Sir David Watson (UK), Professor Dylan Wiliam (UK), Dr. Mark Wormald (UK), Professor Theo Wubbels (The Netherlands), Professor Michael Young (UK), and Professor Minxuan Zhang (China) as they explore the big picture education questions that all nations face today.
The Global Search for Education Community Page
C. M. Rubin is the author of two widely read online series for which she received a 2011 Upton Sinclair award, "The Global Search for Education" and "How Will We Read?" She is also the author of three bestselling books, including The Real Alice in Wonderland, is the publisher of CMRubinWorld, and is a Disruptor Foundation Fellow.
Follow C. M. Rubin on Twitter: www.twitter.com/@cmrubinworld