The Global Search For Education: Top Global Teachers Focus on Well-Being in School Communities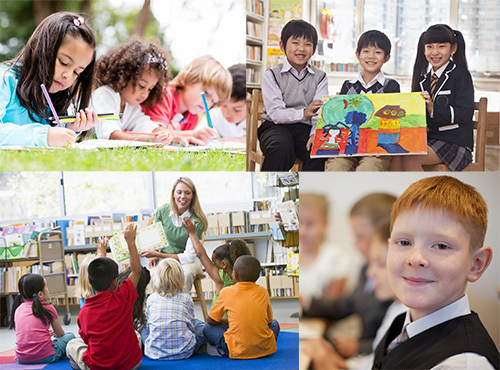 How do school communities best support teachers, students and parents in their efforts to promote healthy, happy learners? Is learning more productive in communities that are promoting well-being for all? An
OECD/PISA study
finds that most teachers and principals "acknowledge that the socio-emotional development of their students is as important as mastery of school subjects. Good teacher-student relations play an important role in that development – and in students' attitudes towards learning."
Our Global Teacher Bloggers are pioneers and innovators in fields such as technology integration, mathematics coaching, special needs education, science instruction, and gender equity. They have founded schools, written curricula, and led classrooms in 13 different countries that stretch across every populated continent on earth. These teachers empower and enrich the lives of young people from nearly every background imaginable.
Today in The Global Search for Education, our Top Global Teacher Bloggers share their answers to this month's question: How do we better engender a healthy, happy, and productive school environment where both teachers and students can flourish?
"We create our environment together," writes Dana Narvaisa (@dana_narvaisa);
"We try hard to not become slaves of our environment," and the focus is on making the school community a "second home." Take a look at how her school in Latvia did that. Read More.
The blog of Dr. Eduardo Andere is recommended to us this month by Elisa Guerra (@ElisaGuerraCruz) from Mexico. "The pre-requisite for learning is a safe, secure, cordial and peaceful environment for children's potential to thrive," writes Dr. Andere, who commends the focus on students' well-being and welfare highlighted in the recently released Finnish curriculum. "Home, School and Community need to work on the well-being and welfare of children." Read More.
"What Makes a Happy School?" Just think about "what makes all humans happy" writes Richard Wells (@EduWells) from New Zealand. Feeling you belong, you're appreciated, you're supported and you're important sounds like a good place to start. Read More.
Todd Finley (@finleyt) in Greenville, North Carolina writes about five "super" schools that are "pointing us in the right direction" on creating positive environments with innovative strategies that include providing a mindful space, re-inventing traditional homework and fostering novelty. Read More.
"Happy, Healthy, and productive schools are cohesive," writes Craig Kemp (@mrkempnz) in Singapore, "where parents and students are engaged, and staff are happy, relaxed and passionate." So how can the school community make this happen "when so many of our working environments have negative tones and negative influences"? Craig shares his top 4 tips: Read More.
Miriam Mason-Sesay (@EducAidSL) in Sierra Leone writes about her school's strategies to engage its students "in a more focused way" with initiatives such as 'Every Voice Counts'. All constituents of the school community "have the right, but also the responsibility, to make their voice heard." The results have included junior staff launching new initiatives for improving teaching and learning; children holding each other to account for poor performance; and students helping each other address family challenges. Read More.
"For many young people, middle school is a maelstrom of insecurity and angst," writes Adam Steiner (@steineredtech). Adam recommends 9 strategies that every middle school should consider to nurture and support middle schoolers including steps to prevent online bullying and experimental learning in the curricula. Read More.
Pauline Hawkins (@PaulineDHawkins) reflects on the research of Martin E.P. Seligman (Flourish April 5, 2011 Simon and Schuster) who explores in his book the five elements people need in order to thrive. "It only makes sense," writes Pauline "that they must be present in the school system for teachers and students to flourish as well." Read More.
It only takes a moment, according to Maarit Rossi (@pathstomath) from Finland, to figure out the "atmosphere" and the "kind of an environment" that any school offers; "both in a physical and a mental sense." The important ingredients for getting it right include "healthy school lunches, enough breaks for students during the day and good working conditions." Read More.
Vicki Davis (@coolcatteacher) writes about five principles that she believes can improve the well-being of any school community including choosing to improve, playing to people's strengths and being willing to serve and love those we have to work with. Read More.
Nadia Lopez (@TheLopezEffect) discusses the activities and initiatives used at Mott Hall Bridges Academy to foster a happy healthy environment. "Our space is reflective of the voices within our community," she writes. Gender specific programs, lunch sessions with staff and scholars, clubs, community service and art therapy to "offer a creative outlet" for the entire community are some of the strategies used. Read More.
The Top Global Teacher Bloggers is a monthly series where educators across the globe offer experienced yet unique takes on today's most important topics. CMRubinWorld utilizes the platform to propagate the voices of the most indispensable people of our learning institutions – teachers.
(Photo is courtesy of CMRubinWorld)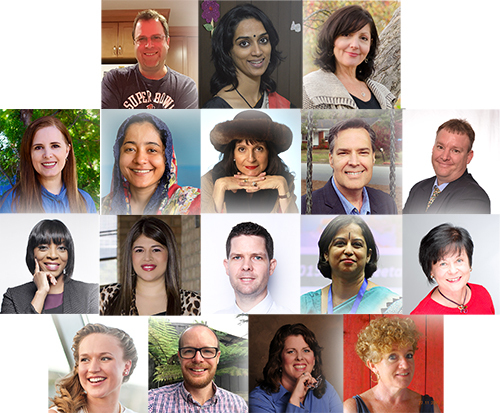 Top Row, left to right: Adam Steiner, Santhi Karamcheti, Pauline Hawkins
2nd Row: Elisa Guerra, Humaira Bachal, C M Rubin, Todd Finley, Warren Sparrow
3rd Row: Nadia Lopez, Katherine Franco Cardernas, Craig Kemp,
Rashmi Kathuria, Maarit Rossi
Bottom Row: Dana Narvaisa, Richard Wells, Vicki Davis, Miriam Mason-Sesay 
Join me and globally renowned thought leaders including Sir Michael Barber (UK), Dr. Michael Block (U.S.), Dr. Leon Botstein (U.S.), Professor Clay Christensen (U.S.), Dr. Linda Darling-Hammond (U.S.), Dr. MadhavChavan (India), Professor Michael Fullan (Canada), Professor Howard Gardner (U.S.), Professor Andy Hargreaves (U.S.), Professor Yvonne Hellman (The Netherlands), Professor Kristin Helstad (Norway), Jean Hendrickson (U.S.), Professor Rose Hipkins (New Zealand), Professor Cornelia Hoogland (Canada), Honourable Jeff Johnson (Canada), Mme. Chantal Kaufmann (Belgium), Dr. EijaKauppinen (Finland), State Secretary TapioKosunen (Finland), Professor Dominique Lafontaine (Belgium), Professor Hugh Lauder (UK), Lord Ken Macdonald (UK), Professor Geoff Masters (Australia), Professor Barry McGaw (Australia), Shiv Nadar (India), Professor R. Natarajan (India), Dr. Pak Tee Ng (Singapore), Dr. Denise Pope (US), Sridhar Rajagopalan (India), Dr. Diane Ravitch (U.S.), Richard Wilson Riley (U.S.), Sir Ken Robinson (UK), Professor Pasi Sahlberg (Finland), Professor Manabu Sato (Japan), Andreas Schleicher (PISA, OECD), Dr. Anthony Seldon (UK), Dr. David Shaffer (U.S.), Dr. Kirsten Sivesind (Norway), Chancellor Stephen Spahn (U.S.), Yves Theze (LyceeFrancais U.S.), Professor Charles Ungerleider (Canada), Professor Tony Wagner (U.S.), Sir David Watson (UK), Professor Dylan Wiliam (UK), Dr. Mark Wormald (UK), Professor Theo Wubbels (The Netherlands), Professor Michael Young (UK), and Professor Minxuan Zhang (China) as they explore the big picture education questions that all nations face today.
The Global Search for Education Community Page
C. M. Rubin is the author of two widely read online series for which she received a 2011 Upton Sinclair award, "The Global Search for Education" and "How Will We Read?" She is also the author of three bestselling books, including The Real Alice in Wonderland, is the publisher of CMRubinWorld, and is a Disruptor Foundation Fellow.
Follow C. M. Rubin on Twitter: www.twitter.com/@cmrubinworld