The Hardaways: How a Father-Son Relationship Changed in a Day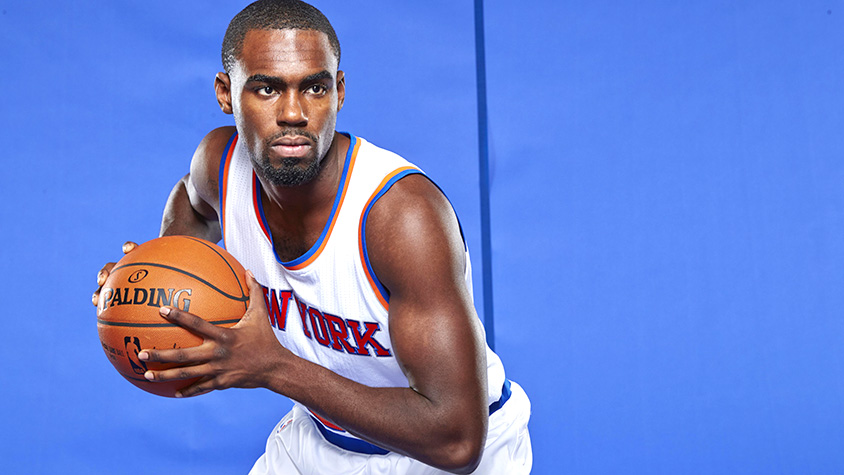 When He Stepped Out of the Role of Coach, a New One Opened Up
By Chris Girandola –
For Tim Hardaway Sr., a former five-time All Star in the National Basketball Association, his role as a coach for his son always seemed clear.
He watched his father star as a playground legend on the concrete courts of Chicago and learned from the legendary Don Haskins at the University of Texas at El Paso, then played for Hall of Fame coaches Don Nelson and Pat Riley during an illustrious 15-year NBA career punctuated by his signature crossover-dribble move.
So the 6-foot former guard thought he'd be the perfect coach for his son, Tim Hardaway Jr., now a member of the New York Knicks.
Hardaway Sr., who retired after the 2002-03 season, never coached his son in a formal role. The instruction came privately at the family home in Miami or while sitting in the stands during one of his son's high school games. But he wasn't sitting quietly.
"Get back on defense! Hustle! Follow through on your shot! Rebound the ball! Let's go, you're better than that, Tim," he remembers yelling from the stands.
Driven Dad, Frustrated Son
"Back [when my son was] in sixth and seventh grade, I saw potential," said Hardaway Sr., who had his No. 10 jersey retired by the Miami Heat. "I felt like he wouldn't have the same instruction in Miami as he would have in the Midwest or in New York. I was teaching him the way I wanted him to play instead of just letting him learn on his own. I wasn't receptive to that. I kept on wondering, 'Why? Why? Why can't he play better?' I wanted him to be more like me and the way I played the game."
Hardaway Jr., the 6'6″ forward who was trying to learn the game on his own terms, says he just wanted to be himself — not the son of the NBA star with the "killer crossover," not the one who was supposed to have "as good a jumper as your dad," and not the one who "should be playing tough like a kid in Chicago." Eventually, the younger Hardaway shut off communication with his dad for weeks at a time.
"It was very embarrassing for me," said Hardaway Jr., who recently completed his second season in the NBA. "It got to a point where he would come to me after the game and if I played a certain way that he didn't like, he would tell me, 'Why come up here to see you play? You're wasting my and our family's time. If you don't want to play the game of basketball the right way, I might as well pull you out of the sport.'"
The Most Important Question
Hardaway Sr. would eventually arrive at the question that would change his son's life.
"It was tough, because he wasn't getting the [college scholarship] offers that he should have been getting," Hardaway said. "He had been playing alright his junior year, but nothing spectacular. I finally just said, 'What if I just sit back up here and let him do his thing?'"
The answer came on the court that night. Despite losing in a playoff game, Hardaway Jr. had his best game to date.
"I knew he would be at the game because he was at every game, but I didn't know where he would be sitting," Hardaway Jr. said. "It didn't really hit me during the game that he was quiet, but I was just able to play freely. He didn't say one word and that game, he saw me shoot the ball well, play great defense, take it to the basket strong … do all the little things he told me to do."
After the game, father met son, shook his hand and apologized.
"He just told me he had never seen me do those things I did," said Hardaway Jr., who went on as a senior to average 31.7 points, 7.3 rebounds and 4.0 assists as one of the highest ranked guards in the country. He played at the University of Michigan and made First Team All-Big Ten in his junior year.
"He never had really been a parent. He had always acted more as a coach. Once he started being a parent, that's when things changed."
Lessons Learned the Hard Way
Both father and son say that change taught them lifelong lessons.
"There has to be that fine balance between caring and giving advice and making sure not to be overbearing," Hardaway Sr. said. "I was scared there for a while that I might lose my son, my entire family."
While Hardaway Jr. says he recognizes the importance of a parent being the guide, he now knows that a child has to eventually take a stand.
"It all falls on the parent, but the kid has to be vocal and tell how he or she really feels," said Hardaway Jr., now 23. "A son should be able to talk to his dad and let him know what he's are thinking and the dad has to care what he has to say. Fathers can learn from their children just as much as children can learn from their fathers."
Eventually, the two would shoot pool against each other or play a game of H.O.R.S.E. in a symbiosis that had seemed foreign to them for years.
"It became normal, like a father and son," said Hardaway Jr. "My dad would become my biggest asset in terms of support when it came time to leave [Michigan] early for the NBA draft and in helping me transition and succeed as a pro."
On April 15, 2015, Hardaway Jr. capped his second pro year by scoring 25 points in the Knicks' 112-90 loss to the Detroit Pistons on the last day of the 2014-15 NBA regular season.
While infamous in some ways, the contest was largely significant for the Hardaway family, considering Hardaway Sr., 48, was finishing his first season as an assistant coach for the Pistons. Suddenly, life had come full circle – with the father having to sit back and let his son make a name for himself.
"It is tough, because I want him to do well in each and every game, and I have to sit there and focus on our team," said Hardaway Sr., who was named as assistant by Pistons coach and president of basketball operations Stan Van Gundy in August 2014. "It's stressful. I always want him to do well, but I also want to win. So I want him to do well, but have our team win."
Source: The Hardaways: How a Father-Son Relationship Changed in a Day