It didn't start with Trump: how America came to undervalue teachers
The 1983 report, A Nation at Risk, spoke of a school system in 'the grip of a crisis' – kicking off cycles of shortcomings for American schools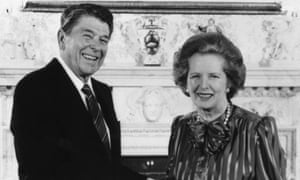 At 4.20pm on 26 April 1983, in the state dining room at the White House, then president Ronald Reagan accepted a report from a panel of the country's leading educators, offered a couple of lighthearted quips and spoke of a school system in "the grip of a crisis". It was the Sputnik moment of American education, a visceral warning about a global superpower falling behind its rivals.
The report, A Nation at Risk, sounded the alarm about the quality of American schools and the potential for looming disaster. "The educational foundations of our society are presently being eroded by a rising tide of mediocrity that threatens our very future as a nation and as a people," it said.
The expression of angst, amplified by the media and Reagan in public hearings around the US, is described by Dana Goldstein's book, The Teacher Wars, as one of the most influential federal documents ever published. It had some positive outcomes, such as securing the future of the education department despite Reagan's 1980 campaign promise to abolish it. But in creating a narrative of failure, it arguably led to a generational cycle of blaming and underpaying teachers that puts the current shortcomings of the Trump administration into perspective.
Jonathan Kozol, a veteran activist who started his teaching career in 1964 and is the author of several major books about public education, says: "In many states, teachers often have to work two jobs to lead an even marginal middle class existence, working for Uber on weekends or at night and dipping into their own salaries to buy basic school supplies. Now, Betsy DeVos and Donald Trump have certainly made the lot of kids and teachers even worse. But Trump has simply put a sinister and ugly face on contemptible conditions that existed long before he came to office. I'd like to blame him for the evils of the world, but this has been a pattern from long before."
Recalling the Reagan-era report, Kozol continues: "A Nation at Risk alleged that our schools were flooded with 'a tide of mediocrity' and the culprits were teachers. That was the theme. Teachers were accused of being too permissive with children. That was partly a conservative reaction to the progressive values of the 60s. Teachers were 'lazy, in terms of pay they were self-serving, they had their summers free so they didn't have to work that hard'. The most unjust blame was the one placed on the teacher unions."
Source: It didn't start with Trump: how America came to undervalue teachers | Education | The Guardian