Jewish school removed 'homosexual' mentions from GCSE textbook
Yesodey Hatorah girls' school in London also censored images of women socialising with men
A state-funded Orthodox Jewish girls' school in north London has admitted censoring sections of GCSE textbooks to remove mentions of homosexuals and examples of women socialising with men, saying it did so to protect girls from sexualisation.
Yesodey Hatorah Senior Girls' school in Stamford Hill, which serves the strictly Orthodox Haredi community, covered text and images including Fred Astaire dancing with Ginger Rogers.
Words and photos were redacted in a book called Understanding the Modern World, one of the exam board AQA's GCSE history resources.
The school removed references to homosexuals from a section on the Nazi belief in the superiority of the Aryan race. Elsewhere, a number of images of women were censored to hide their chests, shoulders and arms, and legs above the knee.
In a section on the position of women in modern American society, references to women smoking, drinking and driving with men were redacted, as was the sentence: "They kissed in public."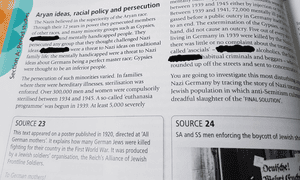 The textbooks were passed on to Humanists UK by concerned members of the community.
Source: Jewish school removed 'homosexual' mentions from GCSE textbook | Education | The Guardian