Kristen Grasso, Florida Mom, Upset 11-Year-Old Daughter May Be Classified As Overweight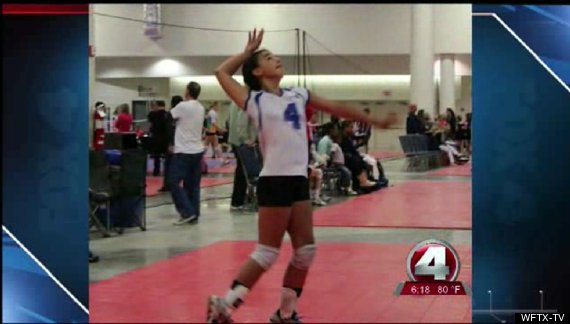 One mother is worried this won't be good for a pre-teen's self-image.
Kristen Grasso of Naples, Fla., recently received a letter from her 11-year-old's school district suggesting her daughter, Lily, was at an "at risk" weight, according to multiple reports.
Now, Grasso says she's worried about the effect the letter will have on her daughter. "Kids that see results like this test may be classified as overweight and they aren't may develop self-esteem issues," she told local Fox affiliate WFTX-TV.


The school's letter notes that Lily — who is 5 feet 3 inches tall and weighs 124 pounds, according to the document — has a body mass index (BMI) that places her in the 89.56 percentile for her age. This classifies her as an "at risk" student. The letter recommends that Grasso talk to Lily's pediatrician and visit the Centers for Disease Control and Prevention (CDC) website to learn about what BMI means for a developing child.
According to the Florida Department of Health, "[a]ny child who falls at or above the 85th percentile may be considered overweight." But Grasso maintains that Lily is not overweight, telling WFTX-TV that Lily is athletic and therefore muscular. She also says her daughter eats healthy foods.
Lily Grasso was deemed "at risk" after a health screening. (Story continues below):
asdf
"School health screening programs provide valuable information to parents and help ensure that Florida's students are healthy and ready to learn," said Florida Department of Health spokesperson Sheri Hutchinson in an email to The Huffington Post. Hutchinson noted that parents may opt out of health screenings for their children.
BMI is a measure of fat content that takes into account both height and weight. Under Florida state law, public school students in first, third and sixth grades must undergo "growth and development screenings" like Lily's. The CDC maintains that such screenings are necessary "to monitor trends and investigate risk factors" in order to educate residents about the dangers of obesity.

In a state where more than 32 percent of children between the ages of 10 and 17 are considered overweight or obese, some might say that's a noble mission. However, similar letters sent to parents by school districts and health departments have stirred controversy in states across the country. Such letters have come to be called "fat letters" and have provoked outrage and even legislation intended to prevent them.
Some experts have argued that body mass index is a flawed measure of whether or not a person is fat because it fails to take into account a number of other factors, including where the fat is stored or how much of a person's weight is muscle.
via Kristen Grasso, Florida Mom, Upset 11-Year-Old Daughter May Be Classified As Overweight.