#Metoo in China: fledgling movement in universities fights censorship
Former classmates of Gao Yan say she was raped by a professor and the assault led to her suicide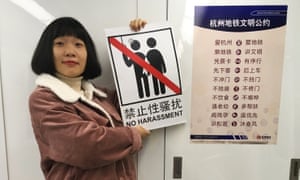 Lily Kuo – Peking University, China's top academic institution, admitted this month that 20 years ago a professor had been involved in "inappropriate student-teacher relations" with a female student. Former classmates of that student, Gao Yan, a star pupil studying Chinese literature, say she was raped and that the assault pushed her to commit suicide less than a year later.
The university said in a statement on 6 April that at the time they concluded the professor, Shen Yang, had "handled the situation very imprudently" and he was given an administrative warning and demerit in the summer of 1998, about four months after Gao's suicide. Shen has denied the allegations by Gao's classmates, calling them "total nonsense".
For one student, that wasn't enough. Deng Yuhao, an undergraduate at Peking University studying maths, posted a statement on WeChat on 7 April calling for students and teachers to pressure the university to release more details of their investigation. His article was viewed or shared more than a million times.
That night a professor called Deng to meet, according to accounts circulated by students on WeChat. More than 10 students accompanied him, waiting outside while he spoke with the professor who told Deng he was being disrespectful of the dead and his actions could cause the situation to get out of hand.
The next day, Deng's online statement and all reports mentioning him were scrubbed from the internet. But the story had already spread, inspiring other students and activists.
"There are many different roles in this movement… The most important is the students. They have a strong motivation to do something," said Li Maizi, a Chinese activist working on gender quality, who was one of five women detained in 2015 for campaigning against sexual harassment. "They are very united. The young people are powerful at this moment," she said.
From the outside, China's "MeToo" movement is a fledgling one. In January, when a former PhD student at Beijing's Beihang University accused her ex-adviser of attempting to rape her 12 years ago, the phrases woyeshi, MeToo and "anti-sexual harassment" trended online briefly before they were censored. "Rice bunny", a homonym for MeToo has also been censored.
Source: #Metoo in China: fledgling movement in universities fights censorship | World news | The Guardian