Nikki Haley, the Latest Person To Be Added to the Traitor File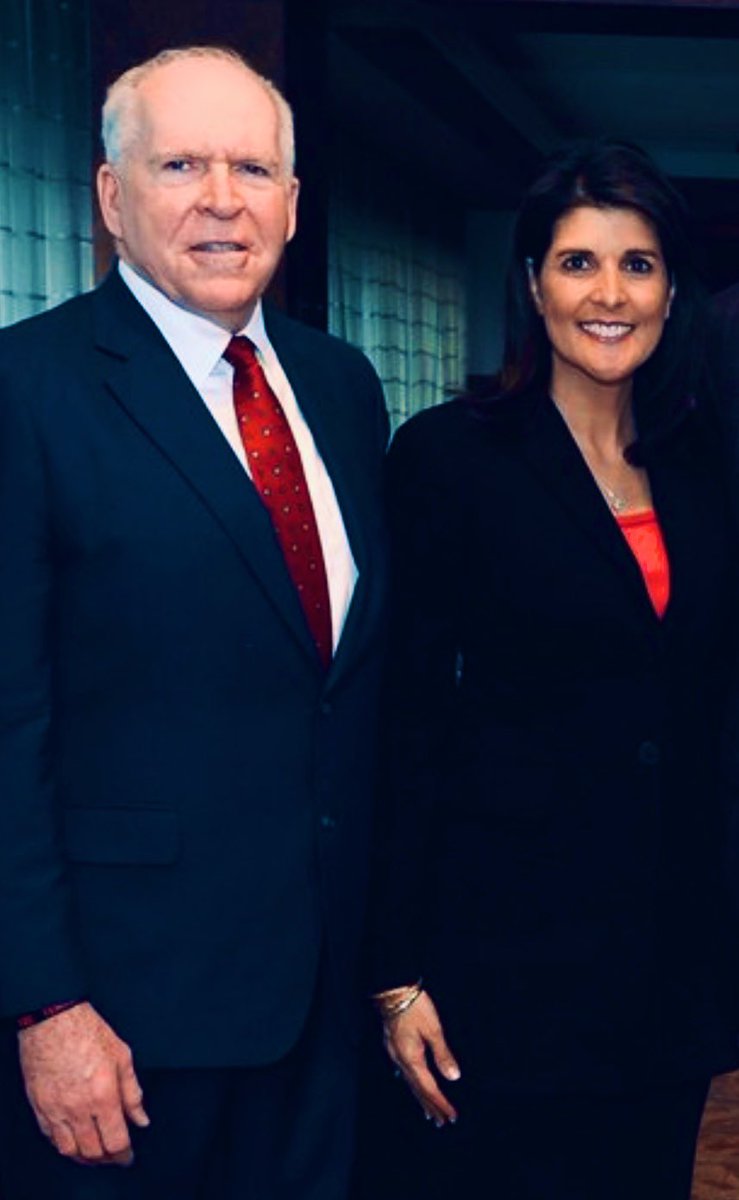 "Nikki Haley, the Latest Person To Be Added to the Traitor File"
By Donna Garner
2.12.21
I have started a file on my computer entitled "TRAITORS," and the file is growing quickly. I suggest that all 80 million American patriots who voted for Donald Trump may want to start a similar file because each and every day we learn more names to put in that file.
When we consider all of the many people who latched onto Trump and his popularity for their own personal gain and then who revealed their true colors when the going got rough, it makes Trump's amazing accomplishments during those four years of his Presidency seem even greater. With a zillion "knives in his back" by the traitors, how did he ever accomplish so much good for the United States?
[Please see "Pres. Trump's List of Accomplishments Through Jan. 2021" which is posted at the bottom of this page.]
Today we can definitely add Nikki Haley to the "TRAITOR" file. I always had my doubts about her, but now we know for sure. She obviously plans to run for President in 2024, but she may have made a behind-the-door deal with Mike Pence. Question for the day: How will they divide it up…Pence as President/VP or Haley as President/VP?
The good news is that neither of Haley nor Pence can get there unless the 80 million Trump voters are fooled. This is the reason for the "TRAITOR" file. We must not forget who these people are and what they have done to try to destroy every good thing that Trump was able to accomplish for the United States. Think what he would have accomplished for our nation with four more years in office!
Tens of millions of Americans have now seen Mike Lindell's video evidence of the Chinese Communists' hijacking of our elections because the Chi/Coms feared Trump so much (2.11.21 – "The Biggest Cyber Attack in the History of the World" — https://www.educationviews.org/the-biggest-cyber-attack-in-the-history-of-the-world/). It is past ironic and a bit unintelligent that Nikki Haley, former U. S. Ambassador to the United Nations, thinks she can fool the American public by condemning our former President.
Haley appears to be trying to ingratiate herself with the agenda of the leftist news media (Politico, CNN, etc.). I can tell her that is not the way to draw votes in 2024 from the 80 million patriots who voted for President Trump.
To be totally honest, every bad thing that happens under Biden that destroys our wonderful country can be laid right at the feet of the people in the TRAITOR file, and we need to hold the Biden Shadow Campaign and the people in this file accountable.]
========================
"Nikki Haley breaks with Trump: 'We shouldn't have followed him'"
By Celine Castronuovo
https://thehill.com/homenews/administration/538573-haley-breaks-with-trump-we-shouldnt-have-followed-him
Excerpts from this article:
Former U.S. Ambassador to the United Nations Nikki Haley issued stunning remarks breaking with former President Trump, telling Politico in an interview published Friday that she believes he "let us down."
"We need to acknowledge he let us down," Haley, who served in her ambassador role under Trump, said. "He went down a path he shouldn't have, and we shouldn't have followed him, and we shouldn't have listened to him. And we can't let that ever happen again."
…The former South Carolina governor told Politico that she has not spoken with Trump since the mob attack, further expressing her disappointment with remarks he gave at a rally ahead of the assault condemning his own vice president, Mike Pence.
"…I am so disappointed in the fact that [despite] the loyalty and friendship he had with Mike Pence, that he would do that to him. Like, I'm disgusted by it."
…Haley, who many speculate is a possible 2024 presidential contender, announced a new political action committee last month named after her Stand for America advocacy group. Her spokeswoman Chaney Denton said at the time that the PAC would be focused on helping get conservatives back in control in the House and Senate in 2022.
Bradley Crate, the treasurer for Haley's PAC, was the treasurer for Trump's presidential campaign in 2016 and Sen. Mitt Romney's (R-Utah) top financial adviser for both his presidential runs.
======================
9.2.15 — CNN
Nikki Haley: 'Black lives do matter'
By Chris Moody
https://www.cnn.com/2015/09/02/politics/black-lives-matter-republicans-nikki-haley-south-carolina/index.html
(CNN) — Nikki Haley, the Republican governor of South Carolina who pressed for the removal of the Confederate battle flag from state property this summer, acknowledged that the GOP still has an image problem with minority voters, calling it "shameful."
…Haley's effort to remove the Confederate flag followed the June shooting in Charleston of black parishioners during a Bible study at Emanuel African Methodist Episcopal Church allegedly by an avowed white supremacist. The massacre, combined with several instances of unarmed African-Americans dying at the hands of police, has inspired a growing movement called "Black Lives Matter."
…"Black lives do matter and they have been disgracefully jeopardized by the movement that has laid waste to Ferguson and Baltimore," she said.
========================
TO PUT IN TRAITOR FILE:
DEFINITIONS OF TRAITOR, TREASON:
one who betrays another's trust or is false to an obligation or duty; the offense of attempting by overt acts to overthrow the government of the state to which the offender owes allegiance [This means by handing America over to the Chinese Communists and/or Iran]; backstabbing, disloyal, sellout, unfaithfulness, betrayal
==================
1.11.21 – "Incitement Timeline Debunked As Ex-Capitol Police Chief Says Pelosi, McConnell's Sergeants-At-Arms Refused Security Measures" — The National Pulse –https://thenationalpulse.com/breaking/ex-capitol-police-chief-says-pelosi-mcconnells-sergeants-at-arms-refused-security-measures-while-new-timeline-proves-trump-incitement-claims-bogus/
1.31.21 — "Evidence Mounts That Pres. Trump Did Not Incite the Capitol Breach" – EdViews.org — https://www.educationviews.org/evidence-mounts-that-pres-trump-did-not-incite-the-capitol-breach/
2.9.21 – "Trump Offered to Deploy 10,000 National Guard Troops in DC Ahead of Jan. 6"— Epoch Times — https://www.theepochtimes.com/trump-offered-to-deploy-10000-national-guard-troops-in-dc-ahead-of-jan-6-mark-meadows_3690294.html?utm_source=news&utm_medium=email&utm_campaign=breaking-2021-02-09-1
1.29.21 — "I Found it: Pres. Trump's Speech – No Incitement To Commit Insurrection"—EdViews.org — https://www.educationviews.org/i-found-it-pres-trumps-speech-no-incitement-to-commit-insurrection/
2.10.21 – "Judas Mike Pence Joins Aaron Burr and Benedict Arnold" – News with Views — https://newswithviews.com/judas-mike-pence-joins-aaron-burr-and-benedict-arnold-part-one/
2.9.21 — Here are the names of the six Senate Republicans who voted with the Dems to agree to proceed with the second impeachment trial against Pres. Trump:
Senators Susan Collins of Maine, Bill Cassidy of Louisiana, Lisa Murkowski of Alaska, Mitt Romney of Utah, Ben Sasse of Nebraska, and Pat Toomey of Pennsylvania
1.7.21 — "Keep This Handy: America Sold Out by Pontius Pilate Pence and Cowards" – Edviews.org — https://www.educationviews.org/keep-this-handy-america-sold-out-by-pontius-pilate-and-cowards/
1.10.21 — "Who Were the Brave Ones and the Cowards in the Joint Session?" – EdViews.org –– https://www.educationviews.org/who-were-the-brave-ones-and-the-cowards-in-the-joint-session/
1.20.21 — "What We Must Tell Our Children and Grandchildren About the Elections" — EdViews.org — https://www.educationviews.org/what-we-must-tell-our-children-and-grandchildren-about-the-elections/
1.17.2 – "President Trump's Accomplishments Through Jan. 2021" – Of course, the Biden White House took this list down; but it can be accessed at this website for posterity's sake. — EdViews.org — https://www.educationviews.org/january-2021-trump-administration-accomplishments/
Donna Garner
MeWe – Donna Garner
USA.Life – DonnaGarner
Gab.com — @DonnaTexas