Oxford college backs removal of Cecil Rhodes statue
Oriel College launches independent commission to examine key issues around imperialist's statue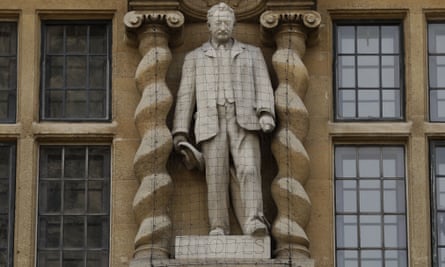 The statue of Cecil Rhodes at Oriel College.

Photograph: Matt Dunham/AP
Oxford University's Oriel College has voted in favour of removing its statue of the Victorian imperialist Cecil Rhodes and will set up an independent inquiry into the key issues around it following a student-led campaign that began four years ago.
The governing body of Oriel College meeting follows protests by the Rhodes Must Fall campaign outside the college over the past two weeks. The campaign, which started in 2015 but dwindled after students graduated, was reignited by the recent Black Lives Matter demonstrations across the UK, which included the dramatic toppling of a statue of the slave trader Edward Colston in Bristol.
Oriel College voted on Wednesday to launch an independent commission of inquiry into the key issues surrounding the Rhodes statue. A spokesperson said in a statement that they had "expressed their wish to remove the statue of Cecil Rhodes … This is what they intend to convey to the independent commission."
The statement continued: "Both of these decisions were reached after a thoughtful period of debate and reflection and with the full awareness of the impact these decisions are likely to have in Britain and around the world.
"The commission will deal with the issue of the Rhodes legacy and how to improve access and attendance of BAME [black, Asian and minority ethnic] undergraduate, graduate students and faculty, together with a review of how the college's 21st century commitment to diversity can sit more easily with its past."
The governing body appointed Carole Souter CBE, the current master of St Cross College and former chief executive of the National Lottery Heritage Fund, to be the chair of the commission.
Inspired by student activism in South Africa, hundreds of Oxford students campaigned for the removal of the likeness of Rhodes, who supported apartheid-style measures in southern Africa, from the facade of the college in 2016. The campaign also called for the university curriculum to be changed to reflect diversity of thought beyond the western canon and for better support for BAME student and staff.
Source: Oxford college backs removal of Cecil Rhodes statue | University of Oxford | The Guardian