Parents take legal action over pupils labelled as truants
Mental health issues 'are often the cause of school refusals'
Families with children who are labelled "school refusers" are planning to take legal action against the government to challenge rules on truancy that allow them to be fined and prosecuted.
A group of parents, working with lawyers, wants a judicial review of the school attendance regulations that label their children as "truants".
The families say the severe anxiety that their children suffer from should be treated as a mental health issue, not an attendance one. In many cases, the pupils have underlying conditions, such as autism or attention disorders, which are not being properly supported because of cuts to special educational needs and disability (Send) budgets in schools and councils. A damning report published last week by the cross-party education select committee concluded that the government's Send reforms were failing children and "setting local authorities up to fail".
The problem is compounded by the crisis in mental health provision. Pupils with "school phobia" cannot obtain the medical evidence they need to be classed on registers as an authorised absence rather than a truant.
Using money raised through crowdfunding platform CrowdJustice, and with legal aid, the families are looking to mount a legal challenge against the Department for Education's absence codes and guidance, which they claim discriminate against those with school attendance difficulties.
Nationally 783,425 pupils were classed as persistent absentees in 2017-18, with 325,685 of all pupil absences recorded as "more than 25 days". Local authorities issued 260,000 penalty notices to parents for unauthorised absences in 2017-18, an increase of 110,000 on the previous year.
Not Fine In School (NFIS), an organisation that supports families with school attendance difficulties, has 8,200 members on its closed Facebook group, with an average of 24 new members joining daily since September. Beth Bodycote, founder of NFIS, said: "We have nearly 5,000 members posting on a daily basis. Their distressing stories repeatedly illustrate the lack of appropriate understanding and support for attendance difficulties."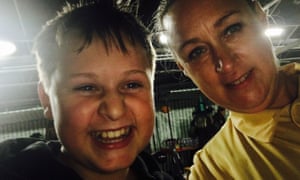 Source: Parents take legal action over pupils labelled as truants | Education | The Guardian