Primary school invites in elderly people to work with young pupils
Downshall primary school in Essex hosts day centre where older people, some with early dementia, can interact with children
A primary school in Essex is piloting a new project that brings elderly people suffering from isolation, depression and early dementia into the classroom to work with four- and five-year-old children, with the aim of mutually benefiting all.
Previous projects have involved children visiting care homes, but Downshall primary school in Ilford is thought to be the first to host a day centre for older people, who read books, sing songs and do puzzles with children.
Using the ideas behind cognitive stimulation therapy, the visitors benefit from social interaction with each other as well as from engaging in activities with the children, while the pupils – 87% of whom speak English as a second language – gain from increased interaction with adults.
The Downshall project, called Bringing Together, Learning Together, Growing Together, is inspired by research from Japan, where there has long been a focus on developing models of social integration between generations in response to the ageing population.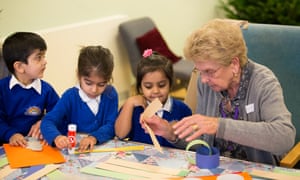 The elderly visitors come to school three days a week with their carers and support workers, and the aim is to accommodate nine each day. They have their own room where they can socialise with each other and where children can come to play.
Source: Primary school invites in elderly people to work with young pupils | Education | The Guardian