Rare parchment manuscript of US Declaration of Independence found in England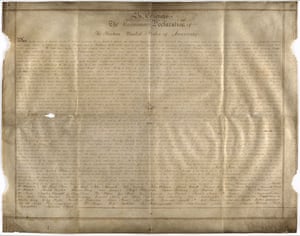 When in the course of human events it becomes necessary to visit a tiny records office in southern England because it claims to have a copy of the Declaration of Independence, a decent respect for history requires investigation.
On Friday two Harvard University researchers announced they had found a parchment copy of the declaration, only the second parchment manuscript copy known to exist besides the one kept in the National Archives in Washington DC. Professor Danielle Allen and researcher Emily Sneff presented their findings on the document, known as "The Sussex Declaration", at a conference at Yale on Friday, and published initial research online.
Sneff found her first clue of the manuscript in August 2015, while compiling records for a university database. "I was just looking for copies of the Declaration of Independence in British archives," Sneff told the Guardian.
But the listing, for the West Sussex record office, struck Sneff as odd because it mentioned parchment, a material suggesting a document made for a special occasion and not simply a broadside copy.
"I reached out to them a bit skeptically," Sneff said. "The description was a little vague but once we saw an image and talked to a conservator we started to get excited."
Before Sneff asked, the British officials had never taken a close look at the manuscript. They had received it in 1956 from a local man, who worked with a law firm that represented the dukes of Richmond. "The closer we looked at it there were just things that made it a clearly unique and mysterious document," Sneff said.
Source: Rare parchment manuscript of US Declaration of Independence found in England | US news | The Guardian