Rise of the machines: has technology evolved beyond our control?
Technology is starting to behave in intelligent and unpredictable ways that even its creators don't understand. As machines increasingly shape global events, how can we regain control?
The voice-activated gadget in the corner of your bedroom suddenly laughs maniacally, and sends a recording of your pillow talk to a colleague. The clip of Peppa Pig your toddler is watching on YouTube unexpectedly descends into bloodletting and death. The social network you use to keep in touch with old school friends turns out to be influencing elections and fomenting coups.
Something strange has happened to our way of thinking – and as a result, even stranger things are happening to the world. We have come to believe that everything is computable and can be resolved by the application of new technologies. But these technologies are not neutral facilitators: they embody our politics and biases, they extend beyond the boundaries of nations and legal jurisdictions and increasingly exceed the understanding of even their creators. As a result, we understand less and less about the world as these powerful technologies assume more control over our everyday lives.
Across the sciences and society, in politics and education, in warfare and commerce, new technologies are not merely augmenting our abilities, they are actively shaping and directing them, for better and for worse. If we do not understand how complex technologies function then their potential is more easily captured by selfish elites and corporations. The results of this can be seen all around us. There is a causal relationship between the complex opacity of the systems we encounter every day and global issues of inequality, violence, populism and fundamentalism.
Instead of a utopian future in which technological advancement casts a dazzling, emancipatory light on the world, we seem to be entering a new dark age characterised by ever more bizarre and unforeseen events. The Enlightenment ideal of distributing more information ever more widely has not led us to greater understanding and growing peace, but instead seems to be fostering social divisions, distrust, conspiracy theories and post-factual politics. To understand what is happening, it's necessary to understand how our technologies have come to be, and how we have come to place so much faith in them.
In the 1950s, a new symbol began to creep into the diagrams drawn by electrical engineers to describe the systems they built: a fuzzy circle, or a puffball, or a thought bubble. Eventually, its form settled into the shape of a cloud. Whatever the engineer was working on, it could connect to this cloud, and that's all you needed to know. The other cloud could be a power system, or a data exchange, or another network of computers. Whatever. It didn't matter. The cloud was a way of reducing complexity, it allowed you to focus on the issues at hand. Over time, as networks grew larger and more interconnected, the cloud became more important. It became a business buzzword and a selling point. It became more than engineering shorthand; it became a metaphor.
Today the cloud is the central metaphor of the internet: a global system of great power and energy that nevertheless retains the aura of something numinous, almost impossible to grasp. We work in it; we store and retrieve stuff from it; it is something we experience all the time without really understanding what it is. But there's a problem with this metaphor: the cloud is not some magical faraway place, made of water vapour and radio waves, where everything just works. It is a physical infrastructure consisting of phone lines, fibre optics, satellites, cables on the ocean floor, and vast warehouses filled with computers, which consume huge amounts of water and energy. Absorbed into the cloud are many of the previously weighty edifices of the civic sphere: the places where we shop, bank, socialise, borrow books and vote. Thus obscured, they are rendered less visible and less amenable to critique, investigation, preservation and regulation.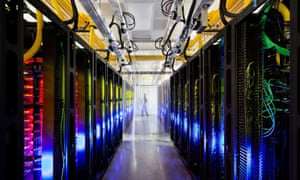 Over the last few decades, trading floors around the world have fallen silent, as people are replaced by banks of computers that trade automatically. Digitisation meant that trades within, as well as between, stock exchangescould happen faster and faster. As trading passed into the hands of machines, it became possible to react almost instantaneously. High-Frequency Trading (HFT) algorithms, designed by former physics PhD students to take advantage of millisecond advantages, entered the market, and traders gave them names such as The Knife. These algorithms were capable of eking out fractions of a cent on every trade, and they could do it millions of times a day.
James Bridle's New Dark Age: Technology and the End of the Future is published by Verso. To order a copy for £14.44, go to guardianbookshop.com or call 0330 333 6846. Free UK p&p over £10, online orders only. Phone orders min. p&p of £1.99.
Continue: Rise of the machines: has technology evolved beyond our control? | Books | The Guardian