Russia reveals 'secret protocol' carving up Eastern Europe in 1939 Molotov-Ribbentrop pact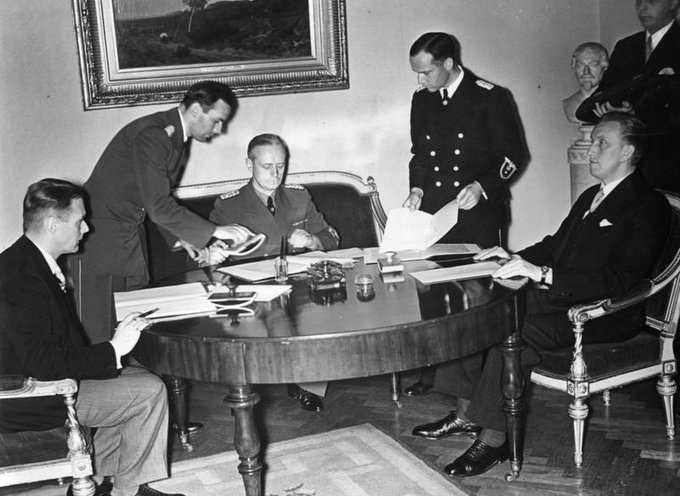 The deal ostensibly halted aggression between the Nazis and Soviets, but also contained a cunning backroom agreement
Offering a unique insight into one of the most controversial political deals in history, Russia has displayed the original text of a pact between Hitler's Nazi Germany and Stalin's Soviet Union, including the deal's condemned "secret protocol."
Signed in Moscow on Aug. 23, 1939, the Molotov-Ribbentrop pact was ostensibly a non-aggression agreement between the two powers, but also contained a cunning backroom deal to divvy up Eastern Europe as the Second World War loomed.
In the initial secret protocol and a follow-on arrangement, it was agreed that Poland was to be shared, and Estonia, eastern Finland, Latvia, Lithuania, and parts of Romania were all to be ceded to Soviet influence. Vyacheslav Molotov signed for the Soviets, Joachim von Ribbentrop for the Nazis.
Soon after it was done, the Second World War began in earnest; within days, Hitler sent troops into Poland. The following year Stalin, who had followed Hitler into Poland, annexed the Baltic states to Moscow's west.
Russia's new exhibition is seen as an attempt to normalize a pact it says it had no option but to strike, because attempts to work with the West had failed. But Estonia, Latvia, Lithuania, Poland and Romania have all used the pact's anniversary to repeat their view that Molotov-Ribbentrop was a cynical deal that ushered in decades of death, displacement and totalitarianism.
"August 23 will mark 80 years since the signing of the Molotov-Ribbentrop Pact between the Soviet Union and Nazi Germany that sparked World War II and doomed half of Europe to decades of misery," they said in a joint statement this week.
"The Pact contained the secret protocol which effectively carved up Eastern Europe into spheres of influence.
Source: Russia reveals 'secret protocol' carving up Eastern Europe in 1939 Molotov-Ribbentrop pact | National Post