School murdered on playground by bully
A suburban Philadelphia sixth-grader has died weeks after he suffered injuries in a fight at school, as authorities probe whether he may have been bullied.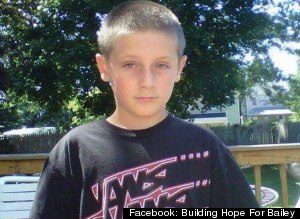 Family members say Bailey O'Neill died after being taken off life support Sunday morning, a day after he turned 12.
He had suffered a concussion, a broken nose and other injuries during the encounter with another boy at Darby Township School, in suburban Philadelphia, on Jan. 10. He later began having seizures, and doctors induced a coma.


Bailey told his mother, Jina Risoldi, that he had been at recess when the boy, who was taller, challenged him to a fight.
Risoldi said last month that her son declined to fight, saying he was worried about being suspended. She said a boy then pushed him from behind and he was struck in the head about five times.
"This is not a fight between two boys," she said. "My son didn't fight back."
Risoldi said school security and a teacher rushed in to break it up.
Bailey spent the rest of the day at school, but over the following days he complained of severe headaches and dizziness, began sleeping a lot and became irritable and confused, his mother said.
"He had no problems before the fight," Risoldi said last month. "He was always extremely healthy, rarely got sick."
Bailey was an honor roll student who served on the student council, and he enjoyed baseball and swimming.
His mother said the other boy had challenged him to a fight earlier that week, and she had questions about whether the school did enough to prevent the encounter.
She said school officials were aware the boy had a history of bullying other children. She said the boy was suspended and subsequently returned to class.


MyFoxPhilly.com reports police and the Delaware County District Attorney's office are looking into whether Bailey had been bullied at school before the incident, but say they have no evidence of that so far.
The Associated Press reports District Attorney Jack Whelan told the Delaware County Daily Times that he was waiting for autopsy results and re-interviewing witnesses but considered charges to be likely.
Flags were flown at half-staff at the elementary school Bailey attended on Monday, as many remembered the boy as kind.
"He was always polite, the kindest little boy you would ever want to know," neighbor Joyce Neroni told MyFoxPhilly.com.
Police say they have re-interviewed half a dozen people in the case, from teachers to the other boy involved in the fight, and have examined school records.
The school district said in a statement on its website it is cooperating with local authorities.
via Philly-area boy, 12, dies weeks after suffering injuries in fight at school | Fox News.