Schools asked to donate science goggles for NHS to use as face shields
Teachers in England say they are getting requests for eyewear and other protective equipment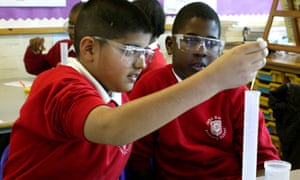 Schools across England are being asked to donate science goggles and other apparatus to the NHS due to a shortage of protective equipment for doctors dealing with the coronavirus outbreak.
The Guardian has heard from a number of schools and teachers who are responding to urgent messages from NHS trusts that need face shields.
NHS England and the government have made a major effort since the weekend to address concerns about protective gear. The army has been called in to help deliver millions of pieces of personal protective equipment (PPE) and 200 hospitals were due to receive extra kit overnight on Tuesday.
However, doctors say deliveries are not arriving soon enough, and groups representing frontline staff say doctors could quit over the issue.
Source: Schools asked to donate science goggles for NHS to use as face shields | Education | The Guardian