Scientists begin removing encrusted debris and rust from Confederate submarine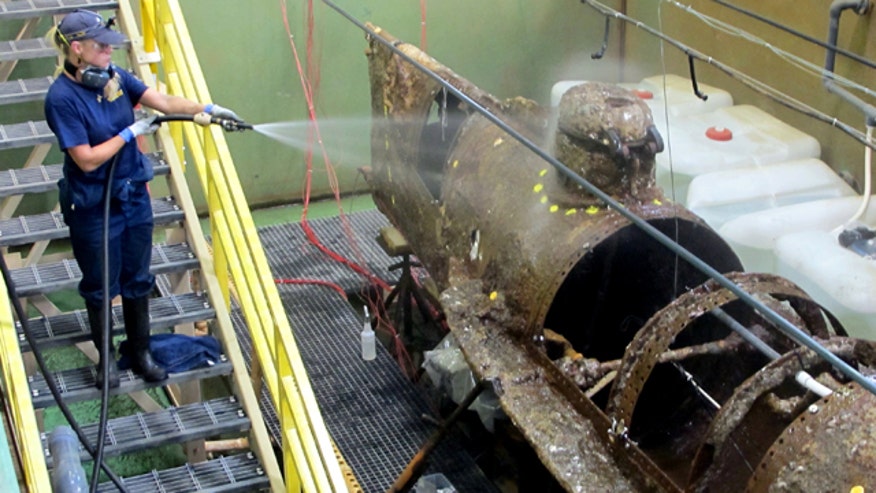 NORTH CHARLESTON, S.C. – Scientists using small air-powered chisels and dental tools have begun the laborious job of removing the encrusted sand, sediment and rust from the hull of the Confederate submarine H.L. Hunley, the first submarine in history to sink an enemy warship.
It will take about a year of painstaking work to reveal the hull of the hand-cranked sub for the first time in 150 years.
The hull may provide final clues as to why the Hunley sank off South Carolina in February 1864 after sending the Union blockade ship USS Housatonic to the bottom.
"We will probably be closer" to knowing why, said Stephanie Crette, the director of the Warren Lasch Conservation Center, of Clemson University's Restoration Institute in North Charleston, a few miles from where the Civil War began at Fort Sumter in Charleston Harbor.
Damage to the hull of the 40-foot sub might explain the sinking.
"We will have a better understanding of how it was built and what happened to it," said Nestor Gonzalez-Pereyra, the center's associate director.
The sub and its crew of eight set off a powder charge at the end of a spar sinking the Housatonic as the Confederacy tried to break a Union blockade of Charleston late in the war. The Hunley also sank.
The sub was discovered in 1995 and raised and brought to the lab in 2000. Later the silt-filled interior was excavated and the remains of the crewmen removed. They were buried in 2004 in Charleston in what has been called the last Confederate funeral.
Last year, scientists announced it appears the charge that sank the Housatonic was attached to a 16-foot spar at the front of the Hunley. They speculated that could mean the crew was knocked unconscious and the sub damaged by the shock wave from the explosion.
At the time the Hunley was raised, historians thought it was farther away from the Housatonic and speculated the crew ran out of air before they could crank back to the coast.
Since early May, the Hunley has been bathed in a solution of sodium hydroxide to loosen the encrustation coating the hull and interior. Now conservationists will work by hand on the sub for six hours a day, three days a week. They will work, sometimes in the cramped interior of the sub, wearing goggles, boots and gloves. When not working, the 76,000-gallon tank in which the Hunley sits will be refilled.
Plans call for the Hunley to eventually be displayed in a $40 million museum not far from the lab. The Hunley Commission agreed to establish a museum authority to oversee construction.
via Scientists begin removing encrusted debris and rust from Confederate submarine | Fox News.