Service academies may cancel sporting events, including Saturday's Air Force-Navy game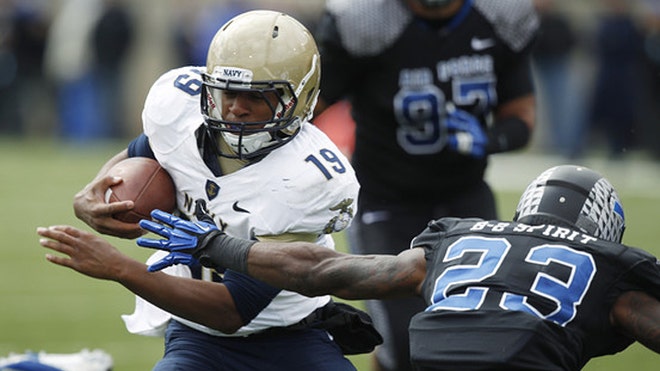 Sporting events this weekend involving U.S. military academies could be canceled due to the government slimdown, including the annual gridiron tilt between Navy and Air Force.
The development imperils dozens of football, soccer and volleyball games, as well as contests in other sports. Canceling the most widely viewed and attended games, such as the Navy-Air Force game and Army's football game against Boston College, could have ramifications for television schedules and conference rankings.
An Army spokesperson told Fox Sports "it's possible" the weekend's service academy games could be postponed or canceled by the government slimdown.
Navy officials are expecting a record crowd of 40,000 at the Navy-Marine Corps Memorial Stadium near the U.S. Naval Academy in Annapolis, Md. But the game, scheduled to air on CBS, will not be played if the government slimdown continues through Thursday, officials said.


A decision is expected by noon on Thursday.
Additionally, the Pentagon says it is exploring legal options to fund certain games, including the Navy-Air Force game. For example, it says the Naval Academy makes its own money from concessions and ticket sales that fund its football program, so it was possible that could pay for the game.
But contests scheduled for earlier in the week were already being canceled.
"As a result of the government shutdown, the Department of Defense has suspended all athletic competitions at the Service Academies," read an email sent out to Navy soccer fans on Tuesday. "Tonight's Navy Men's Soccer game vs. Howard has been cancelled and it is not known at this time if it will be re-scheduled."
via Service academies may cancel sporting events, including Saturday's Air Force-Navy game | Fox News.