'So sad': intake slashed from 700 students to 65 for popular school
Hundreds of children will miss out on a spot at one of Sydney's most in-demand new public schools after the school's intake was slashed from 700 students to 65.
Lindfield Learning Village, which uses unconventional teaching methods and spans kindergarten to senior high school, was originally supposed to expand from 350 students this year to more than 1000 next year before reaching its target of 2000 in 2021.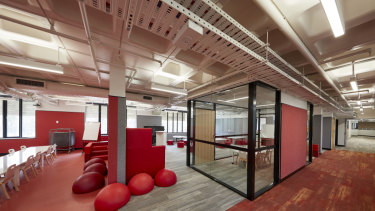 There are thousands of families on its wait list, attracted by its stage rather than age-based approach and its emphasis on learning through projects that engage several disciplines together, rather than focusing on one at a time.
But they were last week sent an email informing them that rather than accepting 700 students across all year levels in 2020, which was the intention as recently as January, the school will now only open its doors to 65 new students in kindergarten and years 7 and 11.
"The Department of Education is committed to the success of the model and has therefore recommended an approach focused on sustainable growth through a steady increase in the number of students to allow for the organic development of the model," said an information leaflet sent to prospective parents.
"Planning is under way for the delivery of the next home base [a group made up of 350 students] anticipated to be completed between 2020 and 2022.
"As the focus is on kindergarten, year 7 and year 11 the school will not be able to accept siblings of current students outside of these three cohorts."
Some of the wait-listed families were disappointed. "Given the fanfare so many local parents are so sad that what was originally promised now won't happened," said one parent, who did not want to be identified.
"If you now only take 65 students … why did you so mis-lead the students who are now so disappointed and left without real reasons as to why?"
Some families wait-listed for year 7 next year received letters informing them that their enrolment had not been accepted, but the school has advertised for year 11 students to make up its first Higher School Certificate cohort.
When the project was announced in 2014, classes were expected to begin in 2017. But construction hit complications, and according to projections earlier this year, the building is not expected to be completed until 2021.
David Hope, president of the Northern Sydney District Council of P&C Associations, said he supported the school's decision to slow its expansion because the most important thing was getting the teaching model right.
"We are sorry for the people who had high hopes of getting in there, which was what was originally envisaged, but it's better to do it this way," he said. "In the end, this model will probably be used in all schools, it's important that it works.
"What is important in the end is a really good result, and it's important we don't burn out the people trying to do that."
A spokesman for the NSW Department of Education said the educational model would evolve over time "with continuous adjustments and improvements. A gradual transition towards full enrolment capacity will be implemented over the coming years."
Demand for the school has been so strong that there were 2500 people on the waiting list for this year, and another 500 wanting to enrol in 2020 and beyond. Some families were contacting the school from overseas, and others were trying to enrol their unborn children.
But some have criticised the model, which is known as inquiry-based learning, saying it is not supported by evidence.
Source: 'So sad': intake slashed from 700 students to 65 for popular school