SOFTWARE CO. USED ALL OVER THE COUNTRY TIED TO NANCY PELOSI – FAULTY RESULTS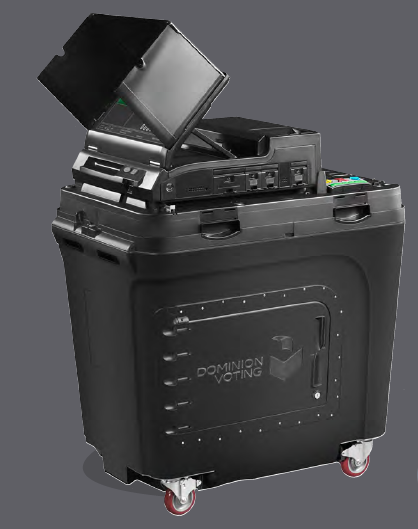 [11.6.20 — COMMENT FROM DONNA GARNER:  DOMINION VOTING SYSTEMS ALSO IS BEING USED IN MANY OTHER STATES. HERE IS A LINK ON BLOOMBERG NEWS FROM 4.1.19.
QUOTE FROM THIS ARTICLE:
"Dominion Voting Systems — which commands more than a third of the voting-machine market without having Washington lobbyists — has hired its first, a high-powered firm that includes a longtime aide to Speaker Nancy Pelosi."
https://about.bgov.com/news/voting-machine-firms-add-lobbyists-amid-election-hacker-concerns
=================================
11.6.20 – Detroit Free Press
"Antrim County still red after vote tally snafu showed Joe Biden winning it"
by Paul Egan
https://www.freep.com/story/news/politics/elections/2020/11/06/antrim-county-results-election-2020/6185031002
LANSING — Antrim County has posted updated and revised numbers for the presidential and U.S. Senate races after discovering major errors in the numbers the county initially sent to the Secretary of State's Office.
The revised numbers — arrived at after manually entering the results from printed tabulated tapes for all 16 precincts — show the northern Michigan county is still red, just not as dark a shade as it was in 2016.
The county is reporting Republican President Donald Trump beat Democrat Joe Biden by about 2,500 votes, with Trump receiving 56% of the slightly more than 17,000 votes cast for president and Biden receiving 42%.
Political observers had expressed shock early Wednesday when the county transferred numbers to the state showing Biden beating Trump by about 3,000 votes. Antrim is a Republican stronghold where local GOP officials have mostly run unopposed in recent elections.
In 2016 in Antrim County, Trump got about 62% support, beating Democrat Hillary Clinton by about 4,000 votes…
County Clerk Sheryl Guy told the Free Press Wednesday that officials sent the initial results to the state without checking them. But they later asked: "How could Democrats take over this county?" she said.
Guy was unclear on whether the apparent errors resulted from a software glitch or human error, but appeared to attribute the problem to a combination of both. The county uses Dominion Voting Systems equipment and results are manually transported on computer cards from the precincts to county offices, where they are uploaded onto another computer, she said. The county does not use cellular modems — which have raised concerns about the potential for manipulation by hackers — to transmit results from the precincts, she said.
Late Friday, the Michigan Department of State, which oversees elections, said the errors were caused because Guy failed to update election management system software used to combine the electronic totals from tabulators and submit a report of unofficial results. There never was a problem with the tabulators or the vote count, which was preserved on a printed tape showing results, the department said in a news release. The only problem was the way the numbers were combined before being transferred to the state, the release said.
…Dominion voting equipment is used in most Michigan counties, including Wayne County, but not in Oakland or Macomb counties.
The updated Antrim numbers, which are still unofficial, show Republican U.S. Senate candidate John James beating Democrat Gary Peters by just over 2,500 votes.
Statewide, unofficial results show Biden beating Trump by about 145,000 votes and Peters beating James by about 83,000 votes…
=====================
11.6.20 – Epoch Times
"GOP Claims Software Error Switched 6,000 Republican Votes to Democrat, Used in 47 Michigan Counties"
By Jack Phillips
Excerpts from this article:
Republican National Committee Chairwoman Ronna McDaniel and other GOP officials said the fight over the presidential election isn't over, saying that 47 counties in the state [Michigan] may have used software that was detected to have allocated votes to Democrat Joe Biden instead of President Donald Trump in one county.
"In Antrim County, ballots were counted for Democrats that were meant for Republicans causing a 6,000-vote swing against our candidates," Michigan GOP Chairwoman Laura Cox said in a news conference Friday. "The county clerk came forward and said tabulating software glitched and caused a miscalculation of the votes."
Cox added: "Since then, we have now discovered that 47 counties use this same software in the same capacity. Antrim County had to hand count all of the ballots, and these counties that use this software needs to closely examine their results for similar discrepancies."
The RNC has deployed legal teams to Michigan. No lawsuit has yet to be announced over the software…
===========================
11.6.20 – Epoch Times
"Utah AG Sean Reyes Alleges 'Compromised' Election Process, Will Support Trump"
By Jack Phillips
Excerpts from this article:
Utah Attorney General Sean Reyes announced Friday that he will support lawsuits from President Donald Trump's legal team to deal with the allegedly "compromised election process" in several battleground states.
Reyes, a Republican, alleged that former Democratic Vice President Joe Biden and his allies know that Trump "will win if only verified legal votes are counted," repeating a claim from Trump about alleged election fraud. "We are making sure that happens but looks like courts may have to decide that," he said on Twitter.
Reyes then announced that he took personal leave time to "prepare and support litigation in several" states, without elaborating. It's not clear what state he would be going to, but the Deseret News reported he is in Nevada, where a Trump team-filed lawsuit is pending.
Trump's team filed lawsuits in Pennsylvania, Georgia, Michigan, Nevada, and the team announced they would join a lawsuit in Arizona.
Votes in the states, as well as in Alaska, North Carolina, and other states are still being counted.
In Nevada, Trump's legal team alleged that thousands of ballots were cast in Clark County, which includes the Democratic stronghold of Las Vegas, from outside the state.
"When you take a look at the list that [the Trump campaign] presented … one of the first things that pops out is that there are a lot of military addresses on that list. What the cover letter says is that it appears these people may have improperly cast mail-in ballots," Ford said, adding that it is "pure speculation."
…Trump has shown no indication that he will concede defeat in the near future, and in a speech on Thursday night, he suggested there would be a long legal fight ahead.
"If you count the legal votes I easily win," he said at around 6:45 p.m. ET. "If you count the illegal votes," then Biden wins, he added.
"We want openness and transparency, no mystery ballots, no illegal ballots being cast after Election Day," he said. "We think we will win the election easily" because his team has "so much evidence, so much proof."