How Tanzania Plans To Achieve "Big Results Now" in Education
Education is one of eight priority areas under Tanzania's "Big Results Now" initiative, alongside energy, agriculture, water, transport, health, business environment and resource mobilization. Tanzania is consulting with Malaysian policymakers on this initiative, given Malaysia's wide-ranging and well-recognized development successes.
This initiative is receiving support from several development partners—with significant support provided by the United Kingdom and the World Bank Group.
As Tanzania aims to move from low-income to middle-income status by 2025, this initiative introduces significant innovation to achieve results much more quickly and efficiently.
"We aim to support country-driven reforms and to strengthen institutions in Tanzania. To this end, we partner with the government and other donors to foster lasting solutions rather than just development projects," said Philippe Dongier, World Bank Country Director for Tanzania. "The education sector is one of the priorities for the World Bank Group's refocused engagement in Tanzania. A credible reform plan was prepared last year through a country-driven process. We are supporting its implementation and we are keen to see through improvements in education quality and learning outcomes"

In education, the country has made strong progress in enrolling millions more children in primary and secondary schools. But a difficult task ahead is reforming the primary and secondary education systems to ensure that real learning takes place in every classroom.
"Across the world, strong basic education is the foundation on which human capital is developed and productive economies are built," said Sajitha Bashir, World Bank Education Practice Manager for Eastern and Southern Africa. "Tanzania is embarking on education reforms at a critical time, as schools have more children enrolled today than ever before, and the country wants to see better education results."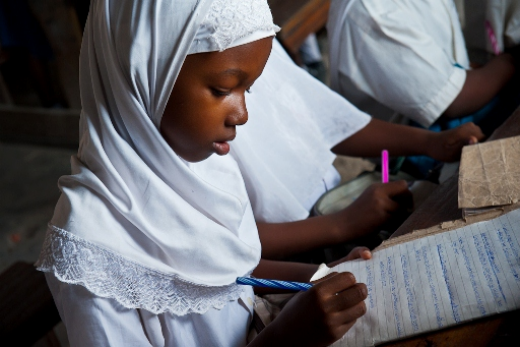 Moving towards 'business unusual'
What stands in the way of these results? Over the last decade, the education system has struggled to cope with sharp increases in enrollment, as well as various quality-related issues. These include low teaching time, weak performance incentives for teachers, delayed or insufficient resource flows to schools, and absence of student assessments in early grades.
The Tanzanian government aims to urgently address these quality issues and improve student learning outcomes as quickly and efficiently as possible.First, to establish a clear direction for reform, the government and donors signed an Education Reform Compact which commits to raising education quality by strengthening accountability, introducing the right incentives, and conducting meaningful assessments within the primary and secondary education systems.
Next, the government set out to develop a plan. This was done through a broad-based, participatory process wherein government officials, donors, civil society and stakeholders came together for six weeks and identified evidence-based, focused interventions. There were two key principles guiding this design – high potential impact on student learning and fast delivery.
This is the Big Results Now in Education program which includes financial rewards for school performance, early grade student assessments, targeted support to lagging students, recognition incentives for teachers, and ensuring that funds reach schools in a timely manner.
The program—which totals about US$416 million—is being supported with the Tanzanian government's own financing and from funding provided by the governments of United Kingdom, Sweden, and the International Development Association (IDA), the World Bank Group's fund for the poorest).
The traditional approach to project planning and budgeting has been replaced by a more rigorous process of identifying challenges, setting goals, prioritizing key activities based on evidence, developing specific interventions with extremely detailed implementation plans, and operationalizing a strong monitoring process from the central to the local levels. This will enable Tanzania to reform its institutions for more productive investments in human capital development.
"Through the Big Results Now in Education program, we will help to fix the most pressing quality issues, so that a stronger education system can deliver the kind of learning in classrooms that parents expect," said Arun Joshi, Lead Education Specialist at the World Bank and Task Team Leader for the program.
A sharp focus on results
World Bank support of US$122 million will be released to the government's Big Results Now in Education program over four years, as pre-agreed results are achieved. This focus on results is a key ingredient of the program's overall approach.
Of the six sets of results linked to disbursement of funds, two are related to placing teachers more equitably across Tanzania and strengthening student achievement in reading, writing and basic mathematics by the end of Grade 2.
This marks a shift away from focusing only on education "inputs" such as textbooks and classrooms and towards delivering results-based solutions.
The program uses a relatively new World Bank lending instrument—the Program-for-Results—in the Tanzanian education sector," said Shwetlena Sabarwal, co-team leader for the project. "It is ideal to help implement an ambitious and reform-oriented program as it introduces direct incentives for results and can help establish a results-oriented culture."
Building human capital in Tanzania 
The Big Results Now in Education program is aligned with a number of other World Bank-supported activities that are helping to build human capital in Tanzania.
The scale-up of Tanzania's social safety net is one example; this cash transfer program gives cash to the bottom 10 percent on condition that children go to school and get regular health check-ups. The program aims to reach about one million poor households and fight poverty and food insecurity.
Through its contributions to a pooled fund for health in Tanzania, the World Bank has helped boost capabilities of health units at the grassroots level and contributed to better access to services and encouraging outcomes. The under-five mortality rate fell from 147 per 1,000 live births in 1999 to 81 per 1,000 live births in 2010, in part due to a rise in proportion of children under five sleeping under mosquito nets to around 73 percent by 2010 and increased vaccination coverage.
These efforts are aligned with Tanzania's Vision 2025, the World Bank Group's Country Assistance Strategy and the recent Progress Report, and with the World Bank's twin goals of eliminating poverty and boosting shared prosperity.
How Tanzania Plans To Achieve "Big Results Now" in Education.