TEXANS AT RISK FOR FORCED COVID-19 VACCINATIONS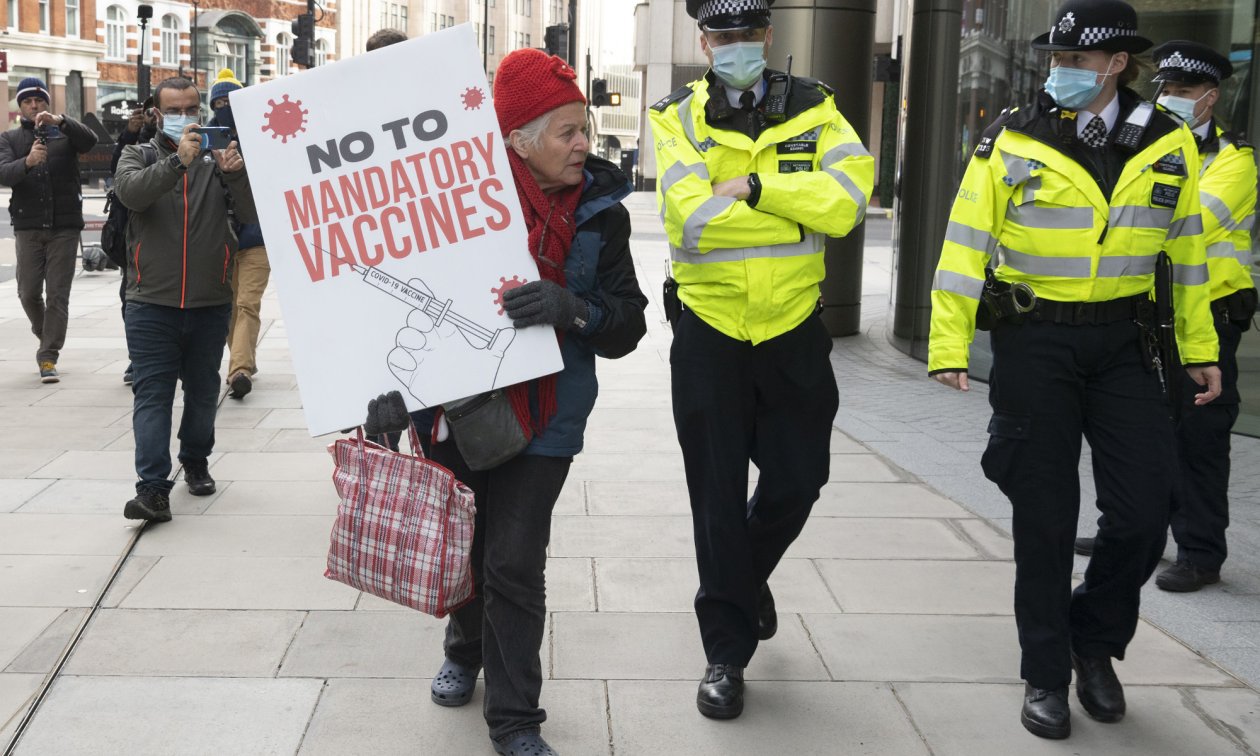 4.30.21
"TEXANS AT RISK FOR FORCED COVID-19 VACCINATIONS"
Contact your Texas State Legislators and Demand No Forced Vaccination, No Vaccine Passports, No Exceptions – Support SB 1669
By Dawn Richardson, NVIC Director of Advocacy
Excerpts from this article:
Mandated vaccination in Texas with COVID-19 vaccines will be the reality unless the legislature takes decisive action now. In fact, it has already started happening.
Houston Methodist Hospital has told its 26,000 employees to get vaccinated by June 7th or get fired.
Atria Senior Living, which has 16 facilities in Texas, is requiring all employees to receive 2 COVID-19 vaccines by May 1, 2021 as a condition of employment or face termination.
The city of Farmer's Branch, Texas is requiring COVID-19 vaccination to access the city run facility called The Branch Connection.
Forget taking a cruise with Royal Caribbean from Texas unless you've been COVID-19 vaccinated.
St. Edwards University in Austin became one of the first colleges to mandate COVID-19 vaccines.
This is just the beginning.
Governor Abbott's Executive Order Prohibiting COVID-19 Vaccine Passports Falls Short at Protection
Texas Governor Greg Abbott has been quoted saying that in Texas, COVID-19 vaccines "are always voluntary and never forced."
The truth is Executive Order GA 35 falls short at preserving the right of law-abiding Texas citizens to be able to function normally in society without having to show proof of a COVID-19 vaccination.
EO GA 35 only prohibits the government, or public or private entities funded by the government, from requiring documentation of an individual's COVID-19 vaccination status. This does nothing to prohibit businesses not receiving government funding from banning customers who don't have a COVID-19 vaccine. Also, this executive order fails to give any protection to employees whose employers are requiring COVID-19 vaccination as a condition of employment.
In addition, the limited protections offered in EO GA 35 will be short lived because the order only applies to "Emergency Use Authorization" (EUA) COVID-19 vaccines. Once a vaccine has received full FDA approval, the EUA designation no longer applies and therefore neither will any protection in this executive order including the ban on forced vaccination by the government. Full FDA approval will be soon. Moderna, the manufacture of one of the 3 available COVID-19 vaccines, is already seeking full FDA approval, and Pfizer, one of the other manufacturers, announced it would seek full approval in the first half of 2021.
Governor Abbott's executive order also falls short when compared to Florida Governor Ron DeSantis's executive order banning vaccines passports which additionally prohibits all business from requiring COVID-19 vaccination status or post infection recovery status to gain access to or service from the business, and it applies to all COVID-19 vaccines instead of expiring after full FDA approval is achieved. It also protects personal privacy rights by prohibiting the government from publishing or sharing a person's COVID-19 vaccination status to third parties.
…We are grateful to announce that Texas history has been made with the filing of
SB 1669 in the Texas Legislature by Senator Bob Hall.
SB 1669 prohibits discrimination or segregation based on vaccination or immune status and prohibits forced vaccination in all areas of your life.
TALKING POINTS (It is important to also personalize your own reasons why you and your family want this bill/language to pass).
SUPPORT SB 1669 by Senator Bob Hall.
SB 1669 prohibits discrimination or segregation based on vaccination or immune status and prohibits forced vaccination in all areas of your life.
Because of COVID-19, we have seen travel restrictions, employment discrimination, and right of access to public venues over masking and testing, and it has started over vaccination.
Nobody is saying reasonable precautions shouldn't be taken, but it crosses the line when healthy law-abiding citizens are excluded from day-to-day life for declining to take a vaccine.
Nothing is stopping people from getting vaccinated. What we are saying is they shouldn't be stopped from living a normal life for not taking one.
Recent surveys of hospital staff, healthcare workers, essential workers, nursing home staff, and long term care employees report responses in range from 20-60% saying they would not take a COVID-19 vaccine. Even workers in healthcare want choices. In the absence of protective state laws, there are no state or federal employee protection exceptions to employee vaccine mandates for COVID-19 vaccines.
New vaccine mandates could have devastating impacts on the Texas economy as critical employees and customers who don't want to take a vaccine are turned away from tourism, travel, healthcare and long-term care, emergency services, sport events, insurance, child care, education and their employment.
Once the COVID-19 vaccines are fully licensed, many businesses concerned about being sued over not mandating the vaccine will enact condition of employment mandates. Proactive action by the state to prohibit employer mandates not only protects employees, but provides a degree of liability protection to all businesses. If mandates are not a legal option to implement, employers can't be sued for not mandating the vaccine. Conversely now, Texas employees are suing employers for mandating the vaccine.
Medical trade associations like the American Academy of Pediatrics and the American Medical Association have been actively lobbying to force vaccination by removing vaccine exemptions. Texas doctors are refusing care to children whose families don't agree with every vaccine.
Vaccine passports in other areas of the country are threatening right of access to public venues. New York has already announced their vaccine passport, called the "Excelsior Pass" in order to gain entry into events and businesses.
As of 4/16/21, there have already been 86,080 COVID-19 Vaccine adverse events and 3,186 COVID-19 Vaccine deaths reported to the Vaccine Adverse Events Reporting System. Some short-term and all long-term risks of new COVID-19 vaccines are still unknown. When there is risk, there has to be informed consent and the right to refuse a vaccine without penalty.
The U.S. Equal Employment Opportunity Commission affirms the legal right of an employer to exclude the employee from the workplace even if an employee cannot get vaccinated for COVID-19 because of a disability or sincerely held religious belief and there is no reasonable accommodation possible. The state will have to step in and protect employees' right to delay or refuse vaccines.
While the U.S. Department of Labor, Occupational Safety and Health Administration (OSHA) allows employees to decline Hepatitis B Vaccines, and OSHA and many labor unions have expressed opposition to annual influenza vaccination policies that do not include religious and/or personal objection exemptions, there are far too many gaps in protection for employees to refuse vaccines for work.
People injured by a COVID-19 vaccine have little recourse. Vaccine manufactures and providers are shielded from liability through the Public Readiness and Emergency Preparedness Act, or PREP Act. This federal law establishes that the only option for compensation for COVID-19 vaccine victims is the Countermeasures Injury Compensation Program (CICP). Only eight percent of all petitioners since 2010 have been awarded compensation through the CICP. No legal or medical expert fees are covered, no pain and suffering is awarded, lost wages are capped at $50,000, and there is no judicial appeal.
Vaccination must be voluntary.
Governor Greg Abbott's Executive Order GA 35 falls short at meaningful protection because it does not prohibit employers or businesses not funded by the government from requiring vaccines and it allows the government and businesses to require vaccines once the Emergency Use Authorization goes away when the vaccines are fully licensed by the FDA. Moderna, the manufacture of one of the 3 available COVID-19 vaccines, is already seeking full FDA approval, and Pfizer, one of the other manufacturers, announced it would seek full approval in the first half of 2021.
One bill filed and moving, SB 968, limits the use of vaccine passports by businesses and government, but it does not prevent forced COVID-19 vaccination from the government or prohibit employer vaccine requirements. Also, the bill still let's your decision to not be vaccinated get shared by government with any third party if it is health care related. The immunization registry in Texas which all health care providers have access to, records all COVID-19 vaccines administered with no consent, and if you are not in there, it means you have not been vaccinated. This could lead to discrimination and denial of care from the health care industry.
CONTACT INFORMATION FOR TX. LEGISLATURE
Please visit, call and email the following Senate members of the Senate State Affairs to ask them to set SB 1669 for a hearing and support it.
Bryan Hughes, PHONE (512) 463-0101, FAX (512) 475-3751, Room CAP 3E.8
Brian Birdwell, PHONE (512) 463-0122, FAX (512) 475-3729, Room EXT E1.804
Donna Campbell, PHONE (512) 463-0125, FAX (512) 463-7794, Room CAP 3E.8
* Bob Hall, PHONE (512) 463-0102, FAX (512) 463-7202, Room EXT E1.610
Eddie Lucio, Jr., PHONE (512) 463-0127, FAX (512) 463-0061, Room CAP 3S.5
Jane Nelson, PHONE (512) 463-0112, FAX (512) 463-0923, Room CAP 1E.5
Beverly Powell, PHONE (512) 463-0110, FAX (512) 475-3745, Room EXT E1.708
Charles Schwertner, PHONE (512) 463-0105, FAX (512) 463-5713, Room CAP 3E.10
EMAIL:
bryan.hughes@senate.texas.gov, Brian.Birdwell@senate.texas.gov, donna.campbell@senate.texas.gov, bob.hall@senate.texas.gov, eddie.lucio@senate.texas.gov, jane.nelson@senate.texas.gov, beverly.powell@senate.texas.gov, Charles.Schwertner@senate.texas.gov
SENT FROM: PROVE – Parents Requesting Open Vaccine Education