The Lost Words campaign delivers nature 'spellbook' to Scottish schools
Bus driver raises cash via Twitter to give 'magical' poetry and picture book to all 2,681 schools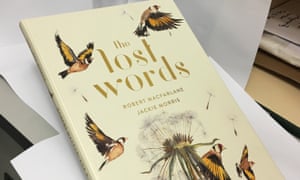 A book created to celebrate the disappearing words of everyday nature, from acorn and wren to conker and dandelion, is fast becoming a cultural phenomenon with help from a crowdfunding campaign by a school bus driver.
Four months after publication The Lost Words, a collection of poems by Robert Macfarlane and paintings by Jackie Morris, has already shipped 75,000 copies and won two literary prizes.
Now the book, aimed at reviving once-common "natural" words excised from the Oxford Junior Dictionary, will be discovered by a generation of children after a crowdfunding drive to place a copy in every school in Scotland.
Jane Beaton, a school bus driver and travel consultant from Strathyre, Stirling, was moved to raise £25,000 to give the book to all 2,681 schools in Scotland after "a spur of the moment" commitment on Twitter.
"When I first opened The Lost Words, I just thought: 'What a magical book,'" said Beaton. Encouraged by tweets from Macfarlane and Morris – who has donated original artwork to the campaign – Beaton was amazed when the donations flooded in. "It must be the book – it's just captured people in a way I haven't seen before," she said. "People have a feeling of positivity to it."
The book's poems, which Macfarlane likens to "spells" to conjure wild things, were already being adapted as a choral work by a children's choir, while a theatrical performance will debut at a summer festival before touring schools. The text is also being stitched into embroidered braille and there are plans for celebrity readers to whisper the words through the trees of the National Forest in Derbyshire.
Source: The Lost Words campaign delivers nature 'spellbook' to Scottish schools | Books | The Guardian