THE MOVIE "UNPLANNED" — TELLS STORY OF BRYAN, TEXAS, ANTI-ABORTION ACTIVIST ABBY JOHNSON
3.29.19 – Bryan Eagle
[The movie "Unplanned" is opening in many theaters across America today. Please check your local movie listings to see where the movie is showing in your area. – Donna Garner]
'UNPLANNED' — Film tells story of local anti-abortion activist Abby Johnson
By CAITLIN CLARK caitlin.clark@theeagle.com
https://www.theeagle.com/news/local/film-tells-story-of-local-anti-abortion-activist-abby-johnson/article_b3b61c3a-51e4-11e9-b213-6352b5d2d5ab.html
Excerpts from this article:
In the first scene of the trailer for the feature film Unplanned, which hits theaters today, a Brazos Valley Coalition for Life staffer walks into Shawn Carney's office and tells him that Abby Johnson, the director of the Bryan Planned Parenthood clinic, is in the next room. "Here?" the actor playing Carney replies with a furrowed brow and look of incredulity.
The moment in October 2009 was one that changed the landscape of the anti-abortion movement in the Brazos Valley and is now the focus of the movie written and directed by Cary Soloman and Chuck Konzelman, who also wrote and co-produced God's Not Dead. The movies also share the same distributor, Pure Flix Entertainment. The depiction of Johnson's story, though, is notably the label's first title that was given an R rating by the Motion Picture Association of America.
The rating stems from scenes that re-create the event Johnson says prompted her to resign from Planned Parenthood and join the anti-abortion movement. As Johnson writes in her book, Unplanned, she had assisted a doctor with an ultrasound-guided abortion for a patient who was 13 weeks pregnant. Watching the ultrasound monitor, Johnson says she saw the fetus appear to move away from and struggle against the doctor's probe. She was reminded of the women who she'd told their fetuses wouldn't feel pain. When the doctor turned on the suction, "everything was gone."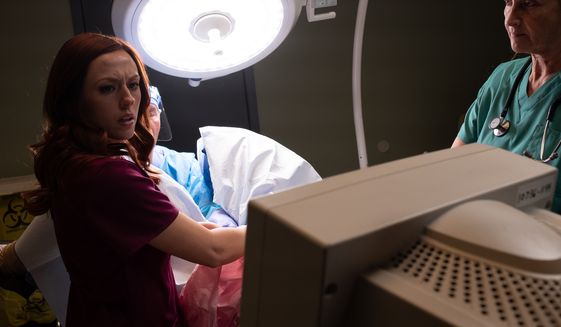 "What I have told people for years, what I've believed and taught and defended, is a lie," Johnson wrote. 
Carney, the Brazos Valley Coalition for Life director, said that he had known Johnson for about eight years by that time and knew that she was being genuine when she walked into his office days after witnessing the abortion.
"She had her moment, and she had to decide, 'Am I gonna be part of this after witnessing a 13-week-old baby die, am I gonna continue to do this or am I not? Am I gonna tuck it away and advocate for reproductive rights?' Which is what she had been doing very effectively for Planned Parenthood," Carney said.
He describes Unplanned, which is showing at Bryan's Premiere Cinema and Cinemark in College Station, as the "definitive movie on abortion." The timing of the release, he adds, "could not be more pressing."
According to The Associated Press, New York state passed a law in January that adds a provision permitting late-term abortions when a woman's health is endangered, while Virginia has proposed state legislation to ease restrictions on late-term abortion procedures.
"We're in unchartered waters right now in America for abortion," Carney said. "We don't have people that are part of the fringe supporting late-term abortion or infanticide — we have senators and governors who dress well and sound nice saying they would simply not give medical care to a baby girl who survived an abortion on a table. Abortion advocates weren't advocating that five years ago, 10 years ago."
In Bryan-College Station, the Coalition's 40 Days for Life started in 2004 at a time when Carney said the rate of abortions was rising. During 40 Days for Life campaigns, anti-abortion activists stood vigil outside the Bryan Planned Parenthood clinic for 24 hours a day for 40 days. In 2007, it became a nationally coordinated effort.
The Brazos Valley Coalition for Life, meanwhile, had moved its location next door to the Planned Parenthood clinic on East 29th Street. Carney said the move was done with the intention of offering free pregnancy tests, ultrasounds and alternatives to women who were considering abortions. He hadn't imagined that the clinic director would walk into his office. 
"We would have events in front of the public right of way, and all of the abortion workers, all the Planned Parenthood staff, would come out and they would listen to us," Carney said. "I must have said it 100 times that we're here for anyone who wants to leave the abortion industry. Abby had the courage, and I think, humility, to take us up on that."
The Bryan [Planned Parenthood] clinic shuttered in 2013, which Planned Parenthood representatives said at the time was partly because of Texas lawmakers' decision in 2011 to exclude the nonprofit agency from the Texas Women's Health Program, which provides coverage for low-income women. Without the coverage, the number of patients at the Bryan clinic were said to have dropped by almost half. The Coalition for Life eventually bought the building and made it its new headquarters.
Carney said Soloman and Konzelman, the writer/directors of Unplanned, visited Bryan four years ago and toured the building. Based on footage and photos they took, the former clinic was "rebuilt" on a set in Oklahoma, where the movie was shot.
"They spent a lot of time in Bryan during the research part of the movie," Carney said. "They did a great job re-creating that building, and they were very moved as they walked around that [former] Planned Parenthood." Johnson, for her part, wrote in a public letter released last week on the website for And Then There Were None, a nonprofit aimed toward helping clinic workers "leave the abortion industry," that the movie "has the potential to change and save lives in the process." In the letter, Johnson says that the R rating was given for the scene featuring a CGI re-creation of what she says she saw on the ultrasound screen at Planned Parenthood, and for a second scene depicting her "awful experience with the abortion pill."
…Johnson's story, though, has received its share of criticism. According to previous reporting from The Eagle, Johnson resigned from Planned Parenthood on Oct. 6, 2009. Planned Parenthood attempted to block Johnson from disclosing details about the Bryan clinic after she began working with the Brazos Valley Coalition for Life, but a Brazos County district court denied an injunction. According to a November 2009 Eagle story, Johnson said that she had left Planned Parenthood for moral reasons, and that regional leadership had pushed her to prioritize abortions to make up for funding shortfalls.
Johnson's story gained national attention, and in some ways reinforced the deep divide between anti-abortion activists and supporters of reproductive rights. For Carney, he thinks it has shown "the broader picture" of the anti-abortion movement, one in which people can change their minds on a controversial issue…