'This isn't an outdated ivory tower': how Oxford university leapfrogged its rivals
Oxford is top of the Guardian's rankings for the first time in a decade – thanks to its success in the graduate job market
Rachel Hall and Richard Adams
It's no secret that graduates from Oxford University can be found everywhere in the higher echelons of British public life. The university's success in placing its graduates in jobs has seen it unseat Cambridge in the Guardian University Guide for the first time since 2011, pushing its traditional rival down to third place, behind St Andrews.
"It isn't just the outdated image of an ivory tower, this is an institution that is deeply engaged in the world," says Louise Richardson, vice-chancellor at Oxford. "There is a real entrepreneurial culture here."
Oxford University – alongside Cambridge – has been a bastion of prestige and power for centuries, granting its graduates a passport to the elite. Its alumni dominate the cabinet, sit at the head of boardrooms, preside over courtrooms and run newspapers. Its particular strength is getting jobs for graduates from disciplines where there is typically lower employer demand, such as English literature and history.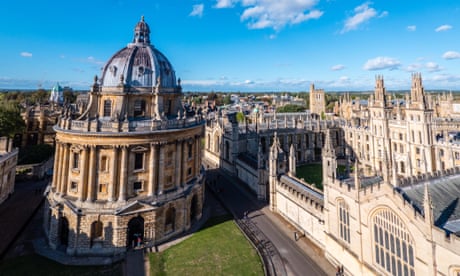 Oxford University takes top spot in Guardian's annual university guide
This is a quality highlighted by the new graduate jobs data used in this year's University Guide, which is collected 15 months after graduation rather than six. The new data is thought to more accurately reflect graduates' employability, and has seen several traditional universities improve their score relative to their newer counterparts. For years, Oxford lagged behind in the earlier measure, reaching just 29th place last year. But the new dataset has enabled the university to claim second place for job prospects alongside Cambridge and the London School of Economics, with Imperial in first place.
To return to the top of the table, Oxford has been given the edge over Cambridge and St Andrews by its superior track record of recruiting students with lower grades who go on to secure a first or a 2:1.
Richardson says this is the result of a concerted effort by the university to widen access, following widespread criticism of its slow progress. "The socio-economic and ethnic diversity of our undergraduate student body has been transformed over the past five years, and we see this as a terrific success. We are very proud of our achievement," she says.
Richardson identifies several reasons as to why Oxford graduates have such good job prospects. For starters, the university attracts capable students, who are filtered for their commitment and organisation by its separate early admissions process. These students are further selected for thorough academic interviews.
Source: 'This isn't an outdated ivory tower': how Oxford university leapfrogged its rivals | University guide | The Guardian