Transgender Professor Unhappy Some Believe Biological Males shouldn't be Allowed to Compete in Women's Sports
Rachel McKinnon is a transgender professor at the College of Charleston, located in Charleston, South Carolina. McKinnon is also a champion of women's cycling, and an advocate of permitting transgender individuals to participate in women's sports.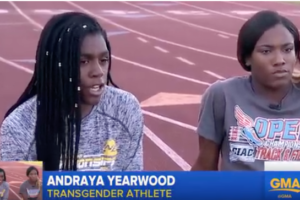 Recently, women's tennis legend Martina Navratilova waded into the politically-incorrect waters of criticizing transgender participation in women's sports. Navratilova was one of the first openly-public lesbian sports figures and believed that men who decided they were truly female human beings are "cheating" by participating (and sometimes, winning) in women's sports. Navratilova has not backed down from her comments and was removed from her board position of Athlete's Ally, a LGBT athletic organization.
McKinnon posted on the social media platform Twitter that comments and beliefs like Navratilova's are similar to racist sentiments. She compared the transgender participation issue to keeping "black women out of sport" and added, "That would be obviously racist." She concluded in her social media post, "That's why it's obviously transphobic to exclude trans women now."
McKinnon's college biography noted that McKinnon was born in Victoria, British Columbia, Canada and moved to Charleston because it reminded McKinnon of his/her hometown. When one reads of McKinnon's academic interests, it apparently is focusing on "knowledge and action" as well as the "norms of assertion." In other words, McKinnon seeks knowledge. Other issues that McKinnon researches are gender, queer identities, feminist philosophy, "allies and ally culture" (i.e. LGBT culture), and "issues arising from stereotype threat and attributional ambiguity for trans-identified women."
Source: Transgender Professor Unhappy Some Believe Biological Males shouldn't be Allowed to Compete in Women's Sports