UK watchdog launches inquiry into teacher who admitted molesting boys
Stephen Jackson was hired by two British schools despite facing multiple child abuse allegations in the US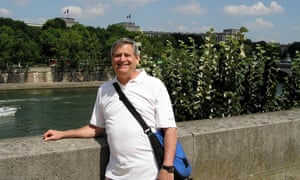 The UK teachers' watchdog has launched an investigation into alleged misconduct by an American teacher who the Guardian revealed was hired by two British schools despite previously admitting molesting boys.
Stephen Jackson was fired in late September by Tendring Technology College when Essex police alerted senior staff to concerns about him. The 72-year-old was recruited to teach English to 11- to 14-year-old boys despite facing multiple child abuse allegations in the US. He also taught at Haberdashers' Aske's Knights Academy in Bromley from 2009 to 2011.
The investigation by the National College of Teaching and Leadership was launched shortly after Jackson left the country in October. He has previously admitted to police in Santa Cruz, California, that he was attracted to 14- to 16-year-old boys, that he touched a boy's penis on a camping trip, molested a pupil aged 15 or 16, and slept in the same bed as one of his students. US investigators also received evidence suggesting he may have sexually assaulted his four-year-old adopted son.
Dan Thiel, now 51, who alleges Jackson molested him when he was about 13, told the Guardian: "There were the two of us in a tent and he talked me into getting into my sleeping bag naked. When I woke up in the middle of the night he had his hand on me. He was groping me and feeling me up."
Jackson, who was also known as Myers, was dismissed after teaching for just 13 days at Tendring college when police raised child protection concerns.
Giles Watling, the school's local MP, said the case appeared "shocking", and demanded answers on why he was not identified earlier. "I want to ascertain how the system can be improved to ensure it never happens again," he said.
Source: UK watchdog launches inquiry into teacher who admitted molesting boys