University Says False Positives Inflated COVID Numbers 600% Among Group of Athletes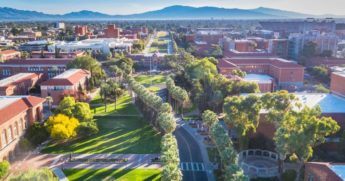 9.7.20 – Western Journal
"University Says False Positives Inflated COVID Numbers 600% Among Group of Athletes"
By Jack Davis
Excerpts from this article:
A rash of false-positive coronavirus tests has led the University of Arizona to issue an apology to student-athletes who it claimed had the virus but did not…
The university reported Thursday that 13 student-athletes had tested positive for COVID-19 — a single-day record for the school.
Three days later, however, Arizona athletics said in a statement that the actual number of positive tests was just two. That means the initial numbers inflated the total by more than 600 percent…
After the first round of testing, several members of the women's soccer team were reported to have tested positive for the virus, prompting the school to shut down the program for 14 days, the Arizona Daily Star reported.
However, the university said Sunday that the team "will resume normal reentry activities on Wednesday."
…The Daily Star reported Sunday that 12 positive tests of non-athletes were rerun, and eight came back positive.
Last week, the NFL had 77 positive COVID-19 tests re-examined over concerns of false positives, and all those tests came back negative, according to WJZY-TV
================
9.9.20 — REPORT FROM COLORADO MEDICAL DOCTOR
Earlier this summer we were informed by our local laboratory that the COVID polymerase chain reaction (PCR) testing is so sensitive that not only are we able to detect miniscule levels of virus, but that the tests also pick up dead fragments of virus for weeks after the infection has cleared.
This was recently confirmed in a New York Times article:
"In three sets of testing data that include cycle thresholds, compiled by officials in Massachusetts, New York and Nevada, up to 90 percent of people testing positive carried barely any virus [emphasis added], a review by The Times found… The standard tests are diagnosing huge numbers of people who may be carrying relatively insignificant amounts of the virus. Most of these people are not likely to be contagious [emphasis added]…"
This "false positive" rate may partially explain why when we increased testing here in Colorado, the number of people testing positive also increased – while hospitalizations and deaths remained flat.
=====================
9.9.20 – FROM TEX. REP. STEVE TOTH'S NEWSLETTER
[From Donna Garner: When you click on any of these links below and for some reason get "Leaving Facebook," just click on "Follow Link" which will take you to the actual article referenced.]
1) TX Restaurant Assoc. estimates that 50% of bars and restaurants will not reopen: https://www.dallasnews.com/business/2020/03/18/how-long-can-a-texas-restaurant-survive-on-no-profit-during-coronavirus-crisis-3-days-tim-love/

2) Over 3 million Texans have lost their jobs:
https://www.twc.texas.gov/news/unemployment-claims-numbers#unemploymentClaimsFiled


3) American Academy of Pediatrics warned us in June that covid 19 carries little danger to kids but isolation will bring on dire developmental and mental health issues for Texas children: https://services.aap.org/en/pages/2019-novel-coronavirus-covid-19-infections/clinical-guidance/covid-19-planning-considerations-return-to-in-person-education-in-schools/?_ga=2.192472876.744465380.1598904688-1846477529.1598904688


4) 6 percent of the COVID-19 deaths were due to COVID alone. The other 94% of the US covid deaths had 2 or more comorbidities: https://www.cdc.gov/nchs/nvss/vsrr/covid_weekly/index.htm?fbclid=IwAR3-wrg3tTKK5-9tOHPGAHWFVO3DfslkJ0KsDEPQpWmPbKtp6EsoVV2Qs1Q


5) More than 100,000 children across 80 North Texas School districts never engaged in assignments or stopped doing them by May 1 and 19,000 students were lost: https://www.dallasnews.com/news/education/2020/09/02/thousands-of-north-texas-children-could-be-among-the-lost-generation-of-students-after-they-stopped-participating-in-online-learning/?fbclid=IwAR3NT1Hk_k4cS3Lm3aZw0vgfQYwjDQYARRa_CaM6Ne40wXk6cvOXOQvYczI


6) 1 in 10 Students have disengaged during the pandemic: https://tea.texas.gov/sites/default/files/covid/covid19-Student-Engagement.pdf


7) During 3 months of a lockdown, there is a 20% increase in intimate partner violence: https://www.unfpa.org/sites/default/files/resource-pdf/COVID-19_impact_brief_for_UNFPA_24_April_2020_1.pdf


8) Decorated Local Marine Corps Combat Veteran Ends His Life: http://www.shorenewsnetwork.com/2020/05/03/veterans-mourn-outraged-after-death-of-another-decorated-local-marine-corps-combat-veteran/?fbclid=IwAR3jzH1Ijhuyt2Blb6aGvITn5PdiXKv85OO76Gv_ByCm-CRUGCkMw68U9z8


9) Drug overdoses have increased by 30-40% during this crisis, according to The National Institute on Drug Abuse: https://www.cdc.gov/mmwr/volumes/69/wr/mm6932a1.htm?s_cid=mm6932a1_w


10) Calls to Mental Health Hotline increase 891%: https://www.click2houston.com/news/national/2020/04/10/a-crisis-mental-health-hotline-has-seen-an-891-spike-in-calls/


11) 1 in 4 young people in America are thinking of taking their lives (CDC): https://qz.com/1892349/cdc-depression-and-anxiety-rises-for-us-adults-since-covid-19/amp/


12) Economic hardships caused by COVID-19 will kill 30 times more people than the virus itself:
https://www.northsidesun.com/breaking-news-columns/economic-hardships-will-cost-30-times-more-life-years-covid-19-has#sthash.poMWNTWQ.dpbs


13) For every 1% in job loss, there is a 1.2% increase in suicide: https://pubmed.ncbi.nlm.nih.gov/21493938/


14) This crisis will cause an additional 7,000 lives to be lost per month: https://thehill.com/opinion/healthcare/499394-the-covid-19-shutdown-will-cost-americans-millions-of-years-of-life


15) Emergency Stroke Evaluations are down 40%: https://thehill.com/opinion/healthcare/499394-the-covid-19-shutdown-will-cost-americans-millions-of-years-of-life


16) Half of 650,000 cancer patients receiving Chemotherapy in the US are missing their treatments: https://thehill.com/opinion/healthcare/499394-the-covid-19-shutdown-will-cost-americans-millions-of-years-of-life

17) 2/3-3/4 of routine cancer screenings are not occurring: https://thehill.com/opinion/healthcare/499394-the-covid-19-shutdown-will-cost-americans-millions-of-years-of-life


18) 150,000 cancer cases typically discovered each month are not being diagnosed: https://thehill.com/opinion/healthcare/499394-the-covid-19-shutdown-will-cost-americans-millions-of-years-of-life